Found May 31, 2013 on Pass The Pill:
LeBron James and Juwan Howard lit into their fellow teammates LeBron James and the Miami Heat were down four points at halftime, but by the way LeBron was ripping into his teammates you would have thought they were down 20.  James was shown being very animated during a profanity-laced motivational speech right before the start of the second half. TNT had to have blur out James cursing several times as he was trying to motivate his teammates.  LeBron then promptly ripped off 16 points during the third quarter in which the Heat outscored the Pacers 30-13. James felt the team was playing off its talent and had no urgency. "I just got in them and let them know that we can't just play by talent, we've got to go out and play with a sense of urgency, both offensively and defensively and my guys responded," James explained. "I just didn't think were playing Miami Heat basketball in the first half," James said. "What kept us in the game in the first half was our talent. That's not what we're about. We didn't play with a sense of urgency and we were only down four and that wasn't a good sign." According to Udonis Haslem, long-time veteran Juwan Howard wasn't happy with how the team was playing and provided the first passionate half-time speech that LeBron would later echo in a more demonstrative manner. "Juwan's voice in our locker room on the floor is as big as anyone," James said. "As big as [Spoesltra], as big as mine, [Udonis Haslem, Dwyane Wade].  That's why we brought him back because he's an instrumental part of our team." Haslem added: "He's here for a reason. He gives maximum effort every day in practice. And when he has the opportunity to lead verbally, he leads verbally." According to Haslem, Howard's version of "leading verbally" included a passionate address in which he "threw a couple things around in the locker room." "It all started with Juwan Howard," Haslem recalled. "He pretty much started getting into us at halftime. Coach didn't really have to say much. Then, LeBron just took over and echoed what Juwan said. We weren't playing with enough energy and effort, we were looking around kind of expecting plays to be made without going out and making them. In the second half, we talked about going out and making plays and taking over on both ends of the floor." Check it out: The post WATCH: LeBron James and Juwan Howard rip teammates at halftime appeared first on Pass The Pill - Kings of Hoops.
Original Story:
http://sports-kings.com/passthepill/w...
THE BACKYARD
BEST OF MAXIM
RELATED ARTICLES
To celebrate his son's sixth birthday, Miami Heat star Dwyane Wade posted a photo of himself and Zion Malachi Airamis Wade sporting matching outfits. Donning killer leather jackets with matching boots paired with blue jeans and white tees in the photo, Wade attached the message, "Happy 6th birthday to my mini me… #fatherfirst…" to the [...]The post Dwyane Wade and son wear...
What happened: The Indiana Pacers arent going away. The Pacers held on Saturday night to defeat the Miami Heat 91-77 at Bankers Life Fieldhouse. That tied the Eastern Conference finals 3-3 and forced a Game 7 Monday night in Miami. The Pacers watched as a 17-point third-quarter lead was cut to 72-68 when Heat forward LeBron James made a layup with 5:52 left in the game. But the...
FINE PLAY
LeBron James could be assessed his second flopping fine of the postseason/series for his flop during the third quarter of Game 6 of the Eastern Conference finals against the Pacers. Paul George made contact with LeBron James as he moved through a Roy Hibbert screen and toward David West. motioning for the ball. James flailed and hit the deck acting as if he got took a hard shot...
Let's face it…we all know that NBA players flop and one star that has been guilty of that sin is the Miami Heat's LeBron James. After his floptastic performance against the Indiana Pacers in game four, the fine folks over at RSLVTs.com decided to put together a video supercut of LeBron's best flops: *** LeBron James best flopping moments [With Leather]
Contrary to popular belief, it turns out LeBron James can be fined for flopping after all. James drew the Heat's first flopping reprimand of the season on Friday when he and two Pacers players were each fined $5,000 for flopping in Game 4 of the Eastern Conference finals on Tuesday. David West and Lance Stephenson also received fines for embellishing contact during Indiana's...
LeBron said that there is nothing wrong with flopping if you gives you a competitive advantage. LeBron practices what he's preaching.
Now, this is a blocked shot. LeBron James tallied a rejection rarely seen outside of video games Tuesday night, swatting a fast break layup attempt by the Pacers' George Hill right out of the air as Hill tried to dump the ball into the hoop. James did more than just control the shot — he had volleyball-like spiking action going on. Alas, Hill and the Pacers would get the last...
The Heat/Pacers series has been a strong draw for TNT, but still ranks as the least-viewed Eastern Conference final since LeBron James joined Miami. Game 4 of the Heat/Pacers NBA Eastern Conference Finals drew a [...]
Chris Andersen should not have finished last night's Game 5 playoff game between the Indiana Pacers and the Miami Heat. The officials screwed up by not ejecting him from the game after knocking Tyler Hansbrough to the floor, then shoving him a second time prior to officials separating the two. Hansbrough did nothing to warrant his technical. Andersen did receive a flagrant 1 call...
Following the Pacers' 99-92 Game 4 victory, Frank Vogel told the media that Lance Stephenson had asked to guard LeBron James prior to the game. You could say the third year player rose to the occasion, not only pouring in 20 points and 5 rebounds himself, but holding the league's MVP to 24 points on 8-18 shooting as he fouled out for the first time since June 2012. According...
It is never good when the referees deserve mention. Unfortunately, Twitter was all ablaze with some of the questionable calls that affected the final result of Wednesday's Game Four. Yes there was a clearly blown 24-second shot clock violation called that would have given the Pacers an 11-point lead, but instead kicked off an 11-2 Heat run to tie the game in the fourth quarter...
Game time: 8:30 p.m. TV: TNT MIAMI (AP) -- Standing on the cusp of the NBA Finals has tended to agree with the Miami Heat in each of the last two seasons. When the Heat have gotten a game away from the title round, they've finished the task as quickly as possible. And here they are again. A third straight Eastern Conference title is now just one win away for the reigning champions...
Heat News

Delivered to your inbox

You'll also receive Yardbarker's daily Top 10, featuring the best sports stories from around the web. Customize your newsletter to get articles on your favorite sports and teams. And the best part? It's free!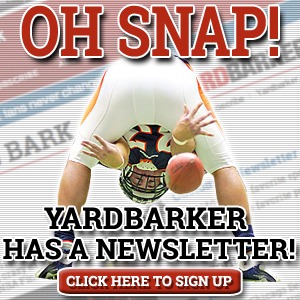 Latest Rumors
Best of Yardbarker

Today's Best Stuff

For Bloggers

Join the Yardbarker Network for more promotion, traffic, and money.

Company Info

Help

What is Yardbarker?

Yardbarker is the largest network of sports blogs and pro athlete blogs on the web. This site is the hub of the Yardbarker Network, where our editors and algorithms curate the best sports content from our network and beyond.