Found April 01, 2012 on Wizards Extreme:
PLAYERS:
Jordan Crawford
,
Andrea Bargnani
,
Chris Singleton
,
John Wall
,
Jose Calderon
,
Roger Mason
,
James Johnson
,
DeMar DeRozan
,
Gary Forbes
,
Kevin Seraphin
,
Trevor Booker
,
Amir Johnson
TEAMS:
Washington Wizards
,
Toronto Raptors
Wizards vs. Raptors   April 1, 2012 – Air Canada Centre
1
2
3
4
FINAL
Wizards
21 21 19 31 92 Raptors 22 24 25 28 99
TOP PERFORMERS
Wizards
Raptors
Jordan Crawford PTS 18 Andrea Bargnani
PTS 18 Chris Singleton
REB 8 Gray / Bargnani
REB 8 John Wall AST 11 Jose Calderon
AST 8 Seraphin / Singleton
STL 1 Andrea Bargnani
STL 3 Roger Mason Jr.
BLK 2 James Johnson
BLK 3 John Wall
TO 4 DeMar DeRozan
TO 4 Chris Singleton
+/- +4 Gary Forbes +/- +12
Wizards Player of the Game I'm going to go with Kevin Seraphin and Chris Singleton.  Seraphin has continued his inspiring play. No Wizard has taken advantage of their increased playing time like Kevin. He has become a monster on the boards and a put back specialist. Singleton had one of if not his best game of the season, adding 8 boards to his 15 points and the best part was that his 15 points came on 5-8 shooting.
WE's to Watch/WE Spotlight
John Wall had a decent game finishing with 15 points and 11 assists. He didn't struggle from the field going 4-8 but he wasn't as aggressive as WE would like him to be especially in a game where two starters were out. Jose Calderon also had a pretty good game 15 points and 8 assists. He didn't torch the Wizards like he has been known to do; there wasn't anything spectacular from, just steady point guard play. He seems to get the better of Wall in their matchups.
The Good
The front line. Even with Nene and Trevor Booker both out for the game, and after getting down early The Wiz Kids never gave up and were able to overcome a 15 point lead and make the game competitive in the end.
The Bad

Rebounding. The Raptors dominated the Wizards on the boards and while the discrepancy doesn't look that bad 43-31, the timeliness of said rebound killed the Wizards. With the game winding down and the Raptor's leading by 3 with just over a minute to play. The frontline which played so well failed to box out Amir Johnson for a put back dunk.
The Ugly
The Wizards close out. I have watched this team improve all season long, they have cut up the knucklehead plays, improved their effort and hustle, but the one area the Wizards continue to struggle is fourth quarter play. The Wizards have started to play teams close, giving them hell until the last 3 minutes of the game when they forget how to play. I'll chalk this up to the growing pains of a young team but it sure is ugly.
Original Story:
http://www.wizardsextreme.com/2012-ar...
THE BACKYARD
BEST OF MAXIM
RELATED ARTICLES
Former NBA legend turned NBA broadcaster Charles Barkley has made many memorable statements over the years; however the one that has stuck with me, was when he uttered the simple phrase in a commercial "I am not a role model." Regular readers of these pages are well aware of my views on professional athletes being role models for children; the only lessons that children should...
Nobody in the Toronto Raptors' locker room is buying into the idea of tanking games this season. In fact, before the game against Washington, Dwane Casey fell into a foul mood when the term "Take Nation" was brought up. "I despise it," Casey spat out through gritted teeth when I asked him about the term Tank Nation. "I despise even talking about it because that's just...
The Wizards have been slapped around by the Philadelphia 76ers this season, as they've been beat by 31, 13 and then 20 points so far. Well, last night, the Wizards decided that enough was enough and that it was time to punch them back. After a slow start to the game in the first quarter, the Wizards saw Trevor Booker go to the locker room in some visible pain, and one might believe...
I'm joined by Eric Koreen for today's "From The Baseline" to talk about "Tank Nation" and why Washington isn't as easy of a win as some fans may like to think. sr_adspace_id = 1000001551307; sr_adspace_width = 728; sr_adspace_height = 90; sr_ad_new_window = true; sr_adspace_type = "graphic";
Andrea Bargnani scored 18 points, Jose Calderon and DeMar DeRozan each had 15 and the Toronto Raptors beat Washington 99-92 Sunday night, their fifth straight home victory over the Wizards. Amir Johnson scored 10 points and James Johnson, Gary Forbes and Alan Anderson each had nine for the Raptors, who never trailed. John Wall had 13 points and 11 assists and Kevin Seraphin scored...
After coming up just short again and again, the suddenly stingy Washington Wizards knocked off one of the better teams in the Eastern Conference their last time out. In contrast, they haven't been able to slow down the Toronto Raptors during their last few visits to the Air Canada Centre. Looking to post back-to-back victories for just the second time this season, Washington...
Raptors head coach Dwane Casey talks with the media following the Toronto Raptors 113-101 loss to the Miami Heat on Friday night at the Air Canada Centre.[youtube]YPRiDtnrfwI[/youtube]
Ever wonder why so many NBA players go broke…well here is one reason. Washington Wizards rookie Chris Singleton says it was worth it to buy $10,000 worth of tickets for last week's Mega Millions lottery, adding it was "either that or blowing it in the clubs." Singleton raised eyebrows last week when he tweeted: "I'm about to drop $10,000 on the lottery and cross my fingers...
"Can't say I do" was pretty great, but I like this one even better. When asked if spending $10,000 on lottery tickets was wise, Chris Singleton said, "Either that or blow it in the club." Because those are the only two options, you see. [Wiz Insider] Wall's post-Nene numbers aren't good. [Bullets Forever] Wizards get blown out by the Bucks. [Bullets Forever] Caps lose...
(Photo credit: Ron Turenne/NBAE/Getty Images via TSN.ca) The Toronto Raptors bounced back after a big loss to the Miami Heat on Friday night, with a 99-92 win over the, also struggling, Washington Wizards. Both the Raptors and the Wizards are in re-build/re-tool modes, and are certainly looking forward to finishing their respective seasons strong and to what the off season will...
NBA News

Delivered to your inbox

You'll also receive Yardbarker's daily Top 10, featuring the best sports stories from around the web. Customize your newsletter to get articles on your favorite sports and teams. And the best part? It's free!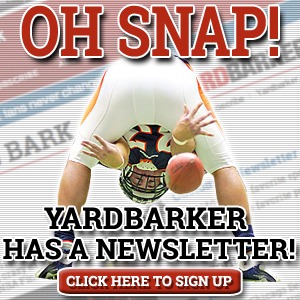 Latest Rumors
Best of Yardbarker

Today's Best Stuff

For Bloggers

Join the Yardbarker Network for more promotion, traffic, and money.

Company Info

Help

What is Yardbarker?

Yardbarker is the largest network of sports blogs and pro athlete blogs on the web. This site is the hub of the Yardbarker Network, where our editors and algorithms curate the best sports content from our network and beyond.