Found November 26, 2012 on isportsweb.com:
When the news came around that Dallas Maverick superstar, Dirk Nowitzki, was going to have knee surgery and miss part of the beginning of the season, everyone held their breath and then pretty much wrote off the Mavericks 2012-2013 season. Not very many people really felt that the young squad would be able to maintain any type of contention and would fall too deep into the losing bracket before Dirk returned to play. I have to admit, I felt that they would have trouble being able to keep up and contend and while they awaited for their leader to return, would they still be in the thick of the pack to still be able to contend for another run at a championship. I had my doubts, but there again, I'm a die hard Maverick fan and kept telling everyone and am still telling everyone that I really feel that they would be able to keep their lips above water; and they have, to some degree. Here we are 14 games into the season and after the ugly loss against the Los Angeles Lakers, they are at 7-7, which puts them in 3rd place in the Southwest Division and in a three-way tie with the Lakers and Utah for 8th place in the Western Conference. Now I know a lot of people would think, "oh that's not good, they're done", but you have to look at it this way, we are only 14 games into the season and that means that you have 68 games left and Dirk is on the back side of his rehab and is so ready to return. Granted there are games that they should have won that they did not and then there are games you think, wow, they pulled that one off; case in point, the Knicks game. If Dallas would have approached the Laker game with the same intensity and tenacity as they did and play as they did against the Knicks, the Lakers would have an 0-5 road record and the Mavs would not have had their lunch handed to them by the hot shooting Lakers. It's hard to win a game when you let your opponent shoot over 48% from the field compared to your 37% and then you also let them shoot almost 55% from behind the arc to your 35.7%, you have very slim chances in all of kingdom come to win a game and that's what the Mavericks let happen against the Lakers. It was as if the Lakers were the high school varsity team and the Mavericks were the jr. high team trying to learn some skills. At one point, the Lakers had a 37 point lead on the Mavs and I know once you get down by that many points, it's hard to come back from that. Granted they did try harder in the second half, but once the Lakers got the big jump and caught the Mavs basically with their pants down and took the first quarter 36-23 and let the Lakers take a 65-38 lead into halftime, you might as well just come out  and put it all on the line and see what happens. Now the second half was a better half for the Mavericks where they outscored the Lakers 51-50, but the damage was already done on the first half and it was all over but the final whistle. The question for Rick Carlisle now is, how does he go on the road and help his team to recoup from that? It's simple, forget about what has already happened and focus on what is right in front of you. The Mavericks head into Philadelphia to face the 76′ers before they continue on to Chicago to face the Bulls for a back-to-back starting on Tuesday before they return home to face Detroit at home on Saturday night. Now Philly is sitting in the 3rd place in the Atlantic Division of the Eastern Conference with an 8-6 record behind the Knicks and the Nets and are 6-4 of their last ten games, but they are also without Andrew Bynum for a while, so maybe Dallas can take advantage of that match up. Then Chicago is 6-6 so far and are 4-6 in their last 10 games, same as Dallas, and are still without their star Derrick Rose. What Dallas has to do and needs to do, is to work on their strengths and take advantage of their opponents weaknesses at this point. They have proven that they can beat the best teams as well as those that are not the best, but they have to believe in it themselves. Sports are as much as mental game as they are a physical game and you have to believe in yourself and your teammates more than others believe in you and you have to trust your teammates as much as they have to trust in you. I hope everyone had a great and safe Thanksgiving and is ready to take on the rest of the season. With that, I will bid you all a good night and say good luck and let's go Mavs!
Original Story:
http://feedproxy.google.com/~r/isport...
THE BACKYARD
BEST OF MAXIM
RELATED ARTICLES
NBA players are quite good at starting fads.  From their shoes to headbands to finger sleeves to any other accessory you can think of, they make simple things look cool on the court.  One trend was the "baller bands" that became much more prominent during the 2000 Sydney Olympics when Team USA had regular rubber bands around their wrists.  From there, an invention would...
To whom it may concern, if you plan on pitching Dallas Mavericks owner Mark Cuban a business idea via his show Shark Tank, don't show up wearing a Lakers jersey. Cuban's distaste for the team is well-documented but now he's extended his public vitriol to the team's fanbase. Please Click Here To Read This Story
Mark Cuban has made plenty of anti-Lakers comments over the years, but he wasn't in the mood to do more Laker bashing prior to Saturday's Mavericks-Lakers game in Dallas. He says the reaction from Lakers fans on Twitter has scared him straight. "I've said enough about the Lakers," Cuban said on Saturday, per the Dallas Morning News. "Let's just say, when you say something...
Mark Cuban speaks because Mark Cuban can speak. It really doens't matter the audience or the repercussions. That comes with the territory when you are worth a bajillion dollars. The Dallas Mavericks owner is not a fan of a new NBA sponsor's product, the Power Balance bracelet. The company claims that it increases a athlete's [...]
With Dirk Nowitzki out, something has had to pick up the slack on the offensive end for the Dallas Mavericks. That person has been O.J. Mayo, and he's been doing a terrific job.
To whom it may concern, if you plan on pitching Dallas Mavericks owner Mark Cuban a business idea via his show Shark Tank, don't show up wearing a Lakers jersey. Cuban's distaste for the team is well-documented but now he's extended his public vitriol to the team's fanbase. "I've said enough about the Lakers," Cuban [...] [[ This is a content summary only. Visit my...
DALLAS Already in this young season, the Los Angeles Lakers have changed personnel, coaches and systems. But on Saturday in Dallas came a constant: A 115-89 laughter that marks the Lakers' 103rd win over the Mavs in 135 regular-season tries. These Lakers aren't the legendary Lakers of yore at least not yet. LA is just 7-7 (the same record to which Dallas dropped) after...
DALLAS (AP) -- Metta World Peace hit three early 3-pointers to spark a Los Angeles barrage from long range, and the Lakers scored 36 points before Kobe Bryant took his first shot in a 115-89 blowout of the Dallas Mavericks on Saturday night. Bryant, the league's leading scorer, finished with 19 once he did start shooting as the Lakers hit the century mark for the first time...
Two different franchises both searching to figure out exactly who they are met at the American Airlines Center on Saturday night. Though both are in a state of flux, their current situations aren't necessarily due to the same circumstances. The Dallas Mavericks are still attempting to stay afloat while they wait on the return of [...]
DALLAS -- The Los Angeles Lakers finally delivered a little Showtime Saturday night to prop up an otherwise disappointing road trip. Blistering first-half shooting set up the 115-89 rout of the Dallas Mavericks at American Airlines Center, the type of high-octane performance -- if not the massive scoring discrepancy -- the Lakers hope can become more routine under new coach Mike...
NBA News

Delivered to your inbox

You'll also receive Yardbarker's daily Top 10, featuring the best sports stories from around the web. Customize your newsletter to get articles on your favorite sports and teams. And the best part? It's free!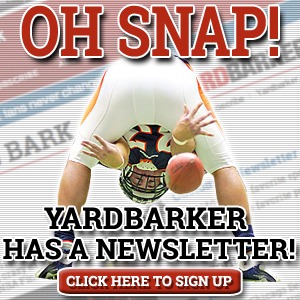 Latest Rumors
The Backyard

Today's Best Stuff

For Bloggers

Join the Yardbarker Network for more promotion, traffic, and money.

Company Info

Help

What is Yardbarker?

Yardbarker is the largest network of sports blogs and pro athlete blogs on the web. This site is the hub of the Yardbarker Network, where our editors and algorithms curate the best sports content from our network and beyond.