Found June 18, 2012 on Fox Sports Southwest:
MIAMI When Russell Westbrook stalked off the court midway through the third quarter and arrived at the end of the bench, he punched the seat cushion he was about to sit on, an act that served as more than an expression of frustration. It also served as confirmation that once again Westbrook is what's killing the Thunder. Just kidding well, sort of. Because for Westbrook, an enigmatic, talented point guard (at least according to some), often there is no action without an equal and opposite reaction. If he is not offending the fashion police with his geek-chic stylings, he is offending the sensibilities of the hooperati with his hell hath no fury (or basketball IQ) approach to the game. On Sunday night, when his team needed him most after Kevin Durant went to the bench with four fouls midway through the third quarter Westbrook offended the tastes of one of his greatest benefactors, Coach Scott Brooks, who benched him for playing recklessly. While many of the questions since have been put to Brooks about the wisdom of his move, which coincided with Oklahoma City relinquishing control of a game it would lose, it is hard not to notice a pattern here. Whenever the Thunder lose, it seems that Westbrook is often at the center of criticism. He is out of control. He doesn't pass enough to Kevin Durant. He is not a point guard. And anything else that cuts to a question at the heart of his character as a basketball player. Is he a winner? Westbrook is capable of carrying his team, which he often does for stretches and occasionally killing it but he is most consistent in serving as a lightning rod. In essence, he is the Thunder's LeBron James. "That's what it feels like," Oklahoma City center Kendrick Perkins said with a chuckle. "That's what he feels like, too. I don't understand when we do lose a game, OKC gets blamed, but he gets all the blame. Like nobody else gets blamed. Russ gets all the blame. When we win, I don't really hear too many people praising Russ." Perkins said this on Saturday afternoon, before Westbrook was benched, before he returned to miss two 3-pointers (including one that would have tied the score) in the last 30 seconds and was part of a mixup with Thabo Sefalosha that resulted in the game-clinching turnover. Oh, and before he scored 19 points and added five rebounds, four assists and two blocked shots, and sank a jumper to pull Oklahoma City within a point with 1:30 left, which turned out to be the Thunder's final basket. There were many more questions Tuesday about why Westbrook was yanked, rather than why James Harden was unable to carry the Thunder while its two stars were on the bench, and had a crucial turnover down the stretch. Harden has been a non-factor in this series has his game been lost somewhere within that House of David beard? but there is hardly outcry over his performance. The Heat got away with having Shane Batter guard Kendrick Perkins for large stretches, but nobody except Perkins said the Thunder were doing a disservice by not punishing Miami for it. And Derek Fisher, the sage veteran, played like a rookie at times committing a silly foul while James Jones shot a 3-pointer and taking (and missing) hasty shots himself. Perkins on Tuesday gave an interesting explanation when I asked why Westbrook is so often criticized. "His demeanor probably, how he carries himself on the court," Perkins said. "He has this attitude that it's me against the world, which is a good thing. That's how he cares. KD has this humble attitude and you see him, he's hugging his mama, he's always giving thanks to God, and Russ is kind of the complete opposite about how he approaches the game. "He's a player that plays with a lot of emotions. He's a wild card. He just wants to play. He's going to play hard. We've all got flaws. We all just got to deal with each other." Indeed, Westbrook does play the game with a great deal of aggression, part swagger and part sneer. He is the Thunder player most likely to pound his chest after a dunk, and though he can be thoughtful, he does not often allow himself to be with the media. His answers are often brief and reveal little. It is as if Westbrook needs to remind himself that he was overlooked by all Division I colleges until UCLA showed up at the last minute. And how UCLA coach Ben Howland was so reluctant to play him as a freshman. When he was drafted fourth overall, after one season as a starter at UCLA, it was considered by some a reach. And when he quickly proved that notion wrong, there were always the questions of whether he could ever be a point guard, ones that persist after two seasons as an All-Star. This, though, misses the point. With Harden, an excellent decision-maker and passer who is also arguably the Thunder's best finisher at the rim, it is not necessary for the ball to be in Westbrook's hands, particularly at the end of games. Brooks, just as he was after he benched Westbrook down the stretch in the Thunder's only win over Dallas in the Western Conference finals a year ago, was fully behind him after this benching. "It's never personal with me," Brooks said. "There was no message. I just took him out. He had a bad stretch. Everybody knows how much I love Russell." That is no doubt worth some comfort to Westbrook, because if the Thunder don't win this series, chances are that outside the Oklahoma City locker room that will not be the prevailing opinion.
Original Story:
http://www.foxsportssouthwest.com/06/...
THE BACKYARD
BEST OF MAXIM
RELATED ARTICLES
Welcome to RideThePine.com Did you happen to see one of the final inbounds plays during Game 3 of the NBA Finals between the Oklahoma City Thunder and Miami Heat?  It seems that there was a little miscommunication on Russell Westbrook's behalf.  Let's go back and look at the huddle just prior to the play. Hey Russell, maybe next time you should pay attention to the clip board...
Remember 48 hours ago when Scott Brooks and the Oklahoma City Thunder were determined not to change Russell Westbrook's hyper-aggressive playing style? No worries. Scott Brooks doesn't remember either. Sunday night, with the Thunder up six points midway through the third quarter and flirting with taking control of Game 3 of the NBA Finals, Scott Brooks decided to temper...
The Thunder's Russell Westbrook is having a tough go in the NBA Finals. His play has been erratic and he's drawing criticism for his stubborn attitude. Sound familiar? The Globe's Gary Washburn draws a comparison between Westbrook and Rajon Rondo. The difference is… Rondo gets criticized for his lack of aggression, while Westbrook is blasted for dominance of the ball: What's...
Game 3 of the NBA Finals was a potentially huge game for the young Oklahoma City Thunder squad, a game in which they could take the upper hand in what has been a tightly fought series. Much was expected of Kevin Durant, Russell Westbrook and the rest of the young Thunder in their first road test of the NBA Finals. How did they respond? Durant got into foul trouble and Westbrook...
                Let's get one thing out of the way. The Oklahoma City Thunder are likely going to lose the NBA Finals. A 104-98 loss to the Miami Heat Tuesday put the Thunder down 3 games to 1. That scenario's occurred 30 different times in NBA Finals history, and 30 times the team up 3-1 has won the series. I don't really need the stat to tell me that Miami are clearly...
  Oklahoma City Thunder's star point guard Russell Westbrook receives quite amount of flack for being a scoring pont versus being a true point. While his critics will continue to bash him, his ability to score is what drives the Thunder's success, well, right along with Kevin Durant's AWESOMENESS! The good folks over at Inside [...]
LeBron James and the Miami Heat are now only one win away from an NBA Championship. Despite Russell Westbrook's 43 points, the Heat went on to a 104-98 victory over the Oklahoma City Thunder giving them a commanding 3-1 series lead, something no other NBA team has been able to overcome in NBA finals history. LeBron James had 26 points, 12 assists and nine rebounds before being...
The future is bright for the Oklahoma City Thunder. While the team's cap situation is not ideal, the core of the team is young, and superstars Kevin Durant and Russell Westbrook are locked into long-term contracts. But even with the Thunder's trip to the NBA Finals, head coach Scott Brooks is not ready to commit to Oklahoma City's basketball future just yet. Brooks, who...
Scott Brooks likely is not focused on what happens after this season quite yet. In all likelihood, it will take care of itself once the Thunder's season ends -- championship or not. You still cannot blame Thunder fans for worrying that their head coach will go elsewhere this offseason. And while it's a concern for later, it is still a concern. Scott Brooks might be the hottest...
Oklahoma City is down to its last strike. Unlike trailing San Antonio 2-0 in the Western Conference final, the Thunder can't afford another loss in the NBA Finals. Miami took a 3-1 series lead with Tuesday's 104-98 victory at AmericanAirlines Arena. Oklahoma City squandered a 17-point first-half lead and struggled down the stretch again. Oklahoma City has played hard...
Chris Bosh Can Swallow Anything50) Scott Brooks moved Kevin Durant off LeBron James at the start of the game, because doing the obvious thing is what counts as great strategy in Game Four49) Russell Westbrook started off hot, which meant the Thunder took an early lead for once48) OKC went up 13-3 in the first four minutes, which meant that Heat Fan started checking their cell phones...
NBA News

Delivered to your inbox

You'll also receive Yardbarker's daily Top 10, featuring the best sports stories from around the web. Customize your newsletter to get articles on your favorite sports and teams. And the best part? It's free!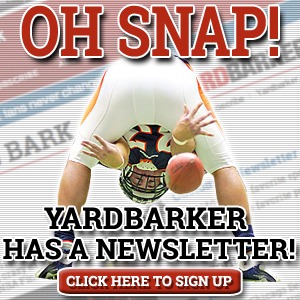 Latest Rumors
The Backyard

Today's Best Stuff

For Bloggers

Join the Yardbarker Network for more promotion, traffic, and money.

Company Info

Help

What is Yardbarker?

Yardbarker is the largest network of sports blogs and pro athlete blogs on the web. This site is the hub of the Yardbarker Network, where our editors and algorithms curate the best sports content from our network and beyond.