Found November 19, 2012 on Give Me The Rock:
Hands down, the most common question we've gotten so far this season is some variation on "what's the deal with Ersan Ilyasova and when will he be a good basketball player again?" The apprehension regarding Ilyasova is not a huge surprise given that he's currently sitting at #290 on the GMTR player rater after being drafted 58th on average in Yahoo leagues. Everyone, including the Bucks who signed him to a $45 million contract, expected more out of him going into the season. So, what IS the deal with Ilyasova? Play fantasy basketball long enough and you realize that the standard line on established veterans who start the year off in a slump – especially ones that are not shooting well to start the season (e.g., Roy Hibbert) – is usually to be patient and wait it out. As bad as things look to start the season, these veterans will usually get back on track in short order, provided they are not secretly injured. But the thing is Ilyasova is not really an established veteran after having one breakout season last year. There may be a touch more Dorell Wright in him than anyone anticipated going into the year. *** A quick look at Ilyasova's basic stat line shows that the career 44% shooter is currently shooting an abysmal 31% from the floor and 43% from the line. As a result, his scoring numbers have dropped from 13 points per game last season to 6.9 this season. His minutes have declined from 27.5 a game last season to 24 this season. In addition, his steal numbers are down, he's only blocked 1 shot in 8 games and even his vaulted rebounding numbers have declined from 8.8 a game last season to only 5.3 a game this year. Only his mediocre assist numbers and low turnovers have remained steady from last season, so at least he hasn't lost the ability to pass the ball. So the first thing to note is that Ilyasova isn't just having problems with one aspect of his game, but just about everything on both offense and defense. However, it's his shooting that is the biggest problem right now and a quick look at Hoopdata explains at least some of the reason why. Last season, Ilyasova took 4.1 shots at what Hoopdata classifies "at rim" or less than 3 feet from the hoop and made 60% of those shots. This season, he's only taking 2.6 shots per game at the rim and making a crazy low 33% of those shots. Instead of getting to the rim, Ilyasova is actually taking more threes than he did last season (2.3 to 1.9 attempts) and is only shooting 28% from three. So, this is a good news/bad news situation for Ilyasova. He will not continue to shoot 33% on shots at the rim all season, so expect improvement there. His three point shooting should also improve, although last season's 45.5% from three was likely lucky on the other end of the spectrum as he's a career 35.5% three point shooter. Unless he starts getting to the rim a little more, Ilyasova's percentages and potentially his scoring will be down from last season. And what about Ilyasova's 43% shooting from the line so far this year? It's possible that the slump has gotten into his head so much that he's turned into Dwight Howard from the line, but since he's only taken 14 free throws so far this season (remember, he's not getting to the rim) this is likely an issue of small sample sizes more than anything. The lack of rebounds has also been a troubling development this season. According to Basketball Reference, Ilyasova's rebounding rate last season was 17.6 (the percentage of available rebounds that he grabbed while on the court); this season it is 12.6. For reference, his career average is 15.0. This lack of rebounding means that Ilyasova has gone from averaging 3.3 offensive rebounds per game last season to only 1.5 this season. Remember the lack of shot attempts for Ilyasova at the rim this year? The huge decline in offensive boards is likely the main reason why. Now I'm no Bucks' expert, but here is where the addition of Samuel Dalembert and the growth of Larry Sanders has likely had a negative effect on Ilyasova. Say what you will about Dalembert, but both he and Sanders are very good to great rebounders. Ilyasova had his breakout season playing alongside centers like Drew Gooden, Jon Leuer and Ekpe Udoh, none of whom are in the same class of rebounder at this point in their careers. So while Ilyasova's minutes and role have remained (more or less) steady from last season, he's playing alongside a whole different type of player; one who hurts his biggest strength as a player last season. So I see is a player who will improve as the season goes on, the question is how much? His shooting at the rim is definitely going to get better, as will his three point shot and free throw shooting. His scoring numbers should bounce back at least into the neighborhood of what they were last season. The big issue I see with Ilyasova is that his rebounding numbers and rebounding rate will almost certainly be lower than they were last season. Even with a rebounding rate more in line with his career averages (which may still even be optimistic), Ilyasova would still only be averaging about 6.5 rebounds per game. I think anyone who drafted Ilyasova this season as one of their key forwards is going to be disappointed with his season – potentially very disappointed. But if Ilyasova was dropped in your league, is he worth a pickup? I'd say yes. There are enough silver linings in his dark cloud of a season that he should improve in a number of areas. No, he will not be a top 50 fantasy player this year, but once his shooting starts to come around, he could definitely crack the top 100 again. Want to see your ad in the GMTR RSS feed? Contact: givemetherock@gmail.com
Original Story:
http://feedproxy.google.com/~r/GiveMe...
THE BACKYARD
BEST OF MAXIM
RELATED ARTICLES
What's wrong with Ersan Ilaysova? Ersan Ilyasova broke out in the second half of the 2011-2012 season, averaging 16.1 points, 9.1 rebounds, 1.1 treys, 0.8 steals and 0.8 blocks over the final 28 games of the regular season. As a result, he was highly targeted in drafts this year, usually being selected in the fourth or fifth round. Even without getting much of a discount...
Milwaukee Bucks point guard Brandon Jennings has a point to prove this season. After the team opted not to extend his contract – making him a free agent next summer – Jennings has said he'll spend this season auditioning for the league. The Bucks are currently in Miami to face off against the Heat but [...]
Saturday, the Milwaukee Bucks got away with one. At least that's how Scott Skiles felt. The Bucks didn't show up on the defensive end, but were able to score and make one big play in the end to win. Against Charlotte on Monday, it was more of the same. The result appeared as if it was going to be the same, too, as Milwaukee built an 11-point lead in the fourth quarter by...
Dwyane Wade will try to take the court on Wednesday against the Milwaukee Bucks (6-3) after being sidelined with a pesky foot injury. Wade sprained his foot on November 12th and has been mostly out of the lineup since that point. "No soreness today after a tough day (Monday), so I feel pretty good," Wade told the Miami Herald.  Please Click Here To Read & Watch This Story
The Bucks Larry Sanders is becoming a very special player. Think Rodman.  Seriously.  Plenty of tats too. People it's time to jump on the empty bandwagon and get to know your Bucks. I was at the game Saturday night and truly loved it (weird right?) First, for any of you with A.D.D. the NBA feeds your addiction.  I literally missed a key last possession because I was watching...
After Wednesday's Bucks win over the Pacers, Ekpe Udoh walked through the locker room at the Bradley Center yelling something only a player on a surprise team expected to be the blandest of non-contenders this season would yell after his fifth win in seven tries. "It's a great time to be a Milwaukee Buck!" What's even wilder about the fact that those words...
A matchup between the Milwaukee Bucks and Charlotte Bobcats looks a lot more intriguing than it did a year ago. Two of the league's more surprising teams go head to head on Monday night as the Bucks visit the Bobcats looking for their first 4-0 road start in 11 years. These clubs were a combined 56 games under .500 last season, with Charlotte finishing an all-time worst 7-59...
The Honeybees The Milwaukee Bucks moved to 6-2 Saturday night with a 117-113 defeat of the New Orleans Hornets. It wasn't a stellar defensive effort for the Bucks, but Jennings and Ellis each put up 22 points and 9 assists, and it was enough for the Buckies to get the victory. Larry Sanders had a huge block late in the 4th quarter to help seal the victory. Jennings and Ellis...
The Milwaukee Bucks let one slip away Monday night, losing to the Charlotte Bobcats 102-98. This game was all about the guard matchups, with several of the quickest guards in the league meeting up – Jennings/Ellis v Kemba Walker/Ramon Sessions. Initially, the Bobcats combo got the best of the Bucks, with Walker shooting 6/6 in the first half and Sessions contributing 8 points...
NBA News

Delivered to your inbox

You'll also receive Yardbarker's daily Top 10, featuring the best sports stories from around the web. Customize your newsletter to get articles on your favorite sports and teams. And the best part? It's free!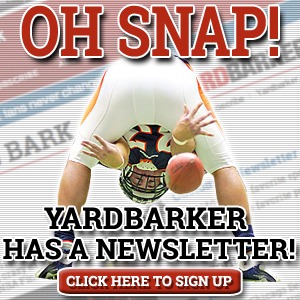 Latest Rumors
The Backyard

Today's Best Stuff

For Bloggers

Join the Yardbarker Network for more promotion, traffic, and money.

Company Info

Help

What is Yardbarker?

Yardbarker is the largest network of sports blogs and pro athlete blogs on the web. This site is the hub of the Yardbarker Network, where our editors and algorithms curate the best sports content from our network and beyond.