Found May 04, 2012 on SportyFemale:
LeBron James scored 32 points to lead the Heat and Carmelo Anthony scored 22 to lead the Knicks. (Barton Silverman/The New York Times)
Last night during the Knicks vs Heat game, we witnessed a New York team become deflated in the 2nd half. Miami Heat took a commanding 3-0 lead in the series and shot all hopes for a win by the Knicks, out the window.
The Knicks went into halftime with a 4 point lead, but they finished the half sluggish after having an 11 point lead and allowing Miami to go on a run. Coming back into the second half, it was obvious that Carmelo Anthony was tired. He just wasn't operating the same int he 4th as he had been all game. LeBron got in foul trouble and had to sit out much of the 3rd, so he came back with fresh legs and rest on his side.
Watching the Knicks play, you see glimmers of hope that they might be able to pull out a win and then defeat happens. They just don't have enough to beat stronger teams like the Heat. As good as Carmelo has been lately, he can't do it by himself.
Then you have to address the Amar'e Stoudemire issue. Not only did he selfishly punch through glass and take himself out of the playoffs, this team has performed better with him on the bench. There is no doubt in my mind that if he wasn't owed $60 million dollars that he would be on the trading block going into next season.
It also doesn't help that the Knicks lost Iman Shumpert in Game 1 of this series. He had been performing at such a high level and elevating this team to a level they lacked since losing Jeremy Lin.
Going into this series, I'm pretty sure that no one was giving the Knicks a shot at winning and it's easy to see why. They don't have enough fire power, nor a big enough leader in Carmelo Anthony. As great of a player that he has been, he just isn't on the same playing field as a LeBron James, Kevin Durant or Dwyane Wade. You have to be someone that is willing to lead your team and rev them up when things aren't going the right way. I've yet to see him do that in his career. Carmelo is a player that goes out and plays his game and hopes that everyone around him is able to adjust. I never thought him and Amar'e would be a good fit together for the Knicks. There has always been an excuse as to why Carmelo hasn't been 'that guy,' but what is really left. We've blamed the lack of talent in Denver and his head coach in New York, D'Antoni. There is no one or nothing else to blame for Carmelo.
At the end of the day, this Knicks current team just isn't enough. I don't see them going past the first round of the playoffs ever until certain changes are made. Maybe the Knicks organization will have to blow up this team to make it happen. I don't see someone like Phil Jackson coming to coach this team and I believe Mike Woodson has done a good job thus far. Some say that the Knicks can only go as far as Carmelo Anthony takes them and I'm not so sure that's true. Well, if it is true, then that means we have seen the highest point that the Knicks can go. Things have to change in New York and you can only hope that they make the proper adjustments going into the 2012-13 season.
Original Story:
http://sportyfemale.com/what-is-wrong...
THE BACKYARD
BEST OF MAXIM
RELATED ARTICLES
This video is CLASSIC! Hilarious compilation of the best of LeBron James flops from the 2012 NBA Playoffs, first round series. Late yesterday, Tim Donaghy submitted his latest blog post to CLNS Radio. Of course, the former NBA official honed in on the ugly officiating in these 2012 playoffs, particularly the Miami Heat vs New [...]
The New York Knicks made history thursday night but not in a good way. The Miami Heat beat the Knicks 87-70 behind LeBron James' 32 points. It was the Knicks 13th straight playoff loss which is an NBA record. The Knicks haven't won a playoff game since April 29th 2001 and Broke the Mephis Grizzlies previous record of 12. Carmelo Anthony was the Knicks leading scorer with...
With so many injuries to NBA stars USA basketball have added two players that could represent the United States in this year's 2012 Olympic games in London. One of those players hasn't even played a NBA game yet and the other player isn't even a starter for his NBA team. With injuries to Dwight Howard, Derrick Rose, LaMarcus Aldridge and Chauncey Billups it is...
Now that this compressed NBA season commenced, there are a plethora of players that deserve the regular season MVP. Theoretically, an MVP is defined as a player who has the most importance to his respective team. Players like Lebron James, Kevin Durant, Kevin Love and Derrick Rose can all win it this year, but just like the tag line to previous NBA playoffs has been, there can be only one.
The New York Knicks are down to the Miami Heat but Knicks guard J.R. Smith probably had the best play of the playoffs so far. Smith beat LeBron James off the dribble and then went to work. Smith continued dribbling and threw down a ridiculous reverse dunk. That is one of the best reverse dunks you are going to see. What great athletic ability he also double pump on the...
David Stern hates gambling. How stupid do you feel that you didn't vote Lebron James to win MVP this season like Bill Simmons? Plus, you now find out that NBA MVP voters, who bet on Lebron, are voting Lebron James as MVP too. Mark it down, for the next 3-4 NBA seasons thousands of NBA fans are putting their money on Lebron for MVP. More Information
LeBron James, Dwyane Wade, and Chris Bosh, otherwise known as "The Big Three" have looked like a three-man wrecking crew as the Heat have so far made quick work of the Knicks in their first-round playoff matchup.As much firepower as the trio may pack in their punch, however, they and the rest of their teammates have overwhelmed the Knicks with a full out team effort.Though...
NEW YORK -- Playing their first playoff game at Madison Square Garden, Miami Heat stars LeBron James and Dwyane Wade made it a memorable one. After Wade scored 12 of his 20 points in the third quarter to help Miami take the lead for good, James scored 17 of his 32 points in the fourth quarter to help the Heat finish off an 87-70 win over the Knicks on Thursday, pushing New York...
For the first 24 minutes of action it appeared as if the New York Knicks; despite having a roster that has been depleted by injuries; had a chance to defeat the Miami Heat on Thursday night and get their first win in the third game of the best of seven series. Those thoughts quickly disappeared early in the second half, as Miami outscored their hosts by a 55-30 margin to win the...
With the NBA regular season coming to a close it's time for awards week at The Hoops Manifesto.  We've teamed up with some of Bloguin's best NBA writers to vote on who gets the (virtual) hardware.  Next up: All-NBA TeamsVoting Panel: Jeff Fox from The Hoops Manifesto, Lives from Knicks Fanatics, College Wolf and Bonk from TWolves Blog, Philip Rossman-Reich from Orlando...
We've pointed out for years that NY Knick Carmelo Anthony doesn't seem NBA fit. Yesterday, Knicks interim coach Mike Woodson jumped on board: "I like to see [that] and he's made major strides this... Full story at Bob's Blitz ~ http://www.bobsblitz.com
Mike Woodson is pushing for Carmelo Anthony to be in better shape next season.
NBA News

Delivered to your inbox

You'll also receive Yardbarker's daily Top 10, featuring the best sports stories from around the web. Customize your newsletter to get articles on your favorite sports and teams. And the best part? It's free!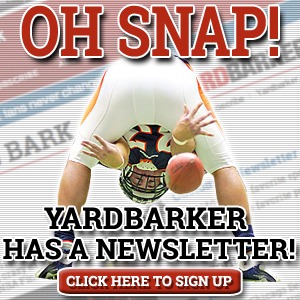 Latest Rumors
The Backyard

Today's Best Stuff

For Bloggers

Join the Yardbarker Network for more promotion, traffic, and money.

Company Info

Help

What is Yardbarker?

Yardbarker is the largest network of sports blogs and pro athlete blogs on the web. This site is the hub of the Yardbarker Network, where our editors and algorithms curate the best sports content from our network and beyond.