Found August 31, 2013 on Bay Sports Report:
  Generally, when a team rests its entire season's hopes on one man's shoulders, the team tends to derail due to the limits of that player's physical ability. This has been seen on countless occasions, where a team outplays a single player with a few minor pieces behind them. When the San Antonio Spurs massacred the Cleveland Cavaliers in the 2007 NBA Championship due to Cavs' depending solely on Lebron James, or last season, when Dwight Howard was forced to shoulder the entire load of the Lakers' season and the team was decimated in the opening round of the playoffs, it is seen that a team must depend on every single on of its players, not just the production of one, no matter how talented they may be. However, some organizations take this format on to a far lesser degree. When Russel Westbrook was injured for the entire postseason in last year's playoffs, the Thunder fizzled rapidly and were knocked out by the Memphis Grizzlies. This stumble was not caused by Westbrook being the lone hope for Oklahoma City, but by being one of the primary supports for their hopes for a title. Now, such a formula is taking shape in the Bay Area with the Golden State Warriors. Golden State has built a lineup that has essentially has them locking down a playoff spot, but their aspirations for a deep playoff run may come down to their starting center, Andrew Bogut. Bogut, a titan who is unfortunately known for this constant health issues, brings an ample amount of talent to the court, that is, when he is on the court, and compliments his teammates flawlessly. In the 2012-13 season, the Warriors ranked twenty-seventh in the league in shots blocked, as they lacked a true dynamic force in the paint on the defensive end. Bogut can change this, as he averaged 2.5 blocks per 36 minutes last season, and has a career average of 1.6 blocks per game. The Warriors desperately need him on the floor on a consistent basis, as he is now the cornerstone for their defense, and works alongside David Lee to keep Golden State as one of the top rebounding teams in the league. But, it is his defensive capabilities that make Bogut a necessity. Lee is an extraordinary power forward, but solely on offense, as his defensive play is subpar at best. If Bogut can shoulder the load of clogging the paint for the other team, it allows Lee to focus primarily on rebounding and takes an immense amount of pressure off of him. Furthermore, having the area close to the basket accounted for frees up the backcourt players to focus on guarding the players they were tasked with defending, and protecting the outer parts of the court. Keeping their center in play allows the rest of the team to work where they need to, and to a higher degree. This thought, though, is a hopeful one. Bogut has played a total of forty four regular season games over the past two seasons, and has been a part of seventy games in a season just twice in his eight year career. A plethora of injuries, ranging from back spasms and muscle sprains to a horrifying arm injury in 2010 while going for a dunk which sidelined him for the rest of the season, have kept him from being a consistent player, and from fulfilling his large amount of potential. Andrew Bogut is capable, as has been seen, of being an overpowering defensive presence, a respectable passer for a center, and an excellent support player, and should he be able to put in at least twenty five minutes on a nightly basis for the Warriors, they will become a powerhouse. Golden State is virtually guaranteed a playoff spot in this upcoming season, no matter what becomes of their center's health. They have enough depth at the center and power forward positions to be able to give Bogut an ample amount of rest every single night, particularly after signing longtime veteran Jermaine O'Neal. However, due to their lack of a second center that can become a reliable starter in the event of an injury, Bogut's health becomes a critical point to what they will accomplish this year. If he is forced to sit out a large amount of time, especially in the playoffs, Golden State will be looking at a first or second round exit from the postseason. However, if Andrew Bogut can pull through with a long, reliable season, this is a team built in such a way that he could help propel them deep into the playoffs, and potentially to a Western Conference crown.
Original Story:
http://www.baysportsreport.com/2013/0...
THE BACKYARD
BEST OF MAXIM
RELATED ARTICLES
Andrew Bogut has been plagued by injuries throughout his time in the NBA, limiting what was expected to be a promising career. Last season was no different, and Bogut has now missed 104 games over the past two campaigns. Still, he's made it through the summer healthy, and Golden State Warriors general manager Bob Myers told Sean Deveney of The Sports News that the team will treat...
Golden State Warriors guard Steph Curry has incorporated Chick-fil-A into his workout regimen by practicing his ball handling skills while juggling some of their waffle fries. Now if that's not the perfect opportunity for an endorsement deal, we don't know what is. H/T BDL. Visit us at holdoutsports.com and follow us on Twitter @HoldoutSports.
When the NBA season starts, the Golden State Warriors plan to treat Andrew Bogut as a fully healthy center who will not be restricted. "I think the initial thought is he is healthy, and play him as much as you want," general manager Bob Myers said. "If something obviously were to develop, something unforeseen, you have to react to it. At this point, you treat him like he...
When it was over on July 5 Warriors general manager Bob Myers was finally able to exhale a long satisfying breath. The previous five days had been a whirlwind with Golden State one of five teams included in the very public chase of the league's top free agent—center Dwight Howard—all while pulling strings behind the scenes in hopes of landing Denver wing Andre Iguodala a better...
We here at That NBA Lottery Pick always surf the realm of Reddit NBA trying to come across awesome NBA-related memorabilia and this woodgrain necklace is the latest thing to catch our collective eye. Check out the below photo which shows off the intricate detail done with the Warriors logo: *** Warriors woodgrain necklace is nice [Reddit NBA]
Warriors News

Delivered to your inbox

You'll also receive Yardbarker's daily Top 10, featuring the best sports stories from around the web. Customize your newsletter to get articles on your favorite sports and teams. And the best part? It's free!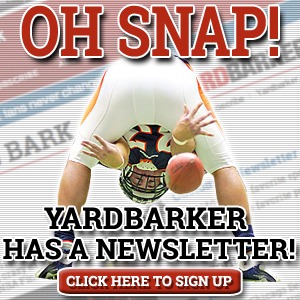 Latest Rumors
The Backyard

Today's Best Stuff

For Bloggers

Join the Yardbarker Network for more promotion, traffic, and money.

Company Info

Help

What is Yardbarker?

Yardbarker is the largest network of sports blogs and pro athlete blogs on the web. This site is the hub of the Yardbarker Network, where our editors and algorithms curate the best sports content from our network and beyond.