Found January 03, 2013 on Fox Sports Florida:
PLAYERS:
Nikola Vucevic
,
Dwight Howard
,
Jameer Nelson
,
Arron Afflalo
,
Tracy McGrady
,
Kobe Bryant
,
Brian Shaw
,
Scott Skiles
,
J.J. Redick
TEAMS:
Orlando Magic
,
Miami Heat
,
Los Angeles Lakers
,
Atlanta Hawks
,
Washington Wizards
,
Denver Nuggets
Single game records arent made to be broken, at least not easily. If they were, it wouldnt have taken 19 years for a Magic player to pull down Shaquille ONeals rebounding record. The truth is, single game records are extremely hard to reach. Rarely do you see a player attain one and that is because its a result of many outside variables coming together on one very special night. For Nikola Vucevic, that night came on New Year's Eve against the defending NBA champion Miami Heat. I just wanted to go out there and be aggressive on the glass, Vucevic said after he scored a career high 20 points and set a Magic rebounding record in the overtime loss. I had no idea I would grab 29 boards. Vucevic is now No. 1 in franchise history for the most rebounds in a single game,surpassing the original Supermans 28 rebound effort against the New Jersey Nets onNov. 20, 1993. Even All-Star Dwight Howard (Superman II) couldnt reach the recordduring his seven years in Orlando. Vucevic has done it in just 31 games. Still, his teammates joke like it was just another day at the office for the second year center, probably in an attempt to keep him humble. I mean hes a seven-footer, Jameer Nelson said teasingly, Hes supposed to get that many rebounds. He got like 10 rebounds on one play, Arron Afflalo added jokingly, exaggerating just a smidge. But, when all the jokes are done, his teammates know the difficulty in setting a single game record. Seven-footers dont just get 29 boards every game the same way scorers dont just go for 62 points on a nightly basis. Its not every day a player hits 11 3-pointers and only one point guard in the NBA has ever dished out 30 assists.As we look back on some of the other great single-game performances in Orlando Magic history, we pose the question: Which one is the most impressive? Tracy McGrady scores 62 points March 10, 2004 I was going for 70, Tracy McGrady said in his post-game interview the night he dropped a 62-point bombshell on the Washington Wizards in a 108-99 Magic victory. If I would have made my free throws, I would have had it. Not only did McGrady miss nine free throws, he also missed 10 of his last 11 shots.But through three quarters, McGrady was unstoppable. T-Mac went off, hitting 19 of his first 26 shots. Thats 73 from the field. Not only could McGrady have gone for 70, he could have very easily hit the 80-point club. He was pulling up for 3s after shaking defenders left and right, breaking down double teams like they didnt even exist, and getting to basket anytime he wanted to. Even though he thought he underachieved with 62 points, the two-time scoring champion earned both of his titles this night.Dennis Scott makes 11 3-pointers April 18, 1996 For a shooter, theres nothing sweeter than that second chance shot from the 3-point line after your team gets a hard-fought offensive rebound. Its like a dagger right in the heart of the other team. On the night "3-D" hit 11 3-pointers in a 119-104 victory over the Atlanta Hawks, five of his makes came from second chance opportunities, two off his own misses. The other six 3s were an assortment -- transition 3s, corner 3s out of the post up, the extra pass 3s, and that one long range, two-steps past half court 3 just because he felt like it. And man was he feeling it. The Magics all-time leader in 3-point field goals made, was 11 of 17 from behind the arc, finishing the game with 35 points. Not only did he set a franchise record, he also set an NBA record that wasnt broken until Kobe Bryant hit 12 3-pointers in a game seven years later. What made the night even more special was that Scott was able to share it with the guy he surpassed in the NBA history books. Brian Shaw, who previously held the record with 10 3s, was credited with the assists on Scotts last two 3-pointers made.Scott Skiles dishes out 30 assists Dec. 30, 1990 No disrespect to the great point guards in the league today, but this is one record that may never be broken. It takes two players to create an assist, and for one player to dish out 30 of them, it takes the whole team doing almost everything right. The night Skiles set an NBA record in assists was also the same night the Orlando Magic set a franchise single game scoring record in a 155-116 win against the Denver Nuggets. It was a once in a century type of game. The Nuggets were playing a run and gun style, settling for long jumpers early in the shot clock which created countless fast break opportunities for the Magic, led by Skiles at the point.Although fast break situations are a harvestland for assists, they can also be a hidden trap for turnovers. The great point guards know how to capitalize. Skiles, the Magics all-time leader in assists, had only four turnovers in the game, resulting in a 7.5 assist to turnover ratio. He wasnt just passing the ball off every chance he got either. Skiles hit two 3-pointers, grabbed six rebounds, recorded two steals, made six out of seven free throws and finished the game with 22 points. Virtually every time he touched the ball something good happened. Its no wonder Skiles played in all but four minutes of the contest. So out of Vucevics 29 rebounds, McGradys 62 points, Scotts 11 3-pointers and Skiles 30 assists, which record is the most impressive? The question certainly makes for some good old fashion basketball talk. Arron Afflalo and J.J. Redick say Skiles assist record without question. Thirty assists? Afflalo said in disbelief. You cant just go get thirty assists.
Original Story:
http://www.foxsportsflorida.com/01/03...
THE BACKYARD
BEST OF MAXIM
RELATED ARTICLES
Glen Davis has always been a fighter. Not literally. Hopefully not, at least, because of the NBA's fines for fighting and sensitivity toward all that for its image, etc. But Glen Davis has overcome a lot to get where he is at. And this year has been a breakout season for him as he has taken a prominent role on a team for the first time in his career. A sprained shoulder...
Now that the calendar has officially turned to 2013, the countdown to the NBA's most intriguing day can really begin. Yes, we are 51 days away from the NBA trade deadline. The Magic figure to be active with that $18 million trade exception and an eagerness to collect assets and build for a long-term future. Of course, if the Magic want to get rid of some of those massive...
Theres a quote on the walls of the stairway leading up to the practice gym at WakeForest University. A quote that Orlando Magic point guard Ishmael Smith repeated countless times as he climbed that stairway in the late hours of the night and the early hours of the morning. A quote he still repeats today, now three years out of college and finding his way in the NBA. The quote reads...
The Orlando Magic built off a strong performance against Miami and snap a six-game losing streak. They accomplished one of those. Maybe not the one they wanted though. Orlando is still on a losing streak. Kirk Hinrich's bucket with 25 seconds left gave Chicago the lead for good as Jameer Nelson could not answer on two opportunities to tie it up. The Bulls front line proved...
The process of letting the ball roll down the court without touching it in order to save time is called Walking the Dog.  I honestly can say I've never heard that term used before.  Apparently LeBron James loves walking the dog though.  He did it Monday for 10+ seconds against the Orlando Magic, which has to be a record if something as dumb as that was actually considered...
Every injury is an opportunity. When Jameer Nelson and E'Twaun Moore went down with injuries against Washington, Ish Smith was brought to the forefront. He started against Toronto for the fifth time in his career and started again against Miami. In those two games, Smith averaged 7.5 points per game. More tellingly, maybe, Smith scored 13 points on 6-for-12 shooting as...
ORLANDO, Fla. (AP) -- Carlos Boozer had a season-high 31 points and 11 rebounds, Luol Deng scored 23 points and the Chicago Bulls hung on to beat the Orlando Magic 96-94 on Wednesday night. Taj Gibson added 21 points and 10 rebounds for the Bulls, who played without center Joakim Noah. Chicago was outrebounded 37-34 in Noah's absence but exploited an injury-plagued Magic front...
ORLANDO -- Even without their starting center, the Chicago Bulls looked like bullies around the basket Wednesday night. The Bulls got 75 points combined from their three front-court starters -- including a season-high 31 points from power forward Carlos Boozer -- to outmuscle the Orlando Magic, 96-94. Taj Gibson, starting in place of center Joakim Noah, had a season-high 21 points...
A little instrument with a long history.
ORLANDO -- Carlos Boozer had 31points and 11 rebounds to lead the Chicago Bulls to a 96-94 victory over the Orlando Magic on Wednesday. It was the seventh consecutive loss for the Magic (12-20). Jameer Nelson matched his career high with 32 points for the Magic, but he missed two shots in the last 11 seconds that allowed the Bulls to preserve the victory. Taj Gibson, in his...
At 7PM tonight, the Orlando Magic (12-19) will square off against the Chicago Bulls (16-13) in Orlando. For the Magic, it is a chance to snap a 6 game losing streak. The Bulls have lost 3 of their last 4 games and are looking to maintain their 5th seed in the East. They are currently tied with the Milwaukee Bucks. The Magic put up an incredible effort against the Heat on New Years...
Even with a fantastic 4th quarter comeback for the Orlando Magic (12-20), outscoring the Bulls 23-14, they couldn't manage to close out the game in the final minute. The Bulls (17-13) have now beat the Magic in 7 of their last 8 outings. Despite Joakim Noah's absence (flu-like symptoms), the Bulls slaughtered the Magic on the boards for the first 3 quarters. This was surprising...
NBA News

Delivered to your inbox

You'll also receive Yardbarker's daily Top 10, featuring the best sports stories from around the web. Customize your newsletter to get articles on your favorite sports and teams. And the best part? It's free!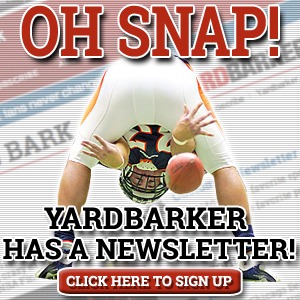 Latest Rumors
The Backyard

Today's Best Stuff

For Bloggers

Join the Yardbarker Network for more promotion, traffic, and money.

Company Info

Help

What is Yardbarker?

Yardbarker is the largest network of sports blogs and pro athlete blogs on the web. This site is the hub of the Yardbarker Network, where our editors and algorithms curate the best sports content from our network and beyond.