Where did it all go wrong? A post-mortem for NBA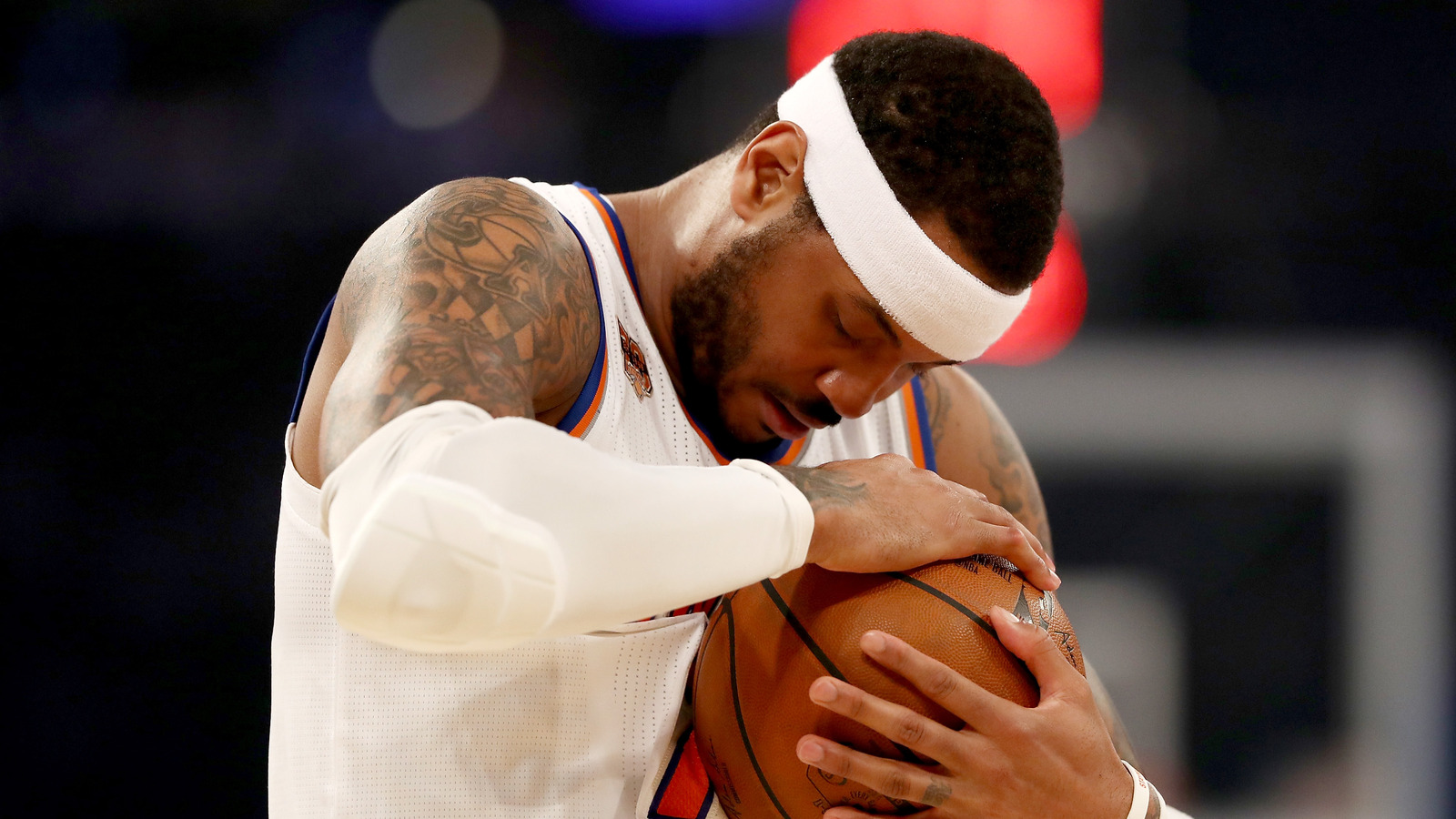 Carmelo Anthony of the New York Knicks hugs the ball before the opening tipoff against the Philadelphia 76ers at Madison Square Garden on April 12, 2017. The Knicks finished the season 31-51.
Elsa/Getty Images
There's a few NBA teams who went into the year with high hopes and ended up with low win totals. We've picked out three teams in each conference who were blindsided by a trip to the lottery, and we've gone back to look at how and where it all went so very, very wrong. 
New York Knicks 

Great Expectations: The Knicks went into the season feeling optimistic. They'd added former MVP Derrick Rose and former Defensive Player of the Year Joakim Noah, as well as former lottery pick Brandon Jennings. Former NBA Finalist Courtney Lee was signed to stabilize the shooting guard position. Could this be enough to restore the Knicks to their former glory? Rose even claimed, "They're saying us and Golden State are the super teams." (No one was saying that.)

In addition, they still had Carmelo Anthony and Kristaps Porzinigis was only 21. New coach Jeff Hornacek had impressed in his first coaching gig in Phoenix, before a wave of injuries and a reactionary owner pushed him out. Vegas set their over/under at 38.5 wins, which isn't terribly high, but in the East, that could easily be a six seed.

Things Fall Apart: The Christmas Day game against Boston was this team's chance to shine on national TV. They rallied back from 13 points down to tie the game with a minute remaining and the Garden crowd was on their feet. Almost immediately, Marcus Smart hit a three-pointer and the Garden crowd sat back down.

The Downward Spiral: On January 12th, Phil Jackson's close friend Charley Rosen write that it was a "sure thing" that Carmelo Anthony had outlived his usefulness in New York. It kicked off weeks of media manipulation and sniping from Phil, who seemingly wanted Melo to drop his no-trade clause.

Circling the Drain: On January 29th, the Knicks played four overtimes against the Hawks. They hit game-tying shots in the final seconds of three periods, but ultimately lost, 143-139.

Rock Bottom: During a season where the Knicks brought back countless former players to celebrate their 70th anniversary, the lasting memory is of All-Star big man Charles Oakley being dragged out of the arena and thrown in jail. White bluesman/team owner James Dolan had to go the commissioner's office to make up with Oakley (only he didn't really).

Hope Springs... Temporarily: Two days after Charles Oakley's ban, the Knicks pulled off a four-point victory against the Spurs – in front of Latrell Sprewell! They rode this momentum to consecutive double-digit losses to OKC and Cleveland.

Insult to Injury: Phil Jackson got dumped by his longtime girlfriend, Lakers president Jeanie Buss for Jay "Gary Unmarried" Mohr. First he stole jokes on SNL, now he's stealing the Zen Master's girlfriend. Shame!

Injury to Insult: It wouldn't be a Derrick Rose season without a debilitating injury, and he delivered in the season's last month by tearing his meniscus, meaning he might actually go into the off-season with less momentum than the Knicks themselves.

Injury to Suspension: Joakim Noah finished the year rehabbing an injury, so that he could be medically cleared to start serving his 20-game PED suspension. He was averaging five points per game – imagine what he's like without steroids! Now he'll be out 4-6 months, plus those 20 games, with a left shoulder injury. He's signed through 2020.

Outlook: The Knicks have a lottery pick, and Derrick Rose's contract comes off the books. They'll probably trade Melo and fully embrace the Porzingis era. Looks rosy, right? Except Phil Jackson has two more years on his deal, and James Dolan can keep owning the team – and himself, constantly – as long as he wants. They can shuffle the players in and out all they want, but as long as the "owner" position remains the same, they're doomed.
Dallas Mavericks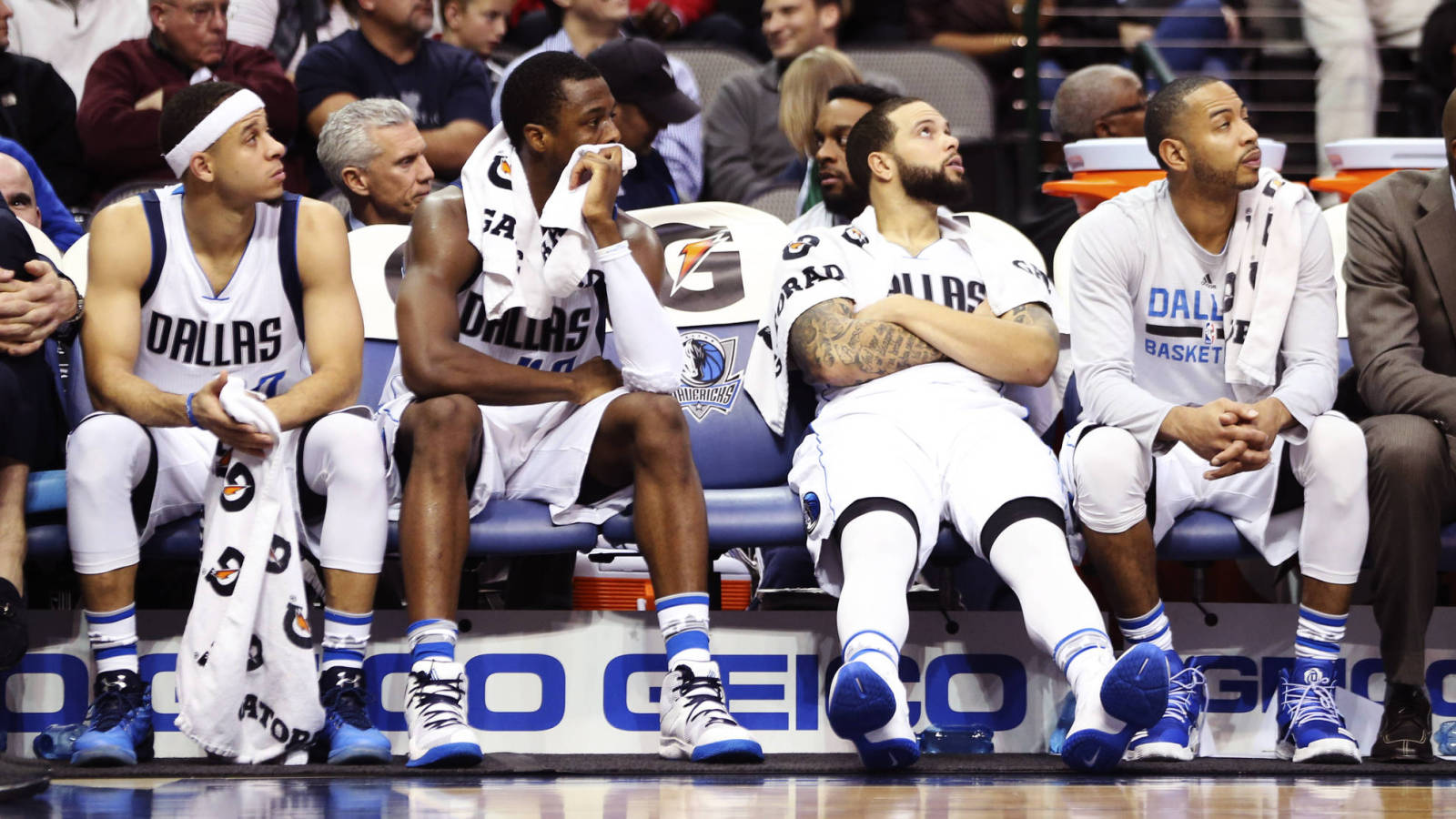 (From left to right) Dallas Mavericks guard Seth Curry (30) and forward Harrison Barnes (40) and guard Deron Williams (8) and guard Devin Harris (34) could not have enjoyed season that saw the team finish out of the playoffs with a record of 33-49.
Kevin Jairaj-USA TODAY Sports
Great Expectations: The Mavericks were the sixth seed in 2015-16, finishing just above .500 at 42-20 and losing to Oklahoma City in the first round. In the off-season, OKC's loss of Kevin Durant became the Mavericks' gain, as they picked up Andrew Bogut and Harrison Barnes from the cap-clearing Warriors. They lost Chandler Parsons and his cursed ligaments to Memphis, but the Mavericks filled out the roster with affordable deals for Seth Curry and Deron Williams. This team wasn't a title contender, but with Dirk Nowtizki and Rick Carlisle, they sat comfortably in the lower tier of playoff teams.

Things Fall Apart: The Mavericks' hopes were dashed shockingly fast. After losing in overtime on opening night, Dirk got sick. Then Devin Harris hurt his foot, Deron Williams hurt his knee, Andrew Bogut started missing games for personal reasons, and then, like the Greek army after Hector killed Patroclus, Dirk had an inflamed Achilles. The Mavericks started 0-5.

The Downward Spiral: A brutal early road trip took Dallas to both coasts, and tempted Rick Carlisle to walk into multiple oceans. After seven straight losses, they went to Cleveland the night after Thanksgiving, and played like they ate a full turkey dinner an hour before the game. The Cavs led 72-38, won by 38, at halftime, and their fans booed Seth Curry relentlessly the whole game

Circling the Drain: On January 20th, the Mavericks lost to the Jazz in overtime, as Rudy Gobert abused them for 27 points and 25 rebounds. Dirk Nowitzki shot 1-13, which included two misses and a blocked shot on a single possession. Worst of all for Mark Cuban, his Twitter foe Donald Trump was inaugurated as president the same day.

Glimmer of Hope: Yogi Ferrell signed a 10-day contract in January and immediately caught fire, scoring 71 points as part of a four-game winning streak. The Mavs looked much better with him rounding out the guard rotation, and Yogi got himself signed for the rest of the year.

Last Gasp: C.J. McCollum and Dirk Nowitzki dueled down the stretch, with Dirk nailing two go-ahead three-pointers in the last minute. But McCollum hit a floater with seconds left, and if the door was open for an improbable playoff run before, C.J. shut it.

Christmas Comes Late: At the trade deadline, Dallas managed to trade Andrew Bogut's expiring contract and expiring body to the 76ers for Nerlens Noel. The Mavericks never exactly hit rock bottom this year, but they paid rock-bottom prices for a shot-blocking rebounding machine who only just turned 23.

Twist Ending: Way out of the playoffs and tanking for draft position, the Mavericks signed retiring quarterback Tony Romo to a ceremonial contract. This is perfect, since the only thing more injured than the 2016-17 Mavericks is Tony Romo.

Outlook: It's not that bad! Dirk is a shell of himself, but it's a delightful, candy-coated shell that still has an unblockable fadeaway. Seth Curry, Harrison Barnes, a re-signed Nerlens Noel, and whoever they get with their lottery pick — that's not a terrible baseline. And with all those injuries, the young guys got plenty of playing time. This could easily be a 42-win team next year. Faint praise, but a lot better than some of these teams.

Detroit Pistons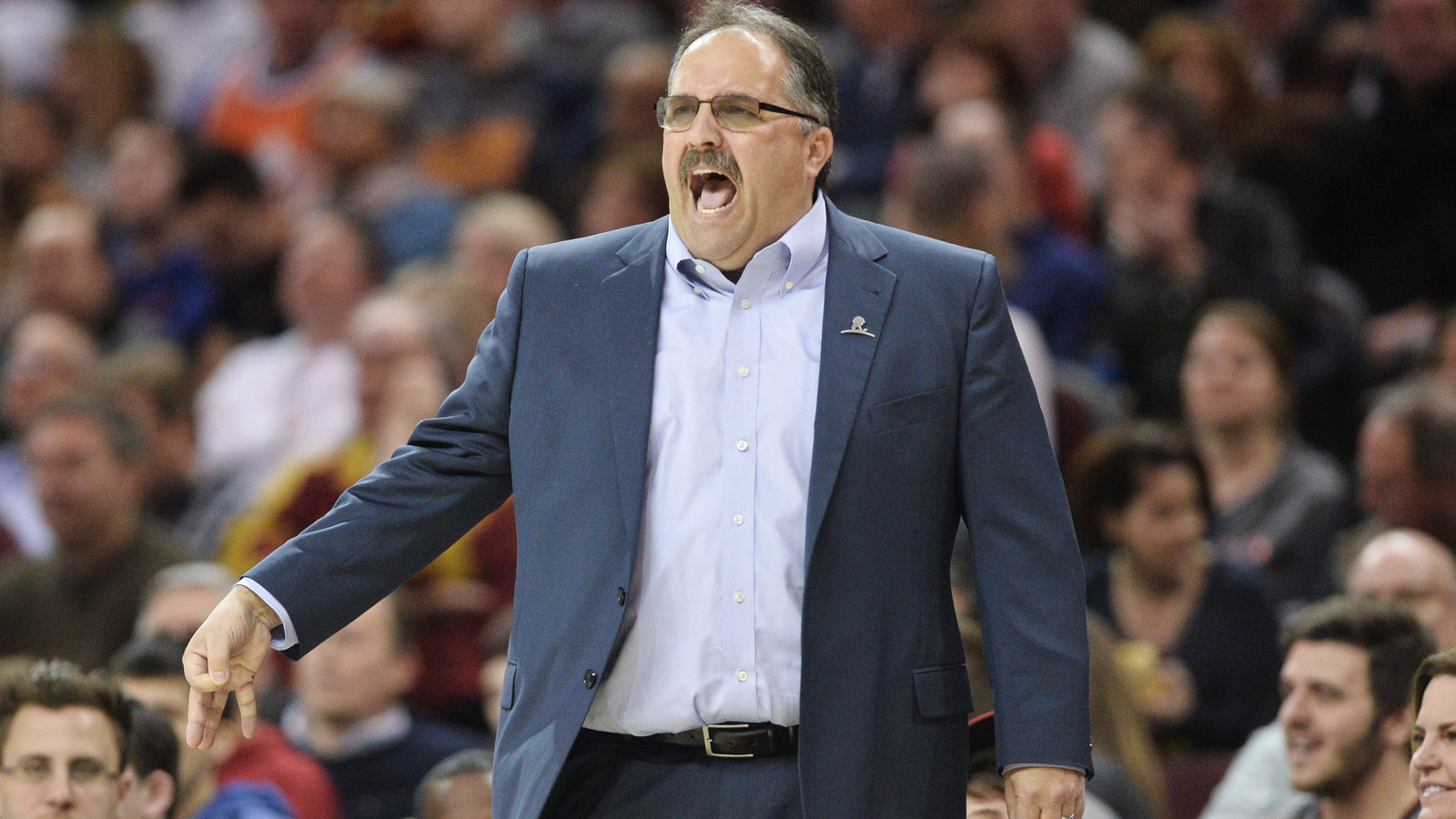 Detroit Pistons head coach Stan Van Gundy saw his team miss the playoffs and finish the year 37-45. 
Ken Blaze-USA TODAY Sports
Great Expectations: The Pistons returned to the playoffs in 2016, losing in as feisty a four-game sweep as you're ever going to see. In the off-season, they gave Andre Drummond a max extension and otherwise filled in their woeful bench, adding Ish Smith, Jon Leuer, and Boban Marjanovic. Detroit seemed ready to take the next step towards contention during their last season at the Palace in Auburn Hills, and Stan Van Gundy was ready to talk serious trash to his brother.

Things Fall Apart: Losing to Brooklyn in the fifth game of the season was a bad omen. The Pistons were still 3-2, but one of the keys for a bottom-tier playoff team is beating up on the truly crappy teams in the East. In particular, that means the teams from New York City. A loss to the Knicks two weeks later incited a four-game skid. Brook Lopez went off, the first of many big men who scored big on Andre Drummond this season. Stan Van Gundy did some retail therapy at Ross Dress For Less.

The Downward Spiral: The Pistons held the fort without starting point guard Reggie Jackson, going 11-10 while he was out with a knee injury. But his return didn't spark the offense like Stan Van Gundy had hoped, as they struggled to break 100 points. The worst was when Jackson missed five threes in a 25-point home loss to the Bucks, the polar opposite of the other Reggie Jackson hitting in the '77 World Series. Stan Van Gundy chugged a 32-ounce Diet Pepsi in his press conference.

Circling the Drain: Detroit took a two-game winning streak into Sacramento in January, after an inspiring double-overtime road victory over Portland. They took an 18-point lead in the second half of that game before their shooting went ice cold, scoring only five point s in the final six minutes of the game. Stan Van Gundy almost chewed off his mustache.
Glimmer of Hope: Andre Drummond put up 20 and 16 against the defending champion Cleveland Cavaliers. Encouragingly, they dominated the fourth quarter, despite LeBron dunking like the game was sponsored by Verizon. This game put the Pistons solidly into the 7 seed, and gave them tons of confidence about facing Cleveland in the playoffs. Stan Van Gundy treated himself to fro-yo.

Rock Bottom: Once again, it was Brook Lopez and the Nets tearing out the Pistons' heart. He hit a last-second jumper to stun them, showing why he's the all-time leading Nets scorer! After the game, one of the Pistons suggested the game was a "wake-up call," and Stan Van Gundy exploded: "We're 71 games in. A wake-up call? Come on, we've been doing this all year." If anything, the game was a snooze button, and the Pistons lost their next four to fall the way out of the playoff race.

Outlook: The Pistons are moving downtown next year, and some players might be moving out of town entirely. Kentavious Caldwell-Pope is a restricted free agent, and the Pistons may have to choose between maxing him out and losing him entirely. With Andre Drummond already maxed out and Reggie Jackson making big money, Detroit may well blow things up, rather than being capped out as the 10th-best team in the East. The Pistons are still young. The late-lottery pick should help, the terrible outside shooting should improve with regression to the mean, but just like Stan Van's wardrobe, this team needs to change things up.  

New Orleans Pelicans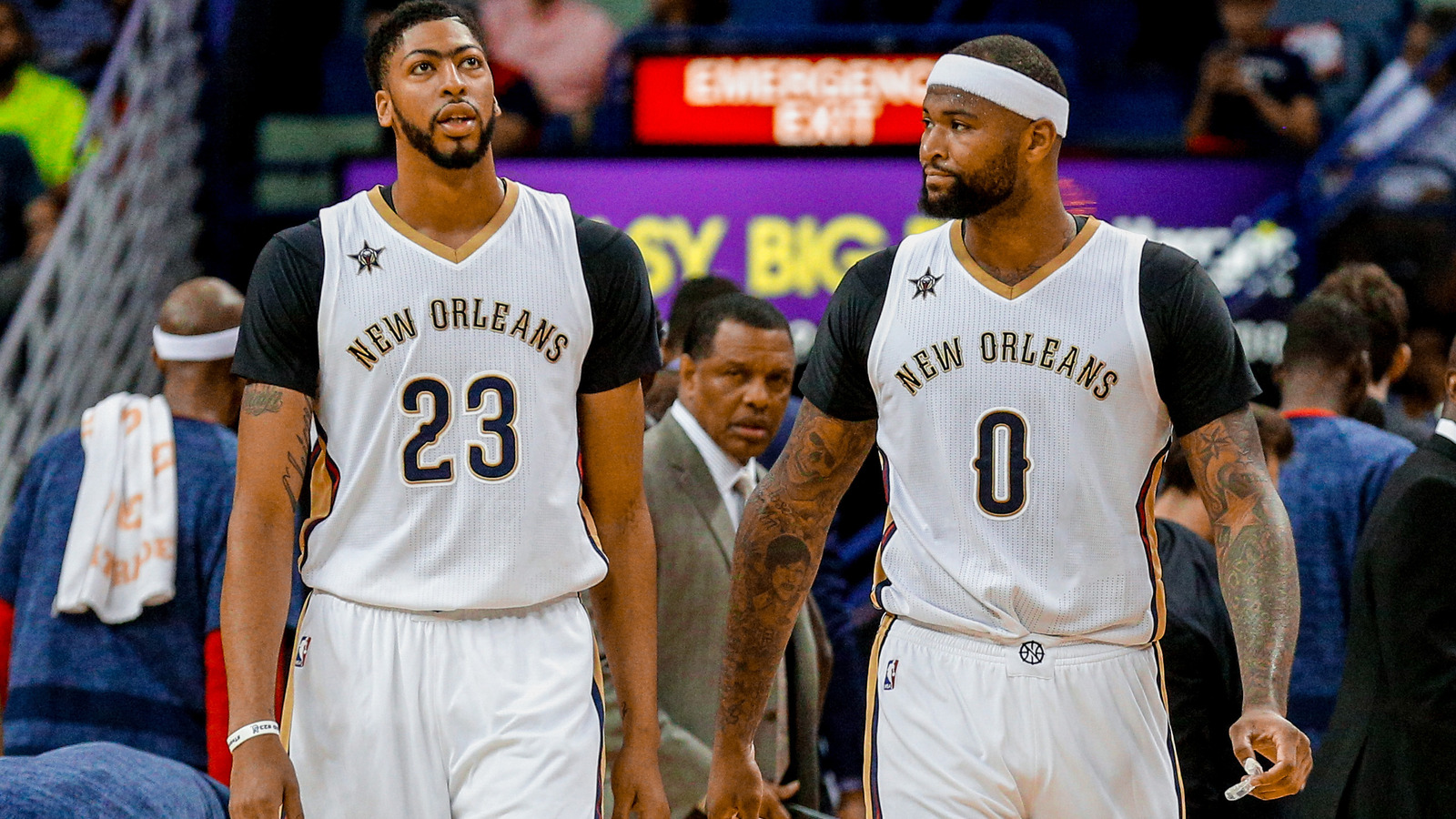 Anthony Davis (23) and forward DeMarcus Cousins (0) barely had any time to play together after Cousins was traded to the club during the All-Star Game break as Davis was soon out due to injury.
Derick E. Hingle-USA TODAY Sports
Great Expectations: The Pelicans are cursed. In 2013, they traded for Jrue Holiday, who unbeknownst to them had two lingering leg fractures. In the same season, Ryan Anderson had to deal with the suicide of his girlfriend and a freak, season-ending neck injury. Tyreke Evans blew out his knee and missed 57 games in 2015-16. Former coach Monty Williams' wife was killed in a car accident.
Last year, the Pelicans were signing street free agents like Nate Robinson and putting them into the starting lineup. They had so many injuries that Anthony Davis led the team in minutes despite missing 20 games. They lost Ryan Anderson and Eric Gordon, but it didn't feel like a huge loss since they missed 50 games combined. New Orleans added Buddy Hield in the draft, a passel of players in free agency, and figured to get more than 25 games from Tyreke Evans. Surely this team could contend!

Things Fall Apart: Two months before the season, Holiday learned his pregnant wife had a brain tumor. The Pelicans would be without their second-best player indefinitely as he took care of his sick wife and his new baby.  Evans was slow to come back from injury, and suddenly Lance Stephenson was logging 45 minutes a game. The Pelicans lost two overtime games and three others by single digits, including games where Davis scored 45 and 50 points. They started 0-8.

The Downward Spiral: New Orleans released Lance, saged their practice facility, and got back to the fringes of contention. But on December 5th, playing shorthanded on the second game of a back-to-back, the Pelicans lost in double-OT to Memphis. Troy Daniels hit seven threes, which is either terrible luck or terrible perimeter defense. The loss was a gut punch, or maybe the team was just cramping from exhaustion.

Glimmer of Hope: Playing without Anthony Davis, the Pelicans survived a 49-point explosion from Kyrie Irving and beat the Cavaliers. Terrence Jones was scoring, Holiday was dishing, and Donatas Motiejunas almost forgot how badly B.J. Armstrong screwed up his contract negotiations. They were only a single game out of the 8-seed!

Time to Boogie: At the All-Star break, the Pelicans shocked the league by trading for DeMarcus Cousins, though insiders claimed it was only because All-Star Weekend was in the Big Easy, and Vlade Divac likes face-to-face meetings. Anthony Davis won MVP at the game, and the Pelicans suddenly had two star big men.

Boogie? Down: The dynamic duo of AD and Boogie took a while to get started. New Orleans lost their first three games after the trade, and their first win came with Cousins suspended for technicals. Meanwhile New Orleans had waived Terrence Jones and the injured Omri Casspi, and moved on to Jordan Crawford. They started Hollis Thompson against the Raptors, which Sam Hinkie will tell you is a great way to lose games. By the time Davis hurt his hand and missed the second half, New Orleans had fallen into 13th place.

Outlook: The Pelicans have a 4 percent chance at moving into the top three and keeping their first-round pick. Meaning there's a 96 percent chance their improvement will have to come from a full season of Boogie, and convincing Jrue Holiday to re-sign this summer. And maybe figure out if there's a Dragon Blood Stick for outside shooting.
Charlotte Hornets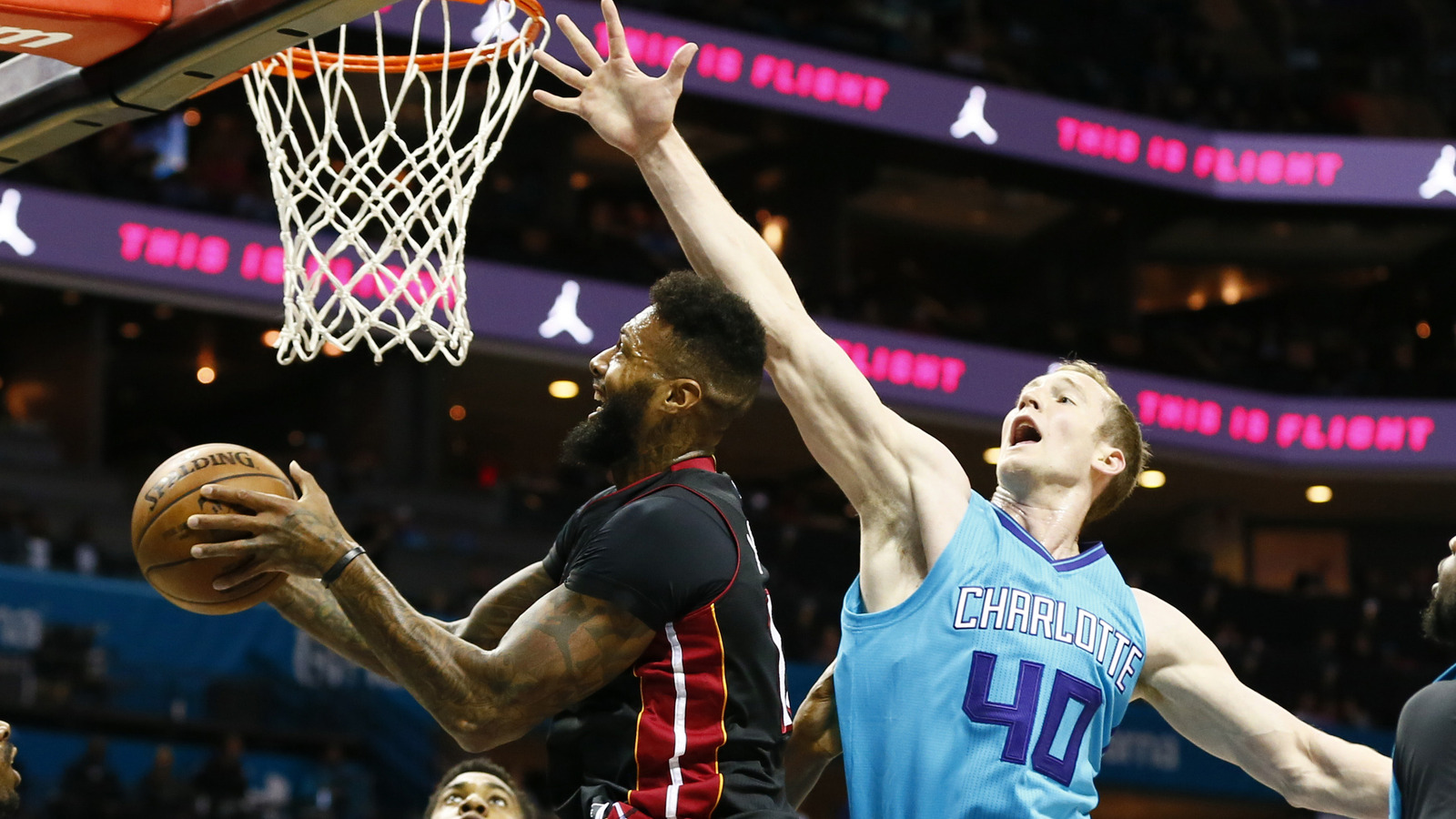 Miami Heat forward James Johnson shoots the ball past Charlotte Hornets center Cody Zeller in the first half at Spectrum Center on April 5, 2017. The Hornets were 3-17 without Zeller this season.
Jeremy Brevard-USA TODAY Sports
Outlook: The 2015-16 Hornets won 48 games, 15 games better than the previous year, and the most since the Baron Davis era. They brought back Nic Batum and Marvin Williams, lost Jeremy Lin, and traded for Marco Belinelli. Plus defensive ace Michael Kidd-Gilchrist was coming back. Another 48-win season might be optimistic, but they certainly looked like a playoff team.

Things Fall Apart: It seemed minor at the time, but after Dwight Howard drilled Cody Zeller with an elbow, the Hornets' whole season changed. Zeller sat out the next game with a sore shoulder, and Charlotte lost. Then they lost the next two games he missed. All told, the Hornets went 33-29 when Zeller played — and 3-17 in games he sat out.

The Downward Spiral: Charlotte struggled without Cody Zeller, and they struggled on the road. Playing without Cody Zeller, on the road? Disaster. 2017 started with six road games and four Cody-free games, and the Hornets went 1-6.

Circling the Drain: January 25th was Steph Curry's annual homecoming game to Charlotte, and the Hornets nearly ruined it. They led after three quarters before Kevin Durant took over, heading to the line over and over before Curry clinched the game with a pair of threes. Of Course, Cody Zeller was out with a quad bruise. They lost the next five as well, including the rematch in Oakland, yet somehow were still tied for the last playoff slot.

Rock Bottom: The Hornets play in North Carolina, just a two-hour drive from Duke University. They should have known better. And yet, on February 2nd, they traded for a Plumlee. Spencer Hawes and his man bun went to Milwaukee, along with the seven-footer formerly known as Roy Hibbert, and Miles Plumlee came to Charlotte. The idea was to replace Cody Zeller with a different fancy white big man, just as Denver tried to get insurance for Nikola Jokic by trading for Mason Plumlee. Portland blasted into the playoffs once they lost their Plumlee anchor, while Denver got bogged down. Charlotte lost six of their next seven, barely winning against a team starting Randy Foye and Spencer Dinwiddie. Plumlees = Poison.

Outlook: They're headed for the lottery, but Charlotte has actually outscored their opponents this year — a better differential than the Hawks, Pacers, Bulls, or Blazers. Kemba Walker is an All-Star, Steve Clifford is a great coach, and the Hornets get a late lottery pick. With better luck, they'll be back in the playoffs. With shrewd offseason moves, they might win a round. But it all starts with one key move: Getting rid of Miles Plumlee.

Minnesota Timberwolves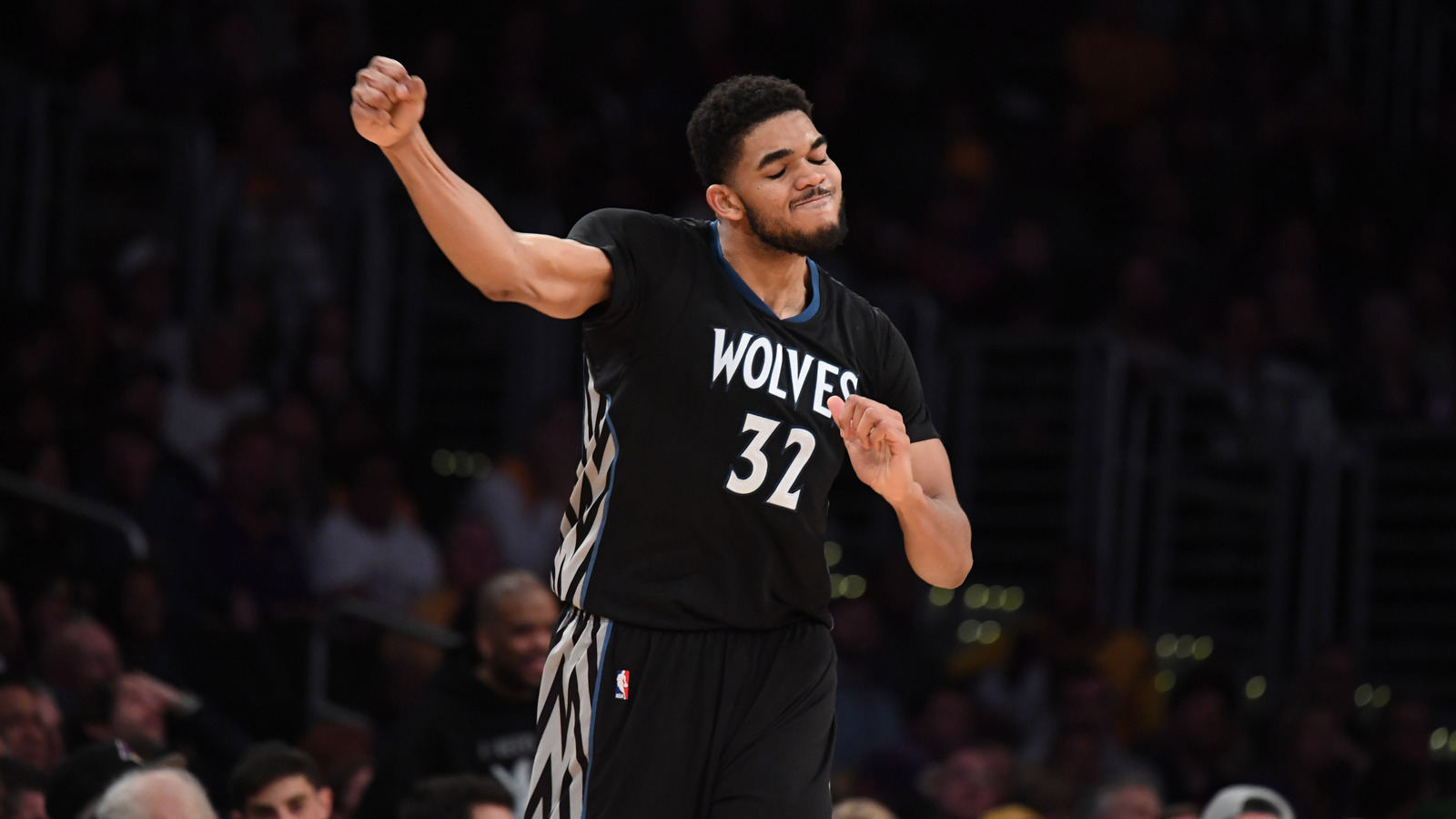 Karl-Anthony Towns and Minnesota Timberwolves shouldn't be down on this season as the future is still bright for the club - the team added 16 wins this year. 
Kirby Lee-USA TODAY Sports
Outlook: Minnesota has two consecutive #1 picks, who both won Rookie of the Year. Zach LaVine won two dunk contests, though that's usually not a great predictor of NBA stardom. Just ask Baby Jordan, Harold Miner. The team hired former Bulls coach Tom Thibodeau, and they drafted point guard Kris Dunn with the #5. The Wolves jumped from 16 to 29 wins in 2015-16, and they were a popular pre-season playoff pick. Some writers even predicted they'd win 50 games!

Things Fall Apart: The season started off with road losses in Memphis and Sacramento, but the first alarm bells sounded after a loss to the Brooklyn Nets put them at 1-5. Their defense looked bad at first, but getting shredded by Trevor Booker and Justin Hamilton was another level of turnstile.  

The Downward Spiral: Wiggins and Towns continues to score, and the Wolves kept not stopping anyone. The low point was consecutive losses to the Knicks, by two and four points respectively, wasting a 47-15 performance from Towns in the first game. It was two weeks after his 21st birthday.

Circling the Drain: Home against Utah on January 7th, the Wolves blew their 12th double-digit lead of the year. They dropped to 0-10 in games decided by four or fewer points. They were 11-26 and if you mentioned a playoff berth at this point. Jim Mora would have punched you in the face.

Glimmer of Hope: Let's cut this off right now. The glimmer of hope is everything. Karl-Anthony Towns is 21. Andrew Wiggins just turned 22. Ricky Rubio shot over 40% for the first time in his career (and made 100K for his trouble), long with nine assists. The team coalesced on defense and rallied together after Zach LaVine's injury. Even Kris Dunn upped his shooting after the All-Star break.

They're finishing two games better than last year, which isn't 50 games and a playoff bye, but nor is it an unusual curve for a young team. They're still 15 games better than two years ago. And what's better for the long-term future of this team — getting blown out in the first round against the Warriors, or picking seventh in a loaded draft? The Timberwolves are fine, and very few NBA teams wouldn't switch futures with them. Just don't trade Ricky Rubio, okay Thibs?
PLAYERS:
Carmelo Anthony
,
Andrew Bogut
,
Rick Carlisle
,
Dirk Nowitzki
,
Mark Cuban
,
Donald Trump
,
Ish Smith
,
Boban Marjanovic
,
Buddy Hield
,
Lance Stephenson
,
Terrence Jones
,
Donatas Motiejunas
,
Omri Casspi
,
Hollis Thompson
,
Spencer Hawes
,
Steve Clifford
,
Harold Miner
,
Tom Thibodeau
,
Ricky Rubio
,
Stan Van Gundy
TEAMS:
New York Knicks
,
Milwaukee Bucks
,
Dallas Mavericks
,
Detroit Pistons
,
Sacramento Kings
,
Indiana Pacers
,
New Orleans Pelicans
,
Minnesota Timberwolves
,
Philadelphia 76ers
,
Charlotte Hornets
MORE FROM YARDBARKER:
QUIZ: Name the top three picks in the NBA draft since 1985
Since the start of the lottery era, we've seen 96 players get selected as the top three picks of the NBA draft. How many can you name?
MORE FROM YARDBARKER
NBA News

Delivered to your inbox

You'll also receive Yardbarker's daily Top 10, featuring the best sports stories from around the web. Customize your newsletter to get articles on your favorite sports and teams. And the best part? It's free!