Where did it all go wrong for the NBA second-round losers?
By Sean Keane | Last updated 5/18/17
Washington Wizards guard John Wall may have become a superstar in the 2017 NBA playoffs, but it was not enough to get the Wiz past the Boston Celtics. 
Geoff Burke-USA TODAY Sports
The second round has ended, and while four teams are heading to Finals glory and/or humiliating sweeps, four teams are entering an off-season of regret and soul-searching. Second round losers, Where did it all go wrong?

Washington Wizards

Great expectations

The young Wizards stormed back into the playoffs after dipping down to .500 in 2015-16. After starting 2-8, they went 47-25 the rest of the way and earned the #4 seed. They had a 17-game home winning streak and also ended North America's longest division-title drought, winning their first since 1979. John Wall went from star to superstar, Bradley Beal went from the DNP-injured list to star, and Otto Porter went from possible bust to probable max player. They still couldn't guard anyone, but they scored in bunches, and the starting lineup of Wall-Beal-Porter-Morris-Gortat was dominant.

They took care of the Atlanta Hawks in six games in Round 1, the first series where the Wizards had home-court advantage in 38 years. And they drew their most hated rival – the Celtics of Boston, against whom they hoped to avoid...

Getting benched

The Wizards started off Game 1 on a 16-0 run and it looked like they'd run the Celtics out of their own building. They even knocked Isaiah Thomas' teeth out. But the game – and in hindsight, the entire series – turned when Al Horford slid under Markieff Morris on his jumper. This may well be the theme of the postseason, with Zaza Pachulia getting a foot under Kawhi Leonard and his tender ankle in the Warriors-Spurs series as well. Wall and Beal still combined for 47 points, Porter and Gortat notched double-doubles, but the game fell apart in the third quarter due to the Wizards' awful, awful bench, thanks to...

The offseason of our discontent

The Wizards made a ton of moves in the off-season, and aside from Bradley Beal's no-brainer contract extension, not a single one worked out well. They signed Andrew Nicholson to a four-year deal, and by February, they were trading a first-round pick to make him go away. They gave Ian Mahinmi $16 million per year, and he played 31 games. That's $500K per game! They signed Jason Smith, Tomas Satoransky and Marcus Thornton, and traded a second-rounder for Trey Burke. Some of this was due to making a huge push for Horford, and scrambling for a Plan B like a bunch of panicked seniors the morning after prom.

The Wizards shored up their bench at the trade deadline, because for the first half of the season, they'd have been better off playing Johnny Bench. They signed a bought-out Brandon Jennings to be the backup point guard, since Scott Brooks was their best option otherwise. And Bojan "Don't Call Me Bogdan" Bogdanovic added scoring and porous defense. The bench still got killed, especially since they couldn't help...

Losing the Kelly battle

Kelly Oubre was the Wizards' top reserve, and Kelly Olynyk was the best bench guy for Boston. Along with their questionable hairstyle choices, the two also found common ground in violence. Olynyk hit Oubre in the head on a screen, and Oubre responded with a running push to Olynyk and the ref. Not only did Oubre get rattled by Olynyk, he also got suspended. Which may not have been a huge loss: Oubre was -22 and -24 in Washington's first two losses, and they blew out Boston with him kicked out.

Meanwhile Olynyk delivered a two-handed shove to Washington's conference finals hopes with a massive Game 7. For the series, Oubre had 39 points, 13 rebounds, and zero assists. Olynyk had 26-4-4 in Game 7 alone. It's the biggest Kelly-related blowout since Tiffani-Amber Thiessen hair in season two of "Saved By The Bell."

Death at a funeral

Back in January, Jae Crowder fought with John Wall after the buzzer. And for their next matchup, Wall announced that the Wizards would be wearing "All black everything. A funeral." They proceeded to trounce the Celtics, proving once again that there's nothing more motivating to an NBA player. Although it didn't work when the Celtics tried to repeat the trick for Game 6, and the Wizards crawled out of their graves to win at the buzzer.

Russell Westbrook also unsuccessfully wore black to close-out games against the Warriors last year, which might be why he switched to dressing like a photographer, or a male model on vacation attacked by wild animals this year. These teams are going to have to step it up next year. Work clothes and shovels, like grave diggers. Judge robes and burglar masks, because they're going to steal home court. Or John Wayne Gacy clown outfits, because they are going to murder the other team. Which takes us to...

Unlucky number seven

Bradley Beal had a spectacular scoring effort in the deciding game, and a slightly-less spectacular flopping effort. John Wall went cold at the worst time, missing his last 11 shots, and the Celtics put the Wizards away down the stretch. But it came down to the benches once again: Celtics backups scored 48 points. Wizards backups scored 5.

Outlook

The Wizards have assembled a great starting five, which is the hardest part of putting together a team. They'll have to max out Otto Porter this summer, and they've got high hopes they can get a little more out of Mahinmi next year. Beal and Porter will be 24, and Wall still only 27 when the season starts, so this should only be the beginning for the Wizards. But if they can get literally anyone else who can play defense or hit an outside shot, they have an excellent chance of losing to LeBron James in the conference finals next season.

Houston Rockets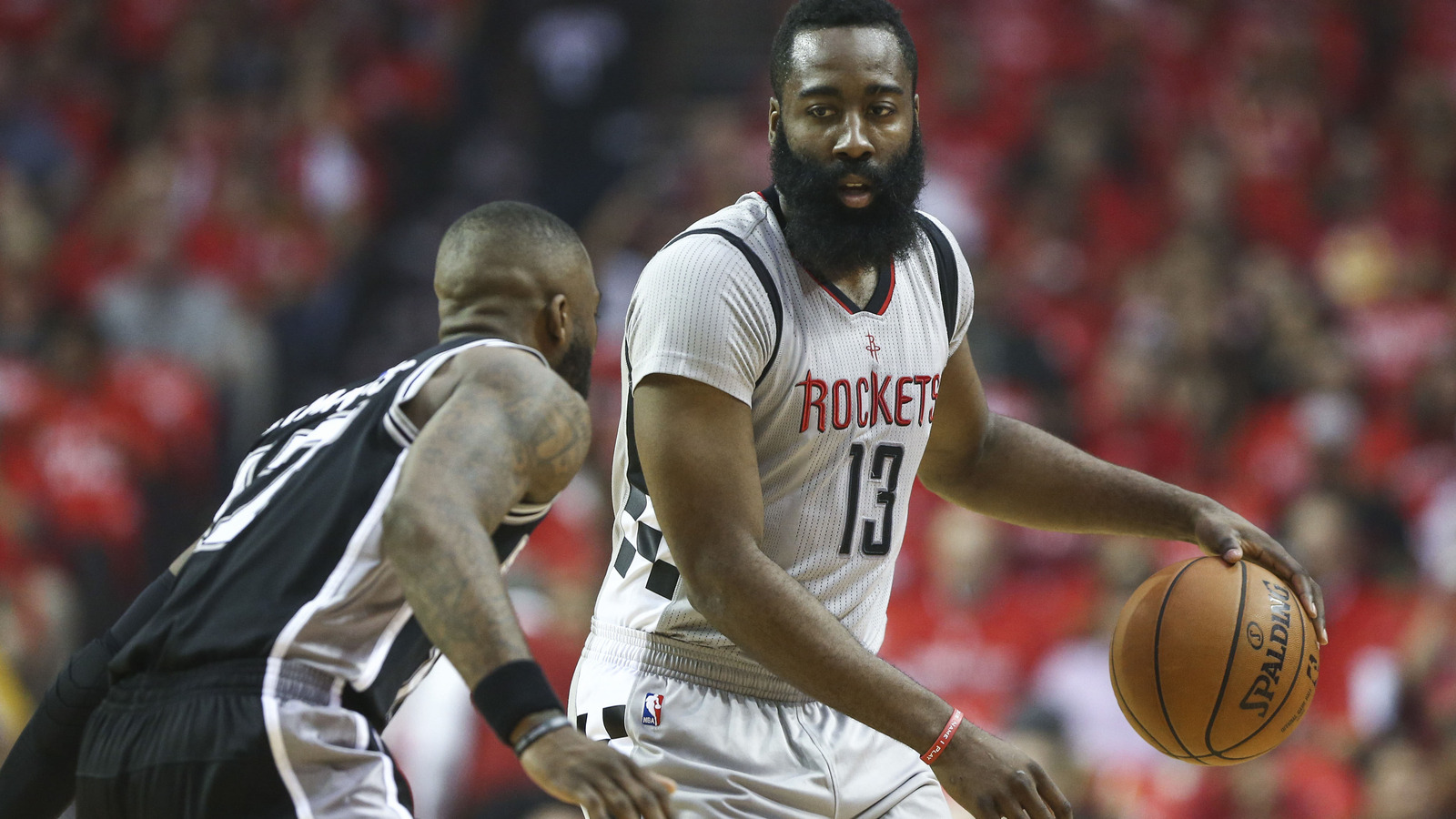 James Harden's beard was not enough for the Rockets to overcome the Spurs. 
Troy Taormina-USA TODAY Sports
Don't call it a comeback
Two years ago, the Rockets were the #2 seed and made it to the conference finals. Last year, James Harden spent the summer keeping up with the Kardashians, Kevin McHale got fired, and Dwight Howard was a locker room cancer that fully metastasized, with both Harden and Howard pleading for the other to get traded. So GM Daryl Morey cleaned house.
He gave Harden a raise and extended his contract. He took on the New Orleans Pelicans' distressed assets, inking Eric Gordon and Ryan Anderson to free agent deals. Nene Hilario was so desperate to escape Washington D.C., he signed on for the minimum. And he hired Mike D'Antoni to lead the team, who in turn made Harden his point guard. The result was an MVP season for Harden, a historically good offense for Houston, a 14-game improvement, and in the first round, a...
Most Valuable Playoff
Harden and Russell Westbrook were the top two MVP candidates, and they faced off in the first round. Westbrook continued to put up points and triple-doubles, but the Rockets continued to put up wins. Nene emerged as a force, putting up 28 points and shooting a perfect 12-12 from the floor. There was some cause for concern as the Rockets had trouble closing out games. Luckily, they could count on Westbrook to miss about ten shots every fourth quarter, and gave them the momentum to...
Start with a blowout
Game 1 could not have gone better for the Rockets. Their three-point barrage paid off, making 22 out of a whopping 50 attempts. The Spurs looked old, unable to hang with Houston's run-and-gun attack. The only thing that might let San Antonio keep up was…
Tony Parker's last stand
Game 2 was a totally different story, as the Spurs changed their starting lineup and their James Harden defense. Pau Gasol started at center to give San Antonio more shooting, and the Spurs defenders refused to leave Houston's shooters at the three-point line. They turned Houston's Harden-based attack into a two-on-two game and conceded the mid-range shots D'Antoni hates. Harden went 3-17.
Meanwhile Tony Parker put up 18 points before collapsing with a ruptured quad tendon. Now the only way the Spurs could win is…
'Next Man Up'
The Spurs took Game 3 with Patty Mills replacing Parker's scoring, and rookie Dejounte Murray filling in minutes. This time Harden scored 43 points, but his teammates couldn't come through. The Rockets evened the series at 2-2, but when Nene got hurt in Game 4, we saw...
History repeating itself
For years, the high-powered Mike D'Antoni offenses in Phoenix kept getting stopped by Gregg Popovich and the Spurs come the playoffs. The MDA offense of "run your best play every time down" worked wonders in the regular season, but it's easier to prepare for in a playoff matchup. The closest the Suns came was in 2007, when their best effort was derailed by two suspensions before Game 5. D'Antoni only played seven guys, and while the Suns fought hard, they ran out of gas at the end.
Ten years later, the Rockets did almost the exact same thing in a Game 5 after Nene got hurt. D'Antoni shortened his rotation to seven guys, and they also got exhausted. By the time the game went OT, Harden was walking the ball up, barely crossing the half court line on some possessions. Was it a return to his Kardashian-era conditioning, or a consequence of running the best play – a play that always involved him – every time down.
But Kawhi Leonard sprained his ankle in Game 5, and missed overtime. He would be held out of Game 6, which meant it was time for...
'Next Man Up II'
While D'Antoni was shortening his bench, Coach Pop was expanding his. The Spurs got contributions from Dejounte Murray and Jonathan Simmons, who stepped in to guard Harden. Kyle Anderson played 20 solid minutes. Meanwhile, after their Cinderella season, Gordon and Anderson turned back into pumpkins. Or Pelicans. For his part, Harden played like a Westworld gun: he wouldn't shoot. The Rockets lost by 39.
Outlook
The Rockets can be optimistic about another encouraging regular season. But also, the same kinds of offensive predictability and defensive weakness could tear their heads in the playoffs again. Maybe with more from Sam Dekker and Montrezl Harrell, and another year in the MDA system, the Rockets can take the next step. But it's going to take bold moves. It's going to take Mike D'Antoni regrowing his mustache.
Toronto Raptors
Toronto Raptors guard DeMar DeRozan goes to shoot a free throw as Cleveland Cavaliers forward LeBron James looks on during game three of the second round of the 2017 NBA Playoffs.
John E. Sokolowski-USA TODAY Sports
Great expectations
The Raptors made it to the Eastern Conference Finals in 2016, and even took two games off the Cleveland Cavaliers. Granted, they were outscored by 83 points in the series, but it felt like something to build on. And at the trade deadline, Toronto thought they did. They acquired Serge Ibaka to add a stretch big man to supplement Patrick Patterson and Jonas Valanciunas. And they added P.J. Tucker to give them another LeBron stopper alongside DeMarre Carroll. The result was a 51-win season and the same record as Cleveland. Unfortunately...
My s--- doesn't work in the playoffs
The Raptors rely on an isolation-heavy offense, putting the ball in the hands of their All-Stars, DeMar DeRozan and Kyle Lowry. But even last year, that offense of approach bogged down in April. The first round against the books, DeRozan was even held without a field goal one game. He bounced back, but when your game relies on long twos and free throws, it's vulnerable to a dedicated defense.
It's also tough on their teammates, though Serge Ibaka should be extremely comfortable with a teammate who over dribbles and never passes. So what players do go together well?
Deck chairs, Titanic, meet Iceberg LeBron
In Game 1, Dwayne Casey started Jonas Valanciunas. In Game 2, Patrick Patterson and Norman Powell joined the starting lineup. In Game Three, Valanciunas was starting again, with Cory Joseph in for Lowry, and in Game 4, he replaced Powell with P.J. Tucker. None of those lineups could contain LeBron at all.
Maybe nobody can! But you would have hoped they could at least keep him from spinning the ball on his finger and drinking beers during games. He even saved Norman Powell from an illegal substitution technical, as if to say, "I don't even want your free points." The name "LeBron James" must haunt them, almost as much as...
The cursed name, Raptors
The mid-90s were a terrible time for professional sports teams to choose their mascot. There was an abundance of names based on movies, names with too many syllables, names designed to have a mascot that could plausibly wear teal. Just look at the array of names chosen in this era: Devil Rays. Wizards. Predators. Diamondbacks. The Mighty Ducks of Anaheim. The Raptors are one of the worst, choosing an instantly-dated movie reference. To make matters worse, the mascot isn't even a velociraptor! It's like an apatosaurus crossed with Barney, but with the head and mouth of an alligator. LeBron is the closest thing the NBA has to a comet, so it's not a surprise he always destroys the dinosaurs.
Outlook
The Raptors are at a crossroads this summer. They have a bunch of free agents, and would have to go into the luxury tax to bring this team back. It seems crazy to pay through the nose in order to lose to LeBron, but on the other hand, this is easily the greatest run of success in Raptors history. It's easy to say, "Tear it down!" but there's no guarantees once you head down Tanking Alley. They've reached a place where thousands of fans will pack Maple Leaf Square to watch playoff games, outdoors. It would be a shame to push this incarnation of the Raptors to extinction prematurely.
But if they wanted to change the team name… that's a different story.
Utah Jazz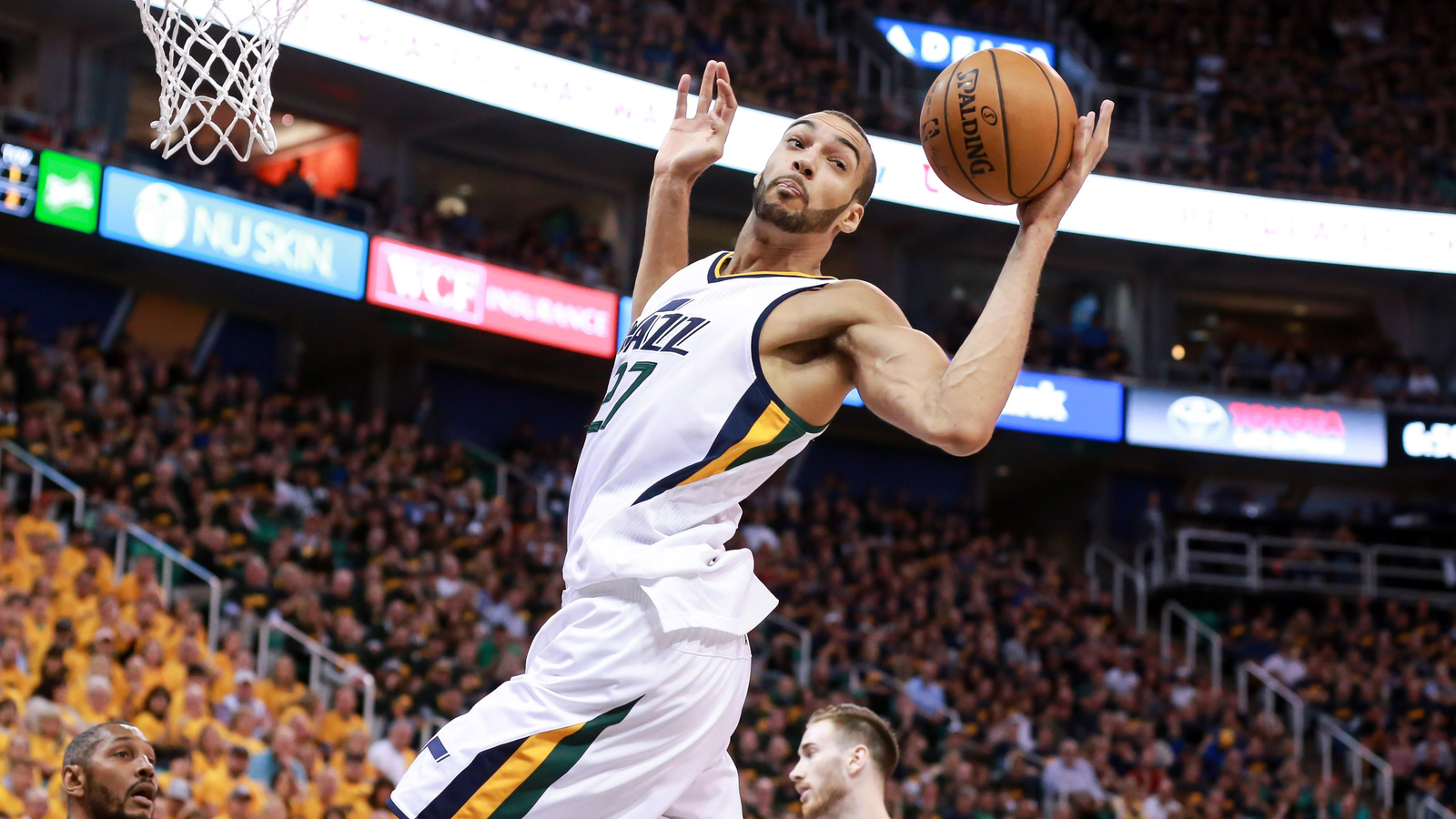 May 6, 2017; Salt Lake City, UT, USA; Utah Jazz center Rudy Gobert (27) grabs a defensive rebound during the first quarter against the Golden State Warriors in game three of the second round of the 2017 NBA Playoffs at Vivint Smart Home Arena. Mandatory Credit: Chris Nicoll-USA TODAY Sports
USA TODAY Sports
Great expectations
The Jazz made their first playoff appearance since getting swept by the Spurs in 2012, and won their first series since 2010. Gordon Hayward made the All-Star team. Rudy Gobert emerged as a defensive force, George Hill was a giant upgrade at point guard. Joe Ingles shot 44% from three, and the tandem of Boris Diaw and seven-time All Star Joe Johnson stabilized the bench. When healthy, the Jazz were one of the very best teams in the NBA. Of course "when healthy" is a tough conditional for this team.
Injury to insult
Utah's playoff outlook got much cloudier when Rudy Gobert got hurt in the first minute of his first playoff game. Gobert fought his way back, but his early absence meant it took seven games to put away the Clippers. And for the Utah Jazz, every minute of NBA basketball is another opportunity to get hurt. Alec Burks played 42 games. Derrick Favors played 50. And Hill played only 49 games, in part because…
'This little piggy went to the hospital'
Hill had a sore toe all year, and it flared up in Game 1 of the second round series with the Warriors. It may have been aggravated by the more compressed playoff schedule, or it could be that's what happens when you have to chase Steph Curry around. Blake Griffin hurt his toe in the previous round, an injury that might have a 3-4 month recovery. Still, it's tough to take an injury seriously when the official name is "sore toe." Could the official injury people throw in a "phalange," maybe a "contusion?" Because otherwise it sounds like a big tough NBA player had to rest because his poor widdle toe got smushed. And speaking of stubbing toes...
Flat-footed starts
It's hard to criticize Utah too much for falling behind in every first quarter, since that's when they were guaranteed to be facing four All-Stars at once. But every game began with the Warriors making runs, getting stops, and ultimately leading each first quarter by double digits. To their credit, Utah never threw in the towel, and always continued to fight, which is knows as…
The full Chumbawumba
The Jazz got knocked down, but they got up again. The Warriors were never going to keep them down! Although they did continue to knock them down, over and over, and since they were in Salt Lake City, the Jazz didn't have the comfort of a whiskey drink, a vodka drink, a lager drink, or a cider drink. The fans would sing when they're winning, but the Jazz led for only 19 minutes of the series in total. However, they did show good spirits, even in the face of…
Insult to injury
It wasn't enough to simply sweep the Jazz. The Warriors had to openly talk about their desire to play the Clippers, due to the better night life in Los Angeles. Utah embraced that, immediately producing a sweet "Night Life" shirt. Meanwhile Draymond Green yelled at fans, and Kevin Durant yelled at their mascot. And Rudy Gobert. And also fans.
Outlook
Utah's number one priority this summer is resigning Hayward. He has a big decision to make: Does he want to stay and lose to the Warriors, or jump ship, join the Celtics, and lose to LeBron instead? They also have a decision to make on free agents Hill and Ingles, looming extensions for Rodney Hood and Dante Exum. They could even use cap space to renegotiate and extend Favors. Barring a blockbuster trade, this is Utah's group for the foreseeable future, and it's a deep, talented group. But it would be a lot stronger if they could stay on the court. Maybe the Jazz should be targeting the top free agent doctors out there once they figure things out with Hayward. Tell them the night life is great.
PLAYERS:
Zaza Pachulia
,
Ian Mahinmi
,
Kelly Oubre
,
LeBron James
,
Pau Gasol
,
Patty Mills
,
Gregg Popovich
,
Serge Ibaka
,
Jonas Valanciunas
,
P.J. Tucker
,
Kyle Lowry
,
Rudy Gobert
,
Joe Ingles
,
Boris Diaw
,
Dante Exum
TEAMS:
Golden State Warriors
,
Washington Wizards
,
Cleveland Cavaliers
,
San Antonio Spurs
,
Toronto Raptors
,
Utah Jazz
,
Houston Rockets
MORE FROM YARDBARKER:
QUIZ: Name every NBA franchise's points leader
Can you name the career points leader for every NBA franchise?
Clue: Team (number of points scored)
MORE FROM YARDBARKER
NBA News

Delivered to your inbox

You'll also receive Yardbarker's daily Top 10, featuring the best sports stories from around the web. Customize your newsletter to get articles on your favorite sports and teams. And the best part? It's free!