Found March 06, 2013 on Waiting For Next Year:
While We're Waiting serves as the early morning gathering of WFNY-esque information for your viewing pleasure. Have something you think we should see? Send it to our tips email at tips@waitingfornextyear.com. "Waiters shot 51 percent from the floor in February, and though he still shoots too many 3s for a subpar long-range shooter, he has shown more careful judgement of late in jacking them up. He's proven a skilled passer with a very nice assist rate for an off-guard; he should be able to take over the offense when Kyrie Irving sits, and the evolution of NBA defenses makes it borderline essential for teams to have two capable ball handlers on the floor at all times. The Cavs will be happy if both guys continue to mature on the floor, but perhaps even happier if the team shows any progress on defense. The Cavs are an awful, uncoordinated mess on that end — 28th overall in points allowed per possession — and they've actually been even worse during this otherwise very nice 11-9 stretch. Young teams are typically bad at defense, and Irving, for all his brilliance with the ball, is still struggling on that end. It's time to see some baby steps; another young team across the country, in Sacramento, never even got that far, and they've stalled out as the league's worst defensive team. The Cavaliers have another high draft pick coming and tons of cap flexibility they may want to save for LeBron James's potential free agency in the summer of 2014. Even if they hoard their space this summer, Cleveland should set an internal goal of snagging a playoff spot next season." [Lowe/Grantland] —- "People have started to recognize how great Shazier is, and this year he should become a widespread national star. He's a big, explosive player and a vicious hitter who kept getting better as his sophomore season went on last year. Shazier finished the season with 115 tackles, including 17 for loss. He also broke up 11 passes to prove he can do it all. It wouldn't be a surprise if he replaced Simon as the Big Ten's defensive player of the year. As the only starter to return in the front seven, it will be a challenge. Opposing offenses will try to avoid him at all costs and test his lesser known teammates." [Schwab/Dr. Saturday] —- More reports like this from spring practice please. "Braxton Miller's mechanics were noticeably improved. His footwork is crisper and he has raised his arm angle. The result is a tighter spiral. We will of course have to see how the mechanics are under pressure, but it is clear his offseason work is paying off. Miller also looked to be conscious of his pocket presence and willing to scramble when necessary, a much-needed improvement." [Fulton/Eleven Warriors] —- "The most encouraging lesson from the "OKC model" is the basic reason why it is so popular in the first place: a team can become good, and every once in awhile very good, without having to add stars via free agent or trade. The Cleveland Cavaliers are not following the Oklahoma City Thunder, at least not by design. They are building through the draft now, but it doesn't seem to be their only focus. Still, the Thunder provide a precedent for giving young guys a ton of minutes and letting them figure it out on their own. My concerns with waiting for the Summer of 2014 before really trying to make a run to the Finals are well-documented. It is a long ways away, and there are no guarantees that players on the Cavs wish list ultimately come here. And I hate the idea of potential good moves slipping away due to patience. But another year of letting the young guys figure it out might be just what the Cavaliers need; it certainly was for the Thunder." [Zavac/Fear the Sword] —- "On a banner at the south end of Ohio State's indoor practice facility are the words, "The Chase." Meyer said under the banner is some workout equipment the players use when the coaches aren't permitted to supervise or oversee them, so it's called the chase area. But "The Chase" has more symbolic meaning, and though Meyer said that meaning qualifies as in-house business, it's really not a secret. Standards and expectations have never been higher. Meyer treats the first practice like it's the last because he won't be happy until the Buckeyes are one of the last teams practicing at the end of a season." [Jackson/FSO]
Original Story:
http://www.waitingfornextyear.com/201...
THE BACKYARD
BEST OF MAXIM
RELATED ARTICLES
Lots of buzz around Cavalier-land today because of post-game comments made by Kyrie Irving about his knee last night. Kyrie was asked if the knee was still bothering him and he replied "I'm trying not to let it bother me, but it's still bruised. Just playing through it. It is what it is. Probably the only way that it would get better is to sit out the rest of the season, and...
George Costanza once had a dream to purchase 365 pairs of underwear so that he only had to wash them once a year. But we imagine if George had money like Cleveland Cavaliers point guard Kyrie Irving, he would take a similar approach to how he handles his undergarments on road trips. While speaking with GQ, Irving points out that he isn't a fan of packing underwear, since then he...
He wasn't able to help the Cleveland Cavaliers to victory, but Kyrie Irving did his part.  After missing the last three games to a hyper-extened knee, Irving returned to the court yesterday and put up numbers like he normally does.  Unfortunately, it was not enough to overcome the Knicks. Irving and the Cavs were beat 102-97 in Cleveland last night.  However, Irving put up...
Everyone saw it coming. The players and coaches of the Cleveland Cavaliers congregated at halftime of Monday night's contest against the New York Knicks, having amassed a 22-point lead only to let it slowly slip away before the mid-way buzzer provided some relief. Having watched plenty of tape and read all of the glowing features with their opponent as the subject, everyoone...
CLEVELAND (AP) -- Kyrie Irving scored 20 points and Cleveland's All-Star guard made all the big plays down the stretch, rallying the Cavaliers to a 104-101 victory over the Utah Jazz on Wednesday night. The Cavs trailed 100-92 with less than three minutes left before Irving took over. He scored eight points, made a steal and assisted on Wayne Ellington's dunk as Cleveland...
Cleveland Cavaliers point guard Kyrie Irving is officially listed as 'probable' for Monday night's contest against the New York Knicks. He had missed the previous three games due to a hyperextended right knee. "Based on what I saw in practice, there's a good chance he'll play," coach Byron Scott said from shootaround on Monday morning. "We will see how he feels after...
Kyrie Irving scored 20 points and Cleveland's All-Star guard made all the big plays down the stretch, rallying the Cavaliers to a 104-101 victory over the Utah Jazz on Wednesday night. The Cavs trailed 100-92 with less than three minutes left before Irving took over. He scored eight points, made a steal and assisted on Wayne Ellington's dunk as Cleveland stormed back to...
CLEVELAND (AP) -- Amare Stoudemire scored 22 points, J.R. Smith added 18 and the New York Knicks overcame a 22-point deficit without All-Star Carmelo Anthony to beat the Cavaliers 102-97 on Monday night, ending a 10-game losing streak in Cleveland. Steve Novak made three of New York's seven 3-pointers in the fourth quarter as the Knicks rallied and shook off a tough home loss...
By, Sean Aquino – Knickswag Contributor Knicks @ Cavaliers: MSG 7pm The Knicks are on a second game of a back to back in Cleveland and they may have to face the return of Kyrie Irving tonight.  In Irving's absence, rookie Dion Waiters has been tremendous, and he is now the second leading scorer on the team, averaging just under 15 points per game.  Waiters and Irving will attack...
By, Kenneth Teape – Knickswag Contibutor Pre-Game News and Notes Knicks vs. Cavaliers After a tough loss against the Heat yesterday afternoon the Knicks will get right back at it tonight in Cleveland against the Cavaliers.  This will be a big game for the Knicks as it will show what kind of team they are; a resourceful one that bounces back against adversity or one that will...
Current Standings - New York: 35-21, 3rd in the Eastern Conference (7.5 behind the Miami Heat), 1st in the Atlantic Divison (Leading the Brooklyn Nets by 3 games) Cleveland: 20-39, 12th in the Eastern Conference (24 games behind the Miami Heat), 5th in the Central Division (Last place, 17.5 games behind the Indian Pacers). Previous Meeting - The Knicks defeated the Cavaliers 103...
NBA News

Delivered to your inbox

You'll also receive Yardbarker's daily Top 10, featuring the best sports stories from around the web. Customize your newsletter to get articles on your favorite sports and teams. And the best part? It's free!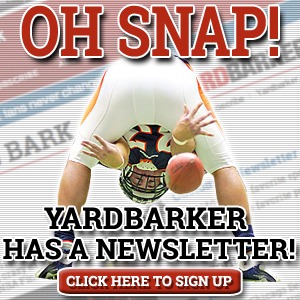 Latest Rumors
The Backyard

Today's Best Stuff

For Bloggers

Join the Yardbarker Network for more promotion, traffic, and money.

Company Info

Help

What is Yardbarker?

Yardbarker is the largest network of sports blogs and pro athlete blogs on the web. This site is the hub of the Yardbarker Network, where our editors and algorithms curate the best sports content from our network and beyond.