Found August 22, 2013 on Waiting For Next Year:
While We're Waiting is the daily morning link roundup that WFNY has been serving up for breakfast for the last several years. We hope you enjoy the following recent collection of yummy and nutritious Cleveland sports-related articles. Anything else to add? Email us at tips@waitingfornextyear.com. "But it's also the primary reason that Bynum is such an efficient and devastating offensive player. When people think about Bynum, it seems that people tend to think of a traditional, back to the basket kind of big man. And he can be that — over 54% of his offensive plays were post-ups in 2011-12 and he scored .89 points per possession (PPP) on those plays. That's a very efficient post player. But in general, straight post-ups are not the most efficient plays. Much of what made Andrew Bynum such a monster was he unbelievable efficiency on cuts, not his great post game. His 1.53 PPP on cuts was 5th in the entire NBA and, as Sam noted in his article, he scored on nearly 78% of those plays. That's incredible." [Kacmarek/Fear the Sword] —- "Epstein, similarly, argues that studies show that it takes only four thousand hours to reach "international levels" in basketball. The study in question was of a sample of players from the Australian men's basketball team. I have nothing against either Australia or Australian basketball. But I'd be a bit more impressed if someone could find a starting point guard in the N.B.A. with fewer than ten years of basketball under his belt. Arguments about what it takes to be an elite performer are less persuasive if the performers being studied aren't actually elite." [Gladwell/The New Yorker] —- An interview with Urban Meyer's wife Shelley. "It was definitely worth it," Shelley said, flashing her 12-0 ring. "But, at the same time, at the end of the last game, I said, 'Really, you really had to go undefeated the first year?' Because where do you go from there? Look what's happening. Everyone thinks we're going to go undefeated again. It wasn't that easy last year, and it's not that easy." [Rowland/Eleven Warriors] —- "Traditional stats paint Perez as one of the best closers currently in baseball. I cannot count the number of times I have heard a variation of the "I put a Chris Perez poster on my door and now it won't close" joke, but in all actuality, Perez closes out opposing teams more often than not. With an 84.6 save percentage in his career and an 82.6 percent mark in 2013, there are certainly worse pitchers to have at the back-end of a bullpen. That, plus the fact that the only closers to hold that job with the same team since the start of 2011 are Perez, Mariano Rivera, and Craig Kimbrel, indicates that Perez is much better than he is given credit for." [Piascik/Indians Baseball Insider] —- Video: Joe Banner gives a tour of the $5 million dollar renovations at Berea. [Browns.com]
Original Story:
http://www.waitingfornextyear.com/201...
THE BACKYARD
BEST OF MAXIM
RELATED ARTICLES
A LITTLE TOO RAUCOUS
The neighbors of Cavaliers player Dion Waiters showed up in droves at a council meeting to complain about a pool party he hosted that apparently got out of control.
The Cleveland Cavaliers have signed their 2013 first round draft pick. Anthony Bennett is the first Canadian to sign a NBA contact as the first player selected overall. According to the Cavaliers website, Bennett joins Sergey Karasev and Carrick Felix as the team's latest crop of rookies. Please click here to read/watch this story. The post Anthony Bennett signs with the Cleveland...
After hearing that Cavaliers forward Tristan Thompson switched from shooting lefty to right-handed, I began to ponder what type of player Tristan Thompson is and could/will be. Apparently, this switch of the shooting hand is the first of its kind in NBA history, and had its competitive debut in a pair of games Thompson played for his home country Canada's national team. In the...
Cleveland Cavaliers: What Projected Backups MUST Work On By Mike Elworth: Owner and Publisher/Hoopstuff.. PG: Jarrett Jack- Get To The Line - Jarrett Jack was one of the best sixth men in the NBA last season and the best backup point guard. He was efficient from the field and shot a career best 40.4% from three. He averaged 5.6 assists, had a low turnover rate and racked up steals...
The flyer you see to the left is for a pool party that was hosted by Cleveland Cavaliers guard Dion Waiters by on August 11 at Menlo pool in the suburb of Perkasie. The party, which officials were led to believe would be a birthday party with about 100 people, ended up being attended by what neighbors are calling, 700 "out-of- towners". The party have Perkasie residents furious...
Anthony Bennett the No. 1 pick in the NBA draft last June has signed a three-year $16.7 million contract with the Cavaliers meaning all three of the team's draft choices have signed their deals. Bennett a 6-8 240-pound power forward from UNLV who has been recovering from shoulder surgery will make $5324280 this season $5563920 next season and $5803560 in 2015-16. Bennett a...
Well, it's been an eventful summer for the Philadelphia 76ers. Hardly a year after obtaining Andrew Bynum in a massive 4-team trade that saw Andre Iguodala shipped out of town, 76ers fans watched him sign with the Cleveland Cavaliers after not even suiting up for a single game in Philly. Additionally, the team made a […]
Recently over at Orlando Pinstriped Post, Mike from Illinois and Tyler Lashbrook participated in SBNation's "What if?" Day. One of those worthy distractions for the dead time in March. Mike looked at What if Jameer Nelson did not get hurt in the 2009 season and Tyler looked at What if the Magic acquired Andrew Bynum or Brook Lopez in the Dwight Howard deal. Those...
NBA News

Delivered to your inbox

You'll also receive Yardbarker's daily Top 10, featuring the best sports stories from around the web. Customize your newsletter to get articles on your favorite sports and teams. And the best part? It's free!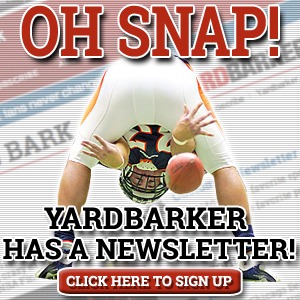 Latest Rumors
Best of Yardbarker

Today's Best Stuff

For Bloggers

Join the Yardbarker Network for more promotion, traffic, and money.

Company Info

Help

What is Yardbarker?

Yardbarker is the largest network of sports blogs and pro athlete blogs on the web. This site is the hub of the Yardbarker Network, where our editors and algorithms curate the best sports content from our network and beyond.