Found August 22, 2013 on Pass The Pill:
PLAYERS:
Andrew Bynum
,
Dwight Howard
,
Roy Hibbert
,
Carmelo Anthony
,
Jonas Valanciunas
,
Andre Drummond
,
Anthony Davis
TEAMS:
Cleveland Cavaliers
,
Houston Rockets
,
Indiana Pacers
,
New York Knicks
,
Toronto Raptors
,
Detroit Pistons
,
New Orleans Pelicans
The NBA in recent years had has a drought of dominant big men leading their teams to NBA titles. Gone are the days when giants like Shaq ran the court, as the game has recently relied more on fast-paced finesse scoring rather than physical post games and hard nosed defense. Whether it truly has been just a lack of talent or the center position becoming less vital, the elite players at the 5 are few and far between. That may change soon, however, as there are a number of interesting young options set to make their mark on the NBA as early as this season.     Photo credit: SB Nation 5. Andrew Bynum, Cleveland Cavaliers The most proven center on this list is also at the bottom, but for good reason. He may very well be the best center this side of Dwight Howard when healthy, but health has been a major question throughout his career. Weak knees aren't the only thing plaguing this young center, however, as he has had a string of questions about his maturity and character. Still, the past two season he has been on the court he has averaged around 15 points and 8 rebounds a game, and has been dominant in just about every facet you could ask for. Cleveland took a chance on him with a two year prove-it deal this offseason, and if he does indeed prove it he may be the reason the Cavaliers return to the playoffs this season.   Photo credit: Black Sports Online   4. Roy Hibbert, Indiana Pacers When the Pacers signed Roy Hibbert to a max contract worth $58 million in 2012, the NBA collectively laughed at what seemed like a ludicrous deal. Well, no ones laughing now. After a slow start offensively that could have been due to a wrist injury, Hibbert took his game to a whole new level after the All-Star break, and it carried over into the playoffs. He averaged over 17 points and 9.9 rebounds in the 19 postseason games, including a masterful Conference Finals series in which the Pacers nearly knocked off the defending champs due in no small part to Hibbert's average of 22 points and 10 rebounds a game. People still have a right to be skeptical after his slow start to the season, but I for one am a believer in Hibbert, as is Carmelo Anthony and everyone else who was on the receiving end of one of his vicious two blocks per game in the playoffs.   Photo credit: thestar.com 3.  Jonas Valanciunas, Toronto Raptors Jonas Valanciunas is well on his way to becoming a household name. After a solid rookie season, he set the Summer League on fire and was named the Las Vegas Summer League MVP. Usually that doesn't mean a whole lot, but he got people talking and now Valanciunas legend is growing. He has a rare finesse to his game that NBA centers usually lack, and can surprisingly hold his own with the likes of Joakim Noah and Roy Hibbert despite his slim frame. He is also a capable defender with a lot of room for growth, and has all the makings of a franchise center. Remember the name Jonas Valanciunas ladies and gentlemen, because he is going places. To the playoffs, the All-Star game, the Olympics, on the cover of Sports Illustrated, the skies the limit.   Photo credit: Fantasy Basketball Money Leagues 2. Andre Drummond, Detroit Pistons Talented is an understatement for a man such as Andre Drummond. His potential alone netted him 13 points and rebounds per 36 minutes in his rookie season with an astounding .608% field goal percentage. His game was so raw and unpolished, yet he handled the best the NBA had to offer and came away with a very solid rookie season. Now he seems to have added a bunch of new elements to his game, as he was a man among boys during the NBA Summer League and showcased how improved he really is. Even if the pre-draft concerns about his work ethic prove to ring true, he can make an impact at the NBA with his current skill set. I doubt this is where Drummond peaks though, and I believe he will be in debates about the NBA's best center for the next decade.   Photo credit: SI   1. Anthony Davis, New Orleans Pelicans I may receive some backlash for having a tweener like Davis at the top of this list, but hear me out: he is that damn good. Most tweeners are good players that lack all of the qualities to make them a full-time player at either position. Not Anthony Davis. He has all the good qualities of both positions and next to none of the bad ones. His massive 6'10 frame and elite shot blocking ability may scream center, but when he hits a 20-footer and makes over 70% of his free throws you'll be left thinking you're going up against the next great NBA power forward. He is a once-in-a-decade type player, and if he stays healthy you are looking at the next great NBA big man.   The post Who Is the NBA's Next Elite Center? appeared first on Pass The Pill - Kings of Hoops.
Original Story:
http://sports-kings.com/passthepill/w...
THE BACKYARD
BEST OF MAXIM
RELATED ARTICLES
BIG MAN, TIGHT SQUEEZE
Being over seven feet tall increases your chances of becoming a professional basketball player, but that type of height can create plenty of hassles in life. Indiana Pacers center Roy Hibbert, who stands at 7-foot-2, gave us a prime example on Thursday. Have you ever felt claustrophobic when having to use a bathroom on an […]
Pacers big man Roy Hibbert posted this photo to his Instagram account on Wednesday and, damn, does he look like he beefed up. The 7'2 Hibbert makes Tim Duncan look tiny by comparison (granted, not as tiny as those other little munchkins they're posting with) and that's no easy task. Don't be surprised if Roy is a force in the paint for the Pace this year. [Instagram] The...
People may wonder how tall people, such as Indiana Pacers 7-foot-2 center Roy Hibbert, fit into airplane bathrooms. The answer is, as Roy Hibbert proves with the latest round of photos on his Instagram account, not very well. Photo via @royhibbert55 / Instagram. H/T TNLP. Visit us at holdoutsports.com and follow us on Twitter @HoldoutSports.
This just in: Things, spaces and stuff like that aren't designed with the size and stature of NBA players in mind. Of course, that's obvious, despite what Shaquille O'Neal tries to claim by wedging himself into a car that is far too small for him in the interest of making a few bucks in an […]The post NBA players are large men, have difficulty squeezing in airplane bathrooms...
I have a hard time fitting into airplane restrooms as a man under 6-feet tall, now imagine you are a NBA center and trying to do so. If you had any ideas as to what it may look like you can compare them with Roy Hibbert's latest selfie. Check out the Pacers' 7′ 2″ snapping photos of himself in a very small airplane bathroom. Good work, Roy. Article found on: Next Impulse Sports
Roy Hibbert, the 7-foot-2 Indiana Pacers center, looks far taller than future Hall of Famer Tim Duncan in this photo, and way more jacked too.
While some NBA players are playing in competitive Pro-Am league, Indiana Pacers center Roy Hibbert has decided to take a different route. Back on Monday, he decided to travel to San Antonio, Texas and worked out with Spurs big man Tim Duncan at the team's facilities. In the below tweet from Roy's Twitter account, he mentions that he is working out with Tim and well, he decides...
Let's be honest, most airplane bathrooms were probably not made for NBA centers in mind and thanks to Indiana Pacers center Roy Hibbert, we now have visual proof. Check out this Instagram photo that Roy posted to his account which shows him barely fitting in one: Sometimes, size isn't everything…
Roy Hibbert of the Indiana Pacers was in town to work out with Tim Duncan of the San Antonio Spurs this week. This marks the second offseason in a row that Hibbert has sought out the expertise of the all-time great. Hibbert recently posted a photo of himself with Duncan, Tiago Splitter, Ian Mahinmi, and Jesse James Leija. The photo was taken after a boxing workout and Hibbert's...
NBA News

Delivered to your inbox

You'll also receive Yardbarker's daily Top 10, featuring the best sports stories from around the web. Customize your newsletter to get articles on your favorite sports and teams. And the best part? It's free!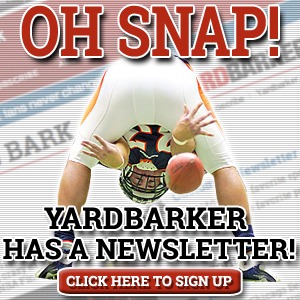 Latest Rumors
Best of Yardbarker

Today's Best Stuff

For Bloggers

Join the Yardbarker Network for more promotion, traffic, and money.

Company Info

Help

What is Yardbarker?

Yardbarker is the largest network of sports blogs and pro athlete blogs on the web. This site is the hub of the Yardbarker Network, where our editors and algorithms curate the best sports content from our network and beyond.