John E. Sokolowski-USA TODAY Sports Coach killer, head case, knucklehead, disgruntle, hothead. These were some of the words that described Kyle Lowry before he got to Toronto. He's been traded twice, he once publicly called out his teammates and said he wants to be "the" guy, he once publicly called out his coach. After everything he's been thorough. Kyle Lowry found himself home in Toronto. He is now a leader of the Toronto Raptors. Lowry is known for his "difficult" personality. Coaches have a hard time dealing with him, he calls out teammates in practice. But he doesn't seem to have any problems in Toronto. What has changed for Lowry? Nothing. Kyle Lowry hasn't changed. The situation around him changed. Lowry is now the starting point guard and a leader of the Raptors. He doesn't have to back up for a 31-year-old Spaniard anymore, he doesn't have defer to Rudy Gay anymore, he doesn't need to talk about whether he's coachable or not. With Rudy Gay gone, he was thrust into a leadership position. Every problem has been solved. Now it's time for him to commit to this franchise long-term and be happy. Lowry will be one of the best free agents available this summer, certainly the best point guard available. It is very hard to estimate what Lowry will be worth in the open market, because of how deep the position is. The point guard position is the deepest position in the NBA. I wonder how many teams are willing to pay Lowry, let's say $50 million for four years. Not a lot of NBA teams are looking for starting point guards right now. If you cross off teams that already have a starting point guard, you are down to about nine teams. Atlanta, Boston, Brooklyn, maybe Charlotte, Chicago, Cleveland, Denver, Detroit, Golden State, LA Clippers, Memphis, Minnesota, New Orleans, OKC, Philadelphia, Phoenix, Portland, San Antonio, Utah, and Washington, these are teams that already have a starting point guard or have financially committed to point guards. Then cross off teams that can't afford Lowry like Indiana, New York, Houston, Miami and Dallas, you are down to four teams. Then cross off teams that are trying to rebuild and not spend too much in free agency like Orlando, Milwaukee, Sacramento, you're down to one team. The Los Angeles Lakers. The Lakers have lots of cap space, enough space for a max player and then some. But the Lakers aren't looking for good players, they're looking for superstars. My guess is that they will suck again next year and try to sign players like Kevin Love, Marc Gasol and LaMarcus Aldridge. Also, why would Lowry want to leave a playoff team and go to a non-contending team? Sure, L.A is a glamorous city. Sure, L.A has much warmer weather than Toronto. But if you're Kyle Lowry, why would you want to leave when you know you're not going to be the man in L.A. Toronto is a young team that is on the rise. They have a ton of potential. It's not to say Lowry will for sure resign with the Raptors. It's still a tough problem to solve for the Raptors. When was the last time an All-Star caliber player for the Raptors hit free agency and came back to Toronto? I haven't done a lot of research, but I don't recall any situations where they came back to Toronto. But this is a different situation. For the first time, Toronto might be the best destination for this All-Star caliber player who's about to hit free agency. If Lowry isn't stupid enough to demand some ridiculous amount of money, Masai Ujiri will re-sign Lowry.   The post Why Kyle Lowry Will Re-sign with the Raptors appeared first on The Sideline | thesidelinesports.com.
Original Story:
http://www.thesidelinesports.com/kyle...
MORE FROM YARDBARKER
NBA News

Delivered to your inbox

You'll also receive Yardbarker's daily Top 10, featuring the best sports stories from around the web. Customize your newsletter to get articles on your favorite sports and teams. And the best part? It's free!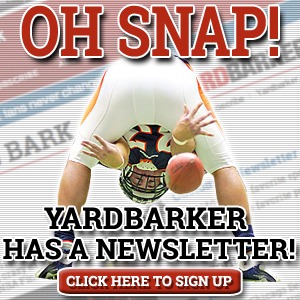 Latest Rumors
Best of Yardbarker

Today's Best Stuff

For Bloggers

Join the Yardbarker Network for more promotion, traffic, and money.

Company Info

Help

What is Yardbarker?

Yardbarker is the largest network of sports blogs and pro athlete blogs on the web. This site is the hub of the Yardbarker Network, where our editors and algorithms curate the best sports content from our network and beyond.