Found July 10, 2013 on Pass The Pill:
  Dwight Howard spent the first eight seasons of his career playing for the Orland Magic, followed by a one-year stint with the Los Angeles Lakers. Now, Howard has decided to join the Houston Rockets with the hopes of leading the team to championship glory. While the Rockets managed to snag the biggest name in the free-agent market with a four-year deal worth $88 million,here are a few factors about Howard that could prevent them from winning it all.   Howard Prefers To Be Primary Scoring Option During the latter part of his time in Orlando, Howard often complained about not getting enough touches late in games. This episode repeated itself in January of this year following a loss to the Chicago Bulls—a game in which he only attempted five shots. While Howard did admit that he was immature for complaining, the main point here is that it should not have been an issue to begin with. Being that Howard wants to be the guy to lead his team to victory every night, it will be interesting to see how this new relationship with the Rockets will pan out because like it or not, James Harden is still the primary scoring option. This means there will be some nights where Howard will not get a ton of touches and how he deals with that will go a long way in determining if this acquisition is a match made in heaven, or the nightmare from hell.   Limited Offensive Game When you think of the dominant big men who have played in the NBA, the one thing they had in common was a go-to move that opposing defenses had a difficult time defending. Some of the names that come to mind are Wilt Chamberlain, Kareem Abdul-Jabbar, Hakeem Olajuwon, Shaquille O'Neal, David Robinson and Patrick Ewing—just to name a few. Although Howard did post averages of 17 points, 12 rebounds and over two blocks per contest last season, his offensive game still leaves a lot to be desired. Oftentimes, Howard is the most talented player on the floor, but it is difficult to determine that from the way he plays. He does not have an array of moves and his low-post game is average at best. But don't take my word for it, here are a few comments from Kareem Abdul-Jabbar referring to Howard's game in an interview with the San Francisco Chronicle back in May: He gets the ball on offense, oh, my god, he doesn't know what to do. It's usually a turnover, people come and take the ball from him or tie his arms up. Offensively, he doesn't get it. Hasn't made any progress. We (the Lakers when Kareem was an assistant coach) played them in '09, and when I saw him this past season, he was the same player. Being that these comments were not made by someone with a limited perspective of the game, this assessment should be something that Rockets fans keep in mind.   Lacks Accountability In Orlando, it was management who supposedly failed to provide Howard with enough supporting talent to win a title. During his time in Los Angeles, he clashed with Kobe Bryant with regards to the effort required to become a champion and being held to a higher standard did not go over too well with the talented center. That being said, Howard has never held himself accountable for his teams' shortcomings and it is doubtful that will change in Houston. So while some of the analysts are labeling the Rockets as one of the top teams in the Western Conference because of the addition of Howard, I feel this kind of talk is premature and it would be wise for us to wait and see how he responds to adversity before talking about the Rockets being championship-caliber team. The post Will Dwight Howard Lead Rockets to a Title? appeared first on Pass The Pill - Kings of Hoops.
Original Story:
http://sports-kings.com/passthepill/w...
THE BACKYARD
BEST OF MAXIM
RELATED ARTICLES
Houston Rockets: Dwight Howard Contract Grade By Mike Elworth: Owner and Publisher/Hoopstuff… Contract 4 years, 88 million - Well the Dwight Drama is finally over, as Dwight Howard, after almost three years, has chosen his long term destination, Houston. I am not going to talk about his immature actions, or him hurting the Magic and Laker franchises and all of the annoyances he...
ANTISOCIAL MEDIA
Now that Kobe and Dwight Howard are no longer teammates, the Mamba took some time to explain why he unfollowed Howard.
Thanks to the fine folks over at TMZ, we might have gotten to see the moment that Los Angeles Lakers forward Metta World Peace signed with the Houston Rockets. Check it out in the below video: Metta World Peace — Wait, Dwight Howard's Going to Houston??? - Watch More Celebrity Videos or Subscribe *** Metta learns of D-12 signing with Rockets [TMZ]
Dwight Howard announced he is signing with the Houston Rockets on Friday. Within minutes of his official decision, you would think anyone who has anything to do with the NBA would have known about it. Either Metta World Peace is just messing with people again, or it took him more than a day to hear the news. [...]
Jeremiah Short, Feature Writer-original linkThe drama that was "Dwightmare" came to a climactic end after Dwight Howard agreed to a four year, $88 million dollar contract with the Houston Rockets. Leaving the 16-time world champion LA Lakers with an uncertain future.The deal puts Howard in a perfect situation. He gets to work with Kevin McHale and Hakeem Olajuwon year round....
Surprisingly, the jovial Ice Cube, star of such hit films and TV shows as Are We There Yet? and 'Are We There Yet?', had some mean things to say about new Houston Rocket Dwight Howard. They are of the *********** and "Dwight Coward" variety. Viewer discretion advised, but not really, because f**k Dwight Howard. (video h/t to Bob's Blitz, photo below via Getty Image)-...
ON A WING AND A PRAYER
Royce White, who has a fear of flying and is awaiting his trade from the Rockets to the 76ers, said, "Hell no" to the idea of taking 100 flights during a season.
In the aftermath of Dwight Howard's decision to sign with the Houston Rockets, word began to spread that Rockets center Omer Asik had no interest in playing with or behind Howard and he wanted to be traded.Since then, Brian Windhorst of ESPN has verified that Asik has formally asked the Rockets to trade him. And it was at that moment that Asik found out just how much pull and influence...
  Well... that didn't quite work out the way we all expected.  Dwight Howard turns out to be a 1 year rental, and the Lakers serve as a placeholder for him whilst he recuperates from back surgery.  Now, I realise that's to paint the scenario in pretty much what amounts to the worst possible light, but what there is incorrect?     So... Dwight Howard...
The Houston Rockets have acquired Dwight Howard via free agency, and everyone seems to be excited and overly confident. After finally get Dwight Howard to agree to a four-year $88 million deal, Rockets head coach Kevin McHale told ESPN L.A. that "D12 makes them a threat, and that the Rockets can now compete with anybody." "We'll see. Let's get everybody together," McHale...
Looks like the Lakers have their backup plan, now that Dwight Howard is Houston bound. Free agent center Chris Kaman and the Lakers have agreed to a one-year deal, according to a report by ESPN.com on Monday. Kaman was the sixth pick in the 2003 draft and played his first eight NBA seasons with the Clippers. Since then, he's spent a year in New Orleans, where he was dealt as...
With all the salary cap space the Los Angeles Lakers are expected to have in 2014 after losing Dwight Howard to the Houston Rockets, there has been some speculation that they could make a run at a big name free agent like Carmelo Anthony. Anthony and Bryant have a close relationship, and there have been [...]
NBA News

Delivered to your inbox

You'll also receive Yardbarker's daily Top 10, featuring the best sports stories from around the web. Customize your newsletter to get articles on your favorite sports and teams. And the best part? It's free!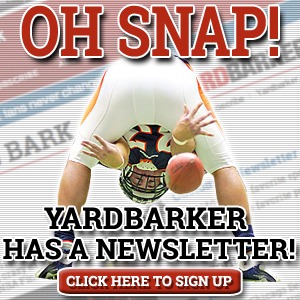 Latest Rumors
The Backyard

Today's Best Stuff

For Bloggers

Join the Yardbarker Network for more promotion, traffic, and money.

Company Info

Help

What is Yardbarker?

Yardbarker is the largest network of sports blogs and pro athlete blogs on the web. This site is the hub of the Yardbarker Network, where our editors and algorithms curate the best sports content from our network and beyond.