Found June 29, 2012 on Waiting For Next Year:
PLAYERS:
Byron Scott
,
LeBron James
,
Mike Brown
,
Anthony Parker
,
Antawn Jamison
,
Jawad Williams
,
Jamario Moon
,
Joey Graham
,
Kyrie Irving
,
Alonzo Gee
,
Tristan Thompson
,
Daniel Gibson
,
Anderson Varejao
TEAMS:
Miami Heat
,
Cleveland Cavaliers
,
Charlotte Hornets
,
Golden State Warriors
During the summer of 2010, as the drill sergeant of a head coach in Byron Scott was being introduced to the Cleveland media, he envisioned a Cavaliers team that would get up the floor and do so with the utmost efficiency. Surely, it was an indirect sales pitch at LeBron James who, entering free agency at the time, was said to be deflated by the half-court sputtering of former head coach Mike Brown. Nevertheless, Scott had a utopian scenario where his team would hit the ground running; they would never lose a game due to fatigue. "I can't let go of my roots," said Scott. "I want to run [on offense]. We'll still run some Princeton but emphasis is to get up & down floor." The only hurdles were the names which littered the roster he had just inherited. Anthony Parker and Antawn Jamison were veterans who, despite careers which extended into their mid-30s, simply were not of the transition basketball mold. The options at small forward were Jawad Williams, Jamario Moon and (eventually) Joey Graham. Mo Williams, though having made an All-Star game alongside LeBron James, was not a player who was known for creating his own shot. When I asked him point blank if he felt these players could fit the mold he desired, Scott confirmed. Call it company line, misjudging, or simply not wanting to suck any remaining life out of the situation at hand, but the new head was assuredly wrong. This team would go on to set depressing records, producing efficiency figures that were essentially compounded by increased pace of play. Needless to say, if Scott was in fact of the belief that his inherited team could meet his expectations, he found out the hard way that this was certainly going to take some time. Enter Kyrie Irving. Enter Alonzo Gee. Enter Tristan Thompson. And now, enter Dion Waiters and Tyler Zeller, one of the best shooting guards in the 2012 draft class as well as a big man — a much-needed one at that — who can run the floor as well as any of his peers. A vision was there at the start, and now, a mere two drafts (and a D-League gem) later, the core of the Cleveland Cavaliers is starting to take shape. Every player who had his name called on Thursday night has a fault or question mark of some sort — Waiters and Zeller are no exceptions. There were no private workouts to be had when it comes to last night's fourth-overall selection. Though he hit 36 percent of his three-pointers during his sophomore campaign, can he be a threat at this distance in the NBA? We won't know for sure until the team's newest lottery addition takes the floor. What we do know is that his body and game are NBA-ready and that Byron Scott sat proudly during his post-draft address with general manager Chris Grant, stating that he was ecstatic that the Syracuse product was available to them on this very evening. "Ultimately, we had to make a decision what was best for us and best for this organization," said Grant. "With all the information, we felt very comfortable. "We had a very good day today in Cavalierland." Grant, though chasitized by some for taking a player who never made the trip to Cleveland 1 , confirmed that he did more homework on Waiters — game, personality, desire — than any player who he has ever had a hand in selecting for an NBA employer. He has close friends at various levels, all of whom were of the iteration that the 6-foot-4-inch wing was just what the numbers-savvy general manager needed to continue the ascent back up the Eastern Conference standings. A 20-year old who is praised for his ability to get to the rim but can also run the offense in times when Irving is given rest, Waiters — and all of his four percent body fat — will arrive as a phyisically gifted player on the offensive end and an opportunity-creating defender. Boasting a much-needed mean streak, Waiters will compliment his high-level abilities during pick-and-roll and transition situations with a disruptive, constant-motion brand of defense. Running a fast-paced offense with a player like Waiters in tow versus the catch-and-shoot stylings of an Anthony Parker, should only serve to provide higher levels of not only excitement, but execution. Certainly, fans who are not blown away by Grant's decision will monitor the box scores of the high-powered Golden State Warriors offense to see what Harrison Barnes did the night before. Proponents of Thomas Robinson will watch to see if his game can develop in Sacramento 2 . Even the one Andre Drummond fan will say "I told you so" at the first sign of life. But with Anthony Parker's retirement, Daniel Gibson's contract status and Anderson Varejao's age, selecting  players who draft pundits had as the second-best players at their respective positions is barely a "reach" when you factor in team need as well as style of play <a href="http://www.waitingfornextyear.com/2012/06/with-waiters-and-zeller-byron-scotts-dreams-become-reality/#footnote_2_65585" id="identifier_2_65585" class="footnote-link footnote-identifier-link" title="We don't really care where the guys get picked, as long as they're the right pick for us," Grant said on Thursday night">3 . On Friday afternoon, Dion Waiters and Tyler Zeller will both make their first visit to the city of Cleveland. Two summers ago, Byron Scott verbally depicted the architecture which would be put in place for his basketball team, an increased pace of play that focuses on work ethic and execution. The two worlds will collide in just a few short months as the confident Waiters and the NBA paint-ready Zeller become two intergral pieces in this team's long term blueprint. – (AP Photo/Julio Cortez) ___________________________________
Even though, you know, Waiters didn't travel to see any teams
Though one can argue that Cavalier fans should want this to happen given the protected future draft pick
We don't really care where the guys get picked, as long as they're the right pick for us," Grant said on Thursday night
Original Story:
http://www.waitingfornextyear.com/201...
THE BACKYARD
BEST OF MAXIM
RELATED ARTICLES
With the fourth pick in the 2012 NBA Draft, the Cleveland Cavaliers selected Syracuse shooting guard Dion Waiters. Having made a play for the second-overall pick prior to the draft, the Cavaliers were relegated to staying in their lottery-given spot and addressed a weakness in their roster. A dynamic scorer, the 6-foot-4-inch Waiters averaged 12.6 points and 2.5 rebounds during the...
Former Cavalier beat writer Brian Windhorst was embedded in the Cavaliers' draft room yesterday, and wrote about the experience and what went into the draft for the Cavs, particularly drafting Waiters- "Trent Redden, the Cavs' director of college personnel, had been to Syracuse's campus several times to see and gather information on Waiters. Grant spent three days there...
The NBA Draft is upon us and once again our friends at Deuce Brand are teaming up with us to give away a watch. This time, in the spirit of the NBA draft, we will be giving away the Cavaliers style watch. For those unfamiliar with Deuce, they produce sports watches that athletes can wear while working out. Not just athletes, but anyone participating in any kind of physical activity...
CLEVELAND (AP) -- The Cavaliers have extended a 2.7 million qualifying offer to swingman Alonzo Gee, making him a restricted free agent. The club can now match any offer made during the free agency signing period to Gee, who averaged 10.6 points and 5.1 rebounds in 63 games -- 31 starts-- last season. Gee was one of the Cavs' most improved players and general manager Chris...
Cleveland Cavaliers owner Dan Gilbert proved to be a bitter and resentful man following the departure of LeBron James two years ago. Gilbert went out of his way to make sure James and Cavs fans were aware of his displeasure. Danny boy took business personal by taking out an ad in a local paper, labeling LBJ23 as a selfish coward. He didn't stop there as you may recall...
The Cleveland Cavaliers made a bit of a surprise draft choice with their first pick in the NBA draft on Thursday, taking Syracuse guard Dion Waiters with the No. 4 overall pick. Waiters may be the first player in history taken in the top four picks even though he never started a single game in two seasons of college ball. With the Cavs, he will be paired with point guard Kyrie...
The Cleveland Cavaliers made a surprise pick with the No. 4 overall selection in the NBA draft Thursday, taking Syracuse sophomore guard Dion Waiters, who did not start any games for the Orange, The Sacramentoi Kings took Thomas Robinson of Kansas with the next choice.
It's the biggest mystery of the 2012 NBA Draft: Who is Tyler Zeller's girlfriend? We've scoured Google, Twitter, MySpace, etc. and can't come up with a name. In 2012, how is that even possible? Shouldn't this concern the Cleveland Cavaliers (his new team) that Zeller is so secretive that he doesn't even reveal his girlfriend until the Draft? Zeller told Sports Illustrated...
Via Stepien Rules' Brendan Bowers, West Virginia senior Kevin Jones tweets that he has been picked up by the Cavaliers: Thanx to the Cleveland cavs for believing in me and my abilities, so its off to the cavs I go!!! — Kevin Jones (@kevjones5) June 30, 2012 I will continue to keep working hard and improving everyday — Kevin Jones (@kevjones5) June 30, 2012 Yahoo's Jeff Eisenberg...
As Cavaliers coach Byron Scott watched more game film of Dion Waiters, the more he became convinced the Syracuse guard was the right choice for Cleveland. The Cavs selected Waiters with the No. 4 overall pick in Thursday's NBA draft, a selection met with surprise by many Cleveland fans, who had their hearts set on another player to support Kyrie Irving. The Cavs, though, are...
INDEPENDENCE, Ohio -- The praise was effusive and the smiles brought to mind those gigantic cartoon grins where the mouth is stretched far beyond its normal limits.Think Bugs Bunny, from beyond ear to ear.Thats how good the Cavs felt about introducing their two draft picks Friday, how good they felt about bringing Dion Waiters and Tyler Zeller in to join Kyrie Irving and Tristan...
After having a full day to soak in the 2012 NBA Draft I can see the pieces of the puzzle coming together.  The rebuild is in full steam now with two more young players in the fold.  My thoughts: THEY'RE REALLY HAPPY I think most Cavs fans felt that initial jolt when #4 was announced.  The results of our mock draft based craziness when it comes to drafts reared it's...
NBA News

Delivered to your inbox

You'll also receive Yardbarker's daily Top 10, featuring the best sports stories from around the web. Customize your newsletter to get articles on your favorite sports and teams. And the best part? It's free!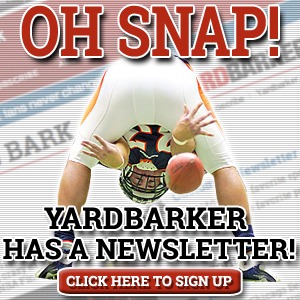 Latest Rumors
Best of Yardbarker

Today's Best Stuff

For Bloggers

Join the Yardbarker Network for more promotion, traffic, and money.

Company Info

Help

What is Yardbarker?

Yardbarker is the largest network of sports blogs and pro athlete blogs on the web. This site is the hub of the Yardbarker Network, where our editors and algorithms curate the best sports content from our network and beyond.