Found January 12, 2012 on The Victory Formation:
The Washington Wizards are easily the NBA's worst squad with a 1-9 record after last night's loss to the Bulls. Naturally (some lockout, some with the increased number of home games per week, some suckitude), attendance has really fallen off for the Wiz. When I say falling off, I mean no one is showing.
The Washington Post's Dan Steinberg did a piece yesterday on ticket prices and found this gem about a fan and his quest for cheap seats:
 Kevin Walsh was having trouble staying interested in Monday's BCS national title game, so he began surfing around StubHub. Not surprisingly, he found plenty of tickets to Tuesday's Wizards-Raptors game for less than $10
Walsh and his freind contemplated a movie, until he went back to StubHub.
"Even with the instant download fees, it was cheaper to go to the Wizards game with four people than for myself to sit and watch a movie I didn't really want to see," he noted. So he went home, to order some NBA tickets and print them out. By the time he got there, the price had dropped to 30 cents.
Steinberg certainly did his research as he found some creative Craigslist Ads too:
"Face value is $30 each. Will sell for $5 each, however if you were to forget to send payment via PayPal, I would not be heartbroken. I will email the tickets once I hear there is someone willing to attend the game. This is a once in a lifetime opportunity to watch Javale goaltend, Dray shoot 18 footers and The Nick Young baseline ballet, all against a team from Canada. Folks, it doesn't get much better than this."
Original Story:
http://www.thevictoryformation.com/20...
THE BACKYARD
BEST OF MAXIM
RELATED ARTICLES
I'M THE WIZ
Washington Wizards head coach Flip Saunders provided this explanation as to why the team is struggling so mightily: John Wall and other players played far too much in the summer leagues.
In this age of constant information and unparalleled hype of young people, we are often led to believe that every NBA team has something going for it. The Washington Wizards are proof that such is not the case, and really, never has been. But thats not what we were told. We were told that second-year point guard John Wall was going to be The Man to lead the Wizards to respectability...
After the lockout, there was a lot of speculation about Nick Young and where he would land in the NBA as a free agent. Many members of the DC media were pleading for Washington to not overpay just to keep Young due to his inconsistency. I was not one of them. I've come to find that I'm in the minority of the people who believe that Young is our second greatest asset on this...
The Washington Wizards might be the NBA's most dysfunctional team but that doesn't mean they can provide the highlights courtesy of John Wall. Wall's latest victim to make his highlight reel is Chicago Bulls' John Lucas III. Lucas, who made his first start for the Bulls and played extremely well in the win (25 pts, 8 reb, 8 ast), had his personal moment ruined by...
The only thing worse than tickets to a Washington Wizards basketball game, is season tickets to ALL the Washington Wizards basketball games. Washington fans have taken their grief to the web with some of the saddest, yet entertaining ads on Craigslist, not listed under M4W.
Are the Wizards the worst team ever? Thomas Boswell seems to think so and I am inclined to disagree with him. I know they have played as poorly as a team can play but with such a young team I still have some trepidation about such morose assessments. It seems as if no one has anything positive to say about the Wizards, and I totally understand that. There isn't much positive...
After nine long months, the Wizards finally delivered a victory on Tuesday. As Michael Lee wrote in an earlier blog post, Coach Flip Saunders made the necessary moves to get the desired results: He benched banged up, high-price players with scorers' mentalities in Andray Blatche and Rashard Lewis and decided to go with energetic, low-cost players more willing to do the dirty...
Washington Wizards point guard John Wall announced today that his eponymous dance will now conclude with silent weeping and a holding of the head. "You always have to keep it fresh. I don't want the kids to see the J...
The Washington Wizards knew exactly what kind of opponent they were facing in the Philadelphia 76ers, after losing a home-and-home preseason series by a combined total of 32 points. On Friday night, in their first regular-season meeting, it was nothing short of a massacre, as the Wizards lost 120-89, their ...
 AT     Friday, January 13th, 20127:00 PM ETTV: Comcast SportsNet HDSteve Buckhantz, Phil Chenier  Radio: 106.7 The Fan - http://bit.ly/5yZqu8Dave Johnson, Glenn ConsorGame PreviewThe Philadelphia 76ers (7-3) host the Washington Wizards (1-9) in a rematch of the preseason games where Philly went 2-0.  The 76ers have been one of the surprise teams at the start of this short...
Nine games into the season, the Wizards finally got their first win against Toronto. The win was much needed and the road to get there was pretty ugly. There were cringe worthy airballs and alleged fights with coaches. There was Flip Saunders getting ejected and 30 cent tickets. Andray Blatche goaltending a free throw. JaVale campaigning for All-Star votes while his team sat...
Wizards News

Delivered to your inbox

You'll also receive Yardbarker's daily Top 10, featuring the best sports stories from around the web. Customize your newsletter to get articles on your favorite sports and teams. And the best part? It's free!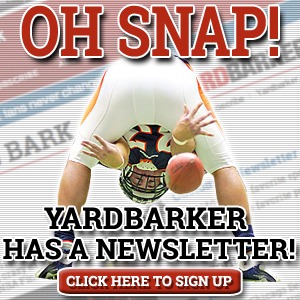 Latest Rumors
Best of Yardbarker

Today's Best Stuff

For Bloggers

Join the Yardbarker Network for more promotion, traffic, and money.

Company Info

Help

What is Yardbarker?

Yardbarker is the largest network of sports blogs and pro athlete blogs on the web. This site is the hub of the Yardbarker Network, where our editors and algorithms curate the best sports content from our network and beyond.