Found March 31, 2012 on Wizards Extreme:
The Wizards have been slapped around by the Philadelphia 76ers this season, as they've been beat by 31, 13 and then 20 points so far.
Well, last night, the Wizards decided that enough was enough and that it was time to punch them back.
After a slow start to the game in the first quarter, the Wizards saw Trevor Booker go to the locker room in some visible pain, and one might believe it could have been all over from there.
But alas, the Wizards stated capitalizing off of Philly's five turnovers and succeeding on the fast break, which ultimately led to the Wizards holding an eight-point lead by the end of the first quarter and a field goal percentage of 50%.
A key to holding Philly to only 15 points in the first quarter was ultimately the big-man pairing of both Kevin Seraphin and Nene in the lineup to provide that spark on the boards as well as a menacing presence in the post.
Nene continued his onslaught in the second half as he seemed red-hot, sinking 17-foot jumpers and scoring 10 of the Wizards' first 12 second-half points, but was ultimately taken out in the fourth quarter after he ironically suffered the same injury that Booker was listed as having earlier in the game.
By the time Nene was out, however, things were wrapping up in the Wizards' favor as Jan Vesely, Cartier Martin and Seraphin held things down in the absence of the two big guys.
While Vesely only had six points, he really proved his worth as he played the clean-up man, grabbing 11 rebounds, four of which were offensive boards. It was really a career night for him as this was really one of his first chances to be out there for an extended period of time (29 minutes).
In his post-game press conference, Randy Wittman (as well as every other player) credited the second unit in the second quarter for a huge chunk of their win. Shelvin Mack, Vesely, and Martin really proved themselves worthy of being on this team in the second, and allowed the big men to get some rest since they were able to not only hold onto the eight-point lead from the first, but extend it to a nineteen-point lead.
While the Wizards had that nineteen-point lead at the half, everyone in the arena had an aura of doubt to them as the Wizards had blown five games straight, many off of having 20-point leads.
But the Wizards really stayed strong and answered every one of Philly's runs in the second half by keeping the ball moving and capitalizing on every single turnover and missed shot.
The play of Cartier Martin was absolutely essential to this win as he had 20 points, 6 rebounds and went 4-7 from three-point land. The guy was lights out and proved that he was even better than the Cartier Martin that Wizards fans saw last year with the team.
The most amazing stat? In the +/- category, every player went for positive numbers, with Cartier Martin at +20 for the game.
In a truly positive outing for the Wizards (sans the two big injuries, both of which are still day-to-day), Wittman can be proud of his team as they finally found a way to keep up the intensity throughout the game and to be able to hold on to a precious lead.
While the upcoming games against Toronto and Milwaukee are important to the team, one has to think that this team has really got it sights set for Wednesday as they will have a chance to finally play this was against Indiana.

They have the necessary tools, so now's the time to fight back.
Original Story:
http://www.wizardsextreme.com/2012-ar...
THE BACKYARD
BEST OF MAXIM
RELATED ARTICLES
Washington Wizards rookie Chris Singleton isn't strapped for cash, but that isn't deterring him from trying to earn a few more bucks. Well, maybe more than just a few bucks. How about over $500 million? That's what Singleton has his eyes on after posting on Twitter Wednesday night that he spent $10,000 on Mega Millions tickets. The jackpot has reached a world record...
I've always wondered how professional athletes blow through money at an alarming pace. Sure, you can point toward the big ticket items that litter their castles, and later are thrown up for auction to help pay off creditors. However, it's the small things that usually get them. For example, Allen Iverson purchased new clothes in each city he traveled to, rather than pack a suit...
The Mega Million jackpot is up to $640 million. For one Washington Wizards rookie, that's incentive enough for him to drop $10,000 on a few tickets. Chris Singleton makes $1.5 million in his first season with the Wizards but the allure of coming up on close to half a billion (after taxes and all that [...]
As you know by now, unless you tuned out sometime in 2008, the Wizards have the second-worst record in the NBA. This is because they are the dregs, you see. But with great losing comes great draft positioning, which hasn't meant a whole hell of a lot for the Wiz these past few years. In 2009, it meant trading the No. 5/Ricky Rubio pick for Randy Foye and Mike Miller. In '10...
Cartier Martin tied a career high with 20 points in his second game under a 10-day contract, and the Washington Wizards built a big lead and held on to it for a change, breaking a five-game losing streak Friday night with a 97-76 win over the Philadelphia 76ers. The loss knocked Philadelphia, at least temporarily, out of first place in the Atlantic Division, pending the result of...
Wizards vs. 76ers March 30, 2012 – Verizon Center  1 2 3 4 FINAL 76ers 15 21 26 14 76 Wizards 23 32 24 18 97 TOP PERFORMERS Wizards 76ers Cartier Martin PTS 20 Williams / Young PTS 14 Nene REB ...
After coming up just short again and again, the suddenly stingy Washington Wizards knocked off one of the better teams in the Eastern Conference their last time out. In contrast, they haven't been able to slow down the Toronto Raptors during their last few visits to the Air Canada Centre. Looking to post back-to-back victories for just the second time this season, Washington...
Wizards vs. Raptors   April 1, 2012 – Air Canada Centre 1 2 3 4 FINAL Wizards 21 21 19 31 92 Raptors 22 24 25 28 99 TOP PERFORMERS Wizards Raptors Jordan Crawford PTS 18 Andrea Bargnani PTS 18 Chris...
  Wizards vs. Pacers March 29, 2012 – Bankers Life Fieldhouse 1 2 3 4 FINAL Wizards 26 23 20 20 89 Pacers 30 22 20 21 93 TOP PERFORMERS Wizards Pacers Jordan Crawford PTS 20 Danny Granger PTS 25 Nene ...
Wizards News

Delivered to your inbox

You'll also receive Yardbarker's daily Top 10, featuring the best sports stories from around the web. Customize your newsletter to get articles on your favorite sports and teams. And the best part? It's free!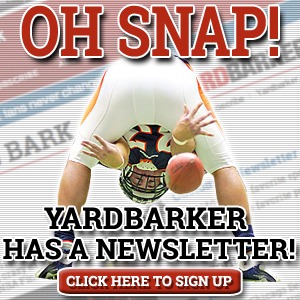 Latest Rumors
The Backyard

Today's Best Stuff

For Bloggers

Join the Yardbarker Network for more promotion, traffic, and money.

Company Info

Help

What is Yardbarker?

Yardbarker is the largest network of sports blogs and pro athlete blogs on the web. This site is the hub of the Yardbarker Network, where our editors and algorithms curate the best sports content from our network and beyond.