Found March 30, 2012 on Fox Sports:
Washington Wizards rookie Chris Singleton isn't strapped for cash, but that isn't deterring him from trying to earn a few more bucks. Well, maybe more than just a few bucks. How about over $500 million? That's what Singleton has his eyes on after posting on Twitter Wednesday night that he spent $10,000 on Mega Millions tickets. The jackpot has reached a world record $540 million. "You guys are already rich," one of his followers wrote. "If I get richer, I will change the world for the better," Singleton replied. Singleton's 2012 salary currently stands at $1,485,000, and he's slated to make $1,596,360 in 2013. One thing that's not clear is whether Singleton plans on spending the $10,000 in one place to buy the tickets or at several different locations in the Washington, DC, area. "I hope your kidding.. Your odds from buying 1 to 10,000 is insignificant," someone else pointed out. "Well if I get more than 10000 back ...
Original Story:
http://msn.foxsports.com/nba/story/wa...
THE BACKYARD
BEST OF MAXIM
RELATED ARTICLES
I've always wondered how professional athletes blow through money at an alarming pace. Sure, you can point toward the big ticket items that litter their castles, and later are thrown up for auction to help pay off creditors. However, it's the small things that usually get them. For example, Allen Iverson purchased new clothes in each city he traveled to, rather than pack a suit...
The Mega Million jackpot is up to $640 million. For one Washington Wizards rookie, that's incentive enough for him to drop $10,000 on a few tickets. Chris Singleton makes $1.5 million in his first season with the Wizards but the allure of coming up on close to half a billion (after taxes and all that [...]
The Wizards have been slapped around by the Philadelphia 76ers this season, as they've been beat by 31, 13 and then 20 points so far. Well, last night, the Wizards decided that enough was enough and that it was time to punch them back. After a slow start to the game in the first quarter, the Wizards saw Trevor Booker go to the locker room in some visible pain, and one might believe...
As you know by now, unless you tuned out sometime in 2008, the Wizards have the second-worst record in the NBA. This is because they are the dregs, you see. But with great losing comes great draft positioning, which hasn't meant a whole hell of a lot for the Wiz these past few years. In 2009, it meant trading the No. 5/Ricky Rubio pick for Randy Foye and Mike Miller. In '10,...
Cartier Martin tied a career high with 20 points in his second game under a 10-day contract, and the Washington Wizards built a big lead and held on to it for a change, breaking a five-game losing streak Friday night with a 97-76 win over the Philadelphia 76ers. The loss knocked Philadelphia, at least temporarily, out of first place in the Atlantic Division, pending the result of...
Wizards vs. 76ers March 30, 2012 – Verizon Center  1 2 3 4 FINAL 76ers 15 21 26 14 76 Wizards 23 32 24 18 97 TOP PERFORMERS Wizards 76ers Cartier Martin PTS 20 Williams / Young PTS 14 Nene REB ...
After coming up just short again and again, the suddenly stingy Washington Wizards knocked off one of the better teams in the Eastern Conference their last time out. In contrast, they haven't been able to slow down the Toronto Raptors during their last few visits to the Air Canada Centre. Looking to post back-to-back victories for just the second time this season, Washington...
  Wizards vs. Pacers March 29, 2012 – Bankers Life Fieldhouse 1 2 3 4 FINAL Wizards 26 23 20 20 89 Pacers 30 22 20 21 93 TOP PERFORMERS Wizards Pacers Jordan Crawford PTS 20 Danny Granger PTS 25 Nene ...
If there was one faction of society that wouldn't be captivated by the $540 million Mega Millions lottery jackpot, you would figure it would be the elite earners, such as professional athletes. But even some of those millionaires are getting caught up in the lottery ticket craze. SB Nation's Andrew Sharp points out that a few athletes tweeted about buying thousands of dollars...
Wizards News

Delivered to your inbox

You'll also receive Yardbarker's daily Top 10, featuring the best sports stories from around the web. Customize your newsletter to get articles on your favorite sports and teams. And the best part? It's free!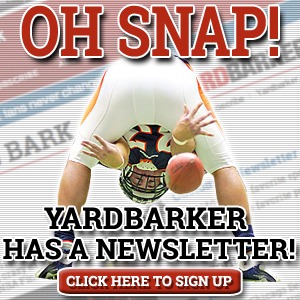 Latest Rumors
Best of Yardbarker

Today's Best Stuff

For Bloggers

Join the Yardbarker Network for more promotion, traffic, and money.

Company Info

Help

What is Yardbarker?

Yardbarker is the largest network of sports blogs and pro athlete blogs on the web. This site is the hub of the Yardbarker Network, where our editors and algorithms curate the best sports content from our network and beyond.