Found March 24, 2012 on Fox Sports North:
PLAYERS:
Kevin Love
,
Kevin Durant
,
Ricky Rubio
,
Nikola Pekovic
,
Russell Westbrook
,
James Harden
,
Rick Adelman
,
Kevin Garnett
,
Anthony Tolliver
TEAMS:
Minnesota Timberwolves
,
Oklahoma City Thunder
,
Boston Celtics
When Kevin Love hit a game-tying three-pointer with a second left in regulation, Kevin Durant smiled. Of all the things to do after your team has blown a lead, with the chances of winning before overtime as slim as any, to smile would seem like the least obvious choice. But Durant is a competitor, and this was a challenge. It was as if he knew what was to come, that he and his team would be able to wear down the Timberwolves, that two overtimes would be too much.And they were. After taking a five-point lead in the game's first overtime, the Timberwolves faded fast, allowing Oklahoma City to tie the game again and push it to double overtime. Once those final five minutes began, it was over. The Timberwolves never led again and went on to lose, 149-140."I think we ran out of energy," J.J. Barea said. "They just kept attacking, and Durant kept hitting some tough shots. We had the game won in that first overtime It's basketball. That's how it is."It was the most exciting game of the season, just seconds from what could have been the team's biggest win of the year. But really, it shouldn't have happened.Not in Oklahoma City on the last day of a grueling, two-week road trip.Not without Ricky Rubio and Nikola Pekovic, not without the team's top bench scorer, Michael Beasley.Not against Kevin Durant, who finished with 40 points. Not when Russell Westbrook tops that and finishes with 45.But it did. It took a combined 289 points and ten extra minutes of basketball for the best team in the Western Conference to finally silence the Timberwolves. It took a new franchise scoring record for Kevin Love read it, 51 points and a triple-double for Barea, the first by a Timberwolves player since Kevin Durant in 2007. It took 60 bench points in what was the team's best offensive performance of the season, and that the Thunder were able to overcome all those things proves that they're among the best in the league."It was tough," Love said. "We had chances to win the game. We had a couple calls not go our way. Kevin (Durant), Russell (Westbrook) and James Harden and the rest of their team made plays. That's why they're the top team in the West."Before the game, Timberwolves' coach Rick Adelman admitted he was worried that his team just wanted to go home. This seven-game road trip had been a cruel test of the team's mettle, and it went into Friday with a 2-4 record after hoping to hover near .500 on the trip. But Adelman's fears weren't realized, as his team endured 58 minutes of basketball as if it hadn't been away from home for two weeks.It was a night of shattered records, and Love's 51 points pushed him past Kevin Garnett, who held the previous franchise record for points in a game, with 47. He also sunk seven three-pointers, which was a career-high and the reason the team managed to push the game to overtime. But it wasn't just Love. It was Barea's 25 points, 14 assists and 10 rebounds. It was Anthony Tolliver's 23 points, the most he's scored since 2010. It was a team that realized what it was missing but didn't discount the talent it still had."Coach just said in the locker room, myself included, I'm proud of the guys right now," Love said. "They really stepped up. You know, we're shorthanded right now."The Timberwolves will fly back to Minneapolis Friday night and prepare for Denver on Sunday. The road trip will finally be over, and though Minnesota may not have done so well against the test it presented, it at least managed to go down with its best fight of the season. Its record during the stretch will still be 2-5; that doesn't account for Friday night's effort, and it shouldn't, but it's refreshing to see how much it takes to count Love and his team out of even the most competitive games.Love said postgame that he was encouraged by the effort his team put forth, and he hopes the team can remember what that felt like and put forth a similar fight in its final 17 games. However, it was hard for him to be excited, his downcast gaze and matter-of-fact analysis hallmarks of the frustration he exhibits after every loss. Even those 51 points, the seven three-pointers weren't enough to shake the nagging pain of the loss."It would mean a lot more in a win," Love said of his performance.Of course it would. And no one would expect Love to feel any other way.Follow Joan Niesen on Twitter.
Original Story:
http://www.foxsportsnorth.com/03/24/1...
THE BACKYARD
BEST OF MAXIM
RELATED ARTICLES
Stat line of the night goes to Kevin Love's 51 pts, 14 rebs, narrowly edging out Kevin Durant's 40 pts, 17 rebs and Russell Westbrook's 45. The Minnesota Timberwolves lost to the Oklahoma City Thunder 149-140 in 2 OT. We're going to see Kevin Love and Kevin Durant putting up MONSTER numbers like these for years. The two young bigs are going to dominate Western Conference...
COMING UP SHORT
The above video shows one of the saddest scenes in an NBA game I've seen in quite a while. Oklahoma City Thunder point guard Russell Westbrook is one heck of an athlete, but I think he overestimated his skills on this play. On Wednesday night against the Los Angeles Clippers, Westbrook caught the ball on the right wing and attempted to go all Blake Griffin on…Blake Griffin...
I didn't consider this until after the fact, but a Thunder/T-Wolves match up really does present a unique degree of potential for epic statistical feats.  Kevin Durant and Russell Westbrook have already proven to be one of the most explosive tandems in the history of the game, and Kevin Love has a tendency to put together crazy numerical combinations from time to time.  Neither...
OKLAHOMA CITY (AP) -- Russell Westbrook scored 45 points, Kevin Durant added 40 points and a season-high 17 rebounds and the Oklahoma City Thunder overcame a career-high 51 points from Minnesota All-Star Kevin Love to beat the Timberwolves 149-140 in double overtime Friday night. Westbrook set the tone in the second overtime, stealing the ball on Minnesota's opening possession...
Kevin Durant collected 28 points, nine rebounds and eight assists as the Oklahoma City Thunder made a statement in thumping the visiting Miami Heat 103-87.Serge Ibaka chipped in 19 points and 10 boards and James Harden added 19 points for the Thunder, who looked convincing in building up a big lead and then holding off the Heat in a possible NBA Finals preview. The Thunder won their...
OKLAHOMA CITY (AP) -- Russell Westbrook scored 45 points, Kevin Durant added 40 points and a season-high 17 rebounds and the Oklahoma City Thunder overcame a career-high 51 points from Minnesota All-Star Kevin Love to beat the Timberwolves 149-140 in double overtime Friday night. Westbrook set the tone in the second overtime, stealing the ball on Minnesota's opening possession...
OKLAHOMA CITY (AP) -- Kevin Durant had 28 points, nine rebounds and tied his season-high with eight assists, Kendrick Perkins added a season-best 16 points and the Oklahoma City Thunder opened a difficult stretch in their schedule by beating the Miami Heat 103-87 on Sunday night. The two title contenders opened the day tied for the second-best record in the NBA, three games behind...
If any NBA fan missed the double OT thrilla between the OKC Thunder and Minnesota Timberwolves, you need to send yourselves to time out because that Friday night game was pure NBA MADNESS!! OKC ended up pulling out the win; 149-140. Russell Westbrook set a career-high with 45 points and Kevin Love had his own career night [...]
Russell Westbrook scored nine of his career-high 45 points in the second overtime as host Oklahoma City withstood Kevin Love's 51 points to beat Minnesota 149-140 for the 11th consecutive time Friday.Kevin Durant added 40 points and a season-high 17 rebounds as the Thunder won back-to-back games for the first time since March 7.Love set a franchise record and a career...
(Eds: Updates. With AP Photos.) By JON KRAWCZYNSKI AP Sports Writer A most improved player award, a rebounding title, two All-Star appearances. Kevin Love has been piling up the accolades and accomplishments over the past season and a half, steadily working his way up the ladder of the NBA's best power forwards. With a jaw-dropping, 51-point performance in a double-overtime...
Since Los Angeles Clippers forward Blake Griffin has been dunking all of over people this season, Thunder guard Russell Westbrook decided to go after some revenge.During last night's Clippers/Thunder game, Westbrook attempted a dunk over Griffin by sadly, he wasn't able to complete it and was called for a charge:(Courtesy of Rumors and Rants)
Line of the Night: The headline on Yahoo this morning is "51 Isn't Enough" and that was true both in real life and in fantasy basketball. While Kevin Love (3.34) put up a career high 51 points, along with 7 threes and 14 rebounds, it was The Other Kevin, Kevin Durant (3.80), who had the better line for fantasy owners with 40 points (3 threes, 7-7 from the line), 17 rebounds...
NBA News

Delivered to your inbox

You'll also receive Yardbarker's daily Top 10, featuring the best sports stories from around the web. Customize your newsletter to get articles on your favorite sports and teams. And the best part? It's free!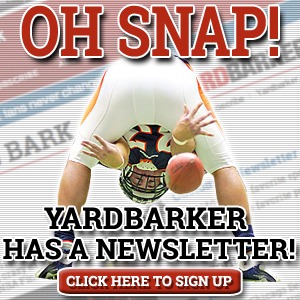 Latest Rumors
The Backyard

Today's Best Stuff

For Bloggers

Join the Yardbarker Network for more promotion, traffic, and money.

Company Info

Help

What is Yardbarker?

Yardbarker is the largest network of sports blogs and pro athlete blogs on the web. This site is the hub of the Yardbarker Network, where our editors and algorithms curate the best sports content from our network and beyond.