Found April 16, 2013 on Fox Sports North:
PLAYERS:
Mickael Gelabale
,
Derrick Williams
,
Chase Budinger
,
Alexey Shved
,
Chris Johnson
,
Dante Cunningham
,
Rick Adelman
,
Ricky Rubio
,
Nikola Pekovic
,
Brandon Roy
,
Kevin Love
,
Gregg Popovich
TEAMS:
Minnesota Timberwolves
MINNEAPOLIS The trash bag squeaked as he squeezed his way out of the locker room. Mickael Gelabale had shoes. Too many pairs of them, and so he loaded them into the bag and took them to give away to friends. It was time to start clearing out the locker, anyways. The final home game was done, a 96-80, lifeless, sputtering loss in which Gelabale played just 3:55. He's come a long way this season, the 29-year-old French forward. He came from Europe in January, confident enough to accept a 10-day contract across the Atlantic. He got that one, and then another, and then finally a deal through the end of the season. But that deal is up, and so while Derrick Williams and Chase Budinger talked casually of coordinating offseason workouts in Arizona, Gelabale dispensed with shoes. What else was there to do? It's hard to say whether Gelabale will be back. He's a hard worker, a nice guy, a pleasant piece in the locker room, but he's a symptom. He's a symptom of his team's struggles. He probably shouldn't be here, and yet there he is, doing is best to log minutes in any way he can. That's what it comes down to in Minnesota this season: Band-Aid players and their bags of shoes, nice enough guys you really want to cheer for -- you really do -- but can't quite, solely because they aren't the guys, the ones who can lead a team to wins. As the clock expired on the Timberwolves' final home game on Monday, the lineup was this: Gelabale, Budinger, Alexey Shved, Chris Johnson and Dante Cunningham. So yes, that's the most unknown of Frenchmen whose career was supposedly doomed by an ACL tear half a decade ago; a competent sixth man out for most of the season with a torn meniscus; another unknown from the D-League, a bit too skinny, a bit too raw; a Russian rookie whose shot is struggling as much as his accent and another role player, a solid one, but hardly a star. That's what Minnesota was left with, a hodgepodge that was the product of a lopsided game and a beleaguered bench. No home crowd wants to see a season expire quite like that, and no team wants to make that statement. The score wasn't quite the surprise, though. It was the effort -- or lack thereof -- that shocked. Sure, the Jazz were playing for their lives, but it certainly didn't look like it, and in spite of their record and injuries, these Timberwolves have been fighters. On Monday, though, they rolled over. On Monday, they played as if the offseason had already arrived, as if these last two games meant nothing. And even though they do, in the grand scheme of things, that's certainly not how Rick Adelman and his players felt. Pregame, Adelman offered a somewhat prescient quip: "There's no reason to keep playing. I don't want to play 115 more games. Let's try to finish it and get ready for next year." He didn't mean it quite so literally, though. He didn't mean for his team to roll over and play dead. When asked after the game whether it would have mattered to finish above .500 at home -- the Timberwolves now end at 20-21 at the Target Center -- Ricky Rubio shrugged. "I don't care about that," he said. "I just care about winning. I just want to win every game, every single game. I know it's tough, especially at the end of the season when the other teams are fighting for playoffs and you're not. But you have to show you want to win every game." That's the spirit, Ricky. That's always the spirit, whatever's coming out of that cubby in the furthest corner of the Target Center locker room. At least this year there is a spirit at all, not a season capped by a J.J. Barea rant that his teammates don't care and Brad Miller tearing up after Adelman admitted that he hated to see his center end his career in such a lifeless game. "Last year was very difficult because I hadn't really experienced something like that, where the guys just kind of cashed in," Adelman said. "This group is not like that. This group is really fun to be around. If one thing has been great, it's their attitude. Even when they've had the injuries, they've kept coming and playing, and the coaches haven't given in at all. I think that's made it a very good situation." It was hard to watch the game in moments on Monday, not just because of the uninspired play. It was hard to watch because Rubio was a little bit off, and he's a major piece they're building around. It was hard because Nikola Pekovic was in his sport coat on the bench, and you had to wonder if he'd be back in free agency. Near him was Brandon Roy, who won't be back, who was the biggest gamble and a bigger disappointment. Then there was the realization that Kevin Love was watching from somewhere other than the bench, and so you wonder too where he is and how's that knee and what about the hand? There are too many distractions. There always have been, ever since those two metacarpals snapped. It's been one thing after another (after another, after another) until now, with so little time left and so little import to it, that playing can seem almost tedious. One game remains, in San Antonio on Wednesday. Gregg Popovich could pull a Pop and rest his entire starting lineup or perhaps try out some sort of three-on-five approach -- because he is who he is and he doesn't care. And so the Timberwolves might win. Or they might lose. Few will take note, and rightfully so. Teammates will scatter, to Spain and Montenegro, to Los Angeles and San Diego and everywhere in-between. Coaches will be dispersed on their offseason missions, and Adelman and his wife will consult with doctors to determine more importantly the state of her health and also whether the coach will return. The uncertainties will shift into problems the team can actually, finally tackle, and then they will be solved, and finally another chance, the third of this regime, will be imminent. Nobody will remember that the Timberwolves lost by 16 to the Jazz on this frigid mid-April night. Nobody, at least, except maybe these 14 players and their coaches, who absolutely should. They know how it feels to be injured, to be robbed, to be helpless, and now to be lifeless. And at least with this group, they also know that they never want to feel that way again. "I don't want to think what could happen," Rubio said. "It happened, and that's it." Follow Joan Niesen on Twitter.
Original Story:
http://www.foxsportsnorth.com/nba/min...
THE BACKYARD
BEST OF MAXIM
RELATED ARTICLES
Back in late January, the Minnesota Timberwolves decided to shut down Brandon Roy for the season, whose career has been lambasted with injuries. After struggling to recover from a knee injury this season, the Timberwolves have announced that fans should not expect to see Roy back next season, per Ray Richardson of Twin Cities."You should assume he will not be playing with us...
MINNEAPOLIS Nikola Pekovic will miss his third consecutive game with a left calf contusion on Monday night against the Jazz. This will be the 19th game this season that the center has missed with various injuries. Coach Rick Adelman has not confirmed whether the team will simply shut him down for the season with just one game remaining after Monday's. "I have no idea...
HUNGRY LIKE THE WOLF
Tweet On Monday night the Minnesota Timberwolves were trying to play spoiler to the playoff hopes of the Utah Jazz. The Wolves were ultimately unsuccessful in that attempt, falling to Utah 96-80. In the losing effort, though, Luke Ridnour connected with Derrick Williams for the possible play of the night in the NBA: Williams got [...]
Looking for the dunk of Monday night in the NBA? We here at Outside the Boxscore have it for you to view. It occurred in the Minnesota Timberwolves/Utah Jazz game as Timberwolves point guard Luke Ridnour found Derrick Williams on an alley-oop that Williams finished with a tomahawk jam: (Courtesy of SB Nation)
Timberwolves News

Delivered to your inbox

You'll also receive Yardbarker's daily Top 10, featuring the best sports stories from around the web. Customize your newsletter to get articles on your favorite sports and teams. And the best part? It's free!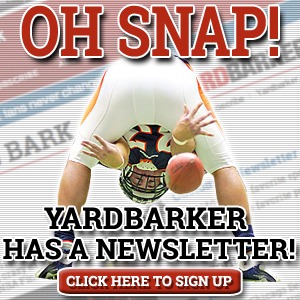 Latest Rumors
The Backyard

Today's Best Stuff

For Bloggers

Join the Yardbarker Network for more promotion, traffic, and money.

Company Info

Help

What is Yardbarker?

Yardbarker is the largest network of sports blogs and pro athlete blogs on the web. This site is the hub of the Yardbarker Network, where our editors and algorithms curate the best sports content from our network and beyond.