Found October 01, 2012 on Fox Sports North:
MINNEAPOLIS Media day 2012 is in the books, and the Timberwolves will head to Mankato for training camp for the remainder of the week. I'll be there with updates on Tuesday and Wednesday, but to tide you over until then, here's some more from Monday's information overload session at the Target Center: No two-a-days for Rick Adelman: While in Mankato, the Timberwolves will be practicing just once a day, not twice like many teams do during training camp. Over the years, Adelman has come to embrace that philosophy, finding that he accomplishes more with just one longer session. Early on in his career, Adelman noticed that if he began holding two-a-days, after a few days of camp, veterans would stop showing up to the morning practices, and he and his staff were left instructing the training camp invitees, who are unlikely to make the roster. That experience coupled with the league's restrictions on contact in morning practices changed Adelman's philosophy. "I found that if we go once, after we're done with practice, they have basically 21 hours to get ready for the next practice," Adelman said. "I just thought we had more energy. The key was we were covering everything we wanted to cover, getting done everything we wanted to get done. You may see us once in a while maybe later on, we might go two." Adelman and Kahn both said that for now, the team's roster is set. There's not much more to do at this point, Adelman said, and barring any major injuries, the current squad will be the one that takes the court on Nov. 2 against Sacramento. Big man Lou Amundson was likely the last piece to the puzzle, and Adelman said that they preferred him over some younger candidates (Hassan Whiteside, for example) because of his experience. Realistic about Roy: Obviously Brandon Roy is something of a question mark for the team in terms of how his knees will hold up and how much he can contribute, but everything so far has been encouraging. It's not just Roy's health, which has been good since he arrived in Minneapolis in September, but also the team's approach to it. Nearly everyone was asked on Monday what they thought of his play so far, and the responses were all similar to Luke Ridnour's: "It's tough to say right now," he said of the shooting guard's status compared to his pre-injury self. "Brandon is Brandon." Everyone seems pleased with how Roy is doing, and he says he feels great. But no one is setting unrealistic expectations, and they all know that it's still very early in the process. However, Kahn made a very good point about the simple fact that Roy even staged a comeback. Knowing Roy, Kahn said, it's hard to believe that he'd try to do what he's doing if he wasn't confident he'd return at least close to the player he once was. Team defense: It was as hot a topic as team chemistry on Monday (which I wrote about earlier for FOXSportsNorth.com), and in many ways, it goes hand-in-hand. Team defense will be one of the Timberwolves' focal points this season, especially as they enter training camp after summer workouts, which are often a tough place to work any kind of defensive play. "Even playing five-on-five with other NBA guys you are not getting playing the most intense pickup ever," Chase Budinger said. "It is very difficult to work on defense in the offseason. What you can do is work on your body . . . I think that is the biggest thing, in the offseason you can try to do for the defense is really work on your body." Having Andrei Kirilenko on the team, who can guard nearly every position if he has to, will likely help in terms of establishing some kind of defensive leadership. There's also some experience to draw on; as Kevin Love reminded everyone of on Monday, there was a time last season in February when the Timberwolves had some of the best fourth-quarter defense in the NBA. What happened after that makes such a thing difficult to remember, but it's true. The Timberwolves did hold their own on defense last season for about a 20-game chunk of time. It's Ricky's turn: After Love purchased 500 tickets to last Friday's first Lynx playoff game of 2012, Rubio made an identical purchase for Tuesday's winner-take-all matchup against Seattle. Like Love's, Rubio's tickets were given away in pairs of two to the first 250 fans to call in at 8 a.m. Monday. After losing in double overtime in Seattle Sunday, the Lynx must win on Tuesday to advance to the Western Conference Finals against Los Angeles. "I'm incredibly proud to support the Lynx," Rubio said in a statement. "I know firsthand the impact that fans can have on a game, especially in the deciding games of series. It's very important for fans to show up and create a home court advantage for the team as they attempt to repeat as champions." Rubio, along with Love, Williams, Barea and Kirilenko, attended Friday night's Lynx win at the Target Center and sat courtside. Follow Joan Niesen on Twitter.
Original Story:
http://www.foxsportsnorth.com/10/01/1...
THE BACKYARD
BEST OF MAXIM
RELATED ARTICLES
Minneapolis News and Weather KMSP FOX 9 Kevin Love threw out the first pitch at a Twins game last week, and he later made plans to return to Target Field to hit some batting practice with the team. Love had made a bet with a friend that he could hit a ball out of the park, and he proved he could do much more. During his batting practice session before Friday's game against the...
MANKATO, Minn. Andrei Kirilenko does not want to talk about the process that brought him to Minnesota. He said that once, last Friday, and he reiterated it Tuesday to a new crop of reporters from Mankato. It's not fair to anyone, Kirilenko said, and he's not going to spill the beans. So that's that. However, the veteran forward did say Tuesday that the two-year, 20...
Rick Adelman asked for more veterans to coach in Minnesota, and Timberwolves president of basketball operations David Kahn delivered them. Adelman spoke to the media on Monday for the first time since the Wolves completed a significant overhaul this summer. Kahn added shooting guard Brandon Roy and forward Andrei Kirilenko as the main veteran pieces around a young core of Kevin...
MINNEAPOLIS When it comes to Derrick Williams, hyperbole has not been a problem for the Timberwolves' coaching staff. In his rookie season, 2011's second overall pick was inconsistent and raw, so that even when he had a good night, it had to be qualified. It wasn't just "Derrick did well," but rather, "Derrick did well; maybe he can keep it up." ...
Minnesota Timberwolves bruiser Nikola Pekovic has shown up for training camp looking noticeably slimmer and more sculpted than he did last season. The Timberwolves reported for training camp in Mankato on Tuesday. They are counting on Pekovic to be a major part of the push for their first playoff appearance since 2004 and the big center from Montenegro looks like he's ready...
MINNEAPOLIS If you ask David Kahn, this was all about on-court improvement. The rest was a happy accident. Kahn isn't lying. The increased skill level and deeper roster are there. But it doesn't take long to see that there's something else, too, that's vastly different. It's some kind of accident that the Timberwolves managed to bring in two highly regarded...
The Minnesota Timberwolves began training camp recently, so they are making the rounds with appearances to generate buzz for their upcoming season. All-star power forward stopped by Twins batting practice Friday, and delivered this mammoth upper deck shot to left field: Minneapolis News and Weather KMSP FOX 9 The struggling Twins could have used some [...]
MINNEAPOLIS Dave Benz has seen his fair share of sports. FOX Sports North's new Minnesota Timberwolves play-by-play announcer has already worked in eight different markets, covering sports at all levels and doing everything from in-studio shows to talk radio to reporting to, of course, play-by-play. Benz is wrapping up his job with Comcast Sportsnet Bay AreaCalifornia, where...
MINNEAPOLIS The Timberwolves begin training camp Tuesday in Mankato, where they'll stay for four days before returning to the Twin Cities after Friday's practice. They have eight days before their first preseason game against the Pacers in Fargo, N.D., and in that time, they'll need to solidify relationships and continue to implement coach Rick Adelman's system....
MANKATO, Minn. The NBA announced Wednesday its new guidelines on flopping, i.e. when a defensive player falls down intentionally in order to draw a charging foul when none is warranted. The new rules mandate that a player will receive a warning on his first flop, a 5,000 fine on his second, a 10,000 fine on his third, 15,000 on his fourth and 30,000 on his fifth each season. Six...
Timberwolves News

Delivered to your inbox

You'll also receive Yardbarker's daily Top 10, featuring the best sports stories from around the web. Customize your newsletter to get articles on your favorite sports and teams. And the best part? It's free!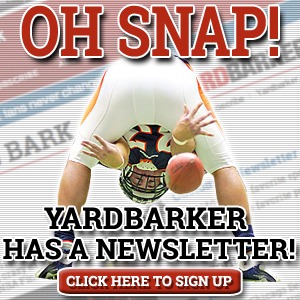 Latest Rumors
The Backyard

Today's Best Stuff

For Bloggers

Join the Yardbarker Network for more promotion, traffic, and money.

Company Info

Help

What is Yardbarker?

Yardbarker is the largest network of sports blogs and pro athlete blogs on the web. This site is the hub of the Yardbarker Network, where our editors and algorithms curate the best sports content from our network and beyond.