Found August 16, 2013 on Fox Sports North:
PLAYERS:
Ricky Rubio
,
Alexey Shved
,
Flip Saunders
,
Marc Gasol
,
Pau Gasol
,
Serge Ibaka
,
Nikola Pekovic
,
Nikola Vucevic
,
Andrei Kirilenko
,
Sergey Karasev
,
Boris Diaw
,
Marcin Gortat
,
Mickael Gelabale
,
Rick Adelman
,
Juan Carlos Navarro
TEAMS:
Minnesota Timberwolves
,
Memphis Grizzlies
,
Los Angeles Lakers
,
Oklahoma City Thunder
,
Orlando Magic
,
Brooklyn Nets
,
Cleveland Cavaliers
,
San Antonio Spurs
,
Phoenix Suns
MINNEAPOLIS -- The prospect of sitting half a world away and watching their centerpiece point guard play 11 games in 18 days, all while his teammates prepare for training camp, has to draw a cringe from some NBA general managers. Not Flip Saunders. "I like players to play," the Timberwolves president of basketball operations said. "That's how you get better." Sounds simple enough. Eurobasket sure isn't the Olympics. It's not even the FIBA World Championships, recently renamed the Basketball World Cup. But the 24-team, two-and-a-half week European national team tournament is still an outlet for hardwood nationalism, enough that guys like Ricky Rubio and Tony Parker will spend most of September overseas competing for their countries. "No one has said that we are not going to Slovenia for the gold medal," Spanish point guard Ricky Rubio told eurobasket2013.com. "The national team we have is of a great level." And when past scouting emphases have created a Minnesota roster dotted with foreign athletes, chances are a few of them will be competing in Eurobasket every couple of offseasons. It's with notable zeal, even for the eccentric assists machine, that Rubio returns to competing internationally. He missed the London Olympics last summer while rehabbing from the ACL tear that derailed his 2012 NBA rookie of the year chances, looking on jealously as Spain nearly upset the United States in the gold medal game. He sat out 25 of the Timberwolves' first 30 games, too, but finished his sophomore campaign as by far the brightest beacon during an injury-riddled 2012-13 season. His 2.4 steals per game tied for first in the NBA, and his 7.3 assists per game ranked 10th. Moreover, he endeared himself to a bitterly disappointed fan base with his energetic, feisty style of play -- the same kind that could lead to another injury if he's not careful. But Saunders would rather have his athletes work in game situations than overexert themselves in the weight room or conditioning programs. "I'd rather have them doing that, sometimes, than overtraining," Saunders said. "I think you have to have a combination of both. But it's one of those things we have to see." Rubio has been in Spain since late July working alongside Memphis' Marc Gasol and Dallas' Jos Caldern, readying for his first taste of international competition since the 2011 Eurobasket tournament. While Rubio won't be joined by veteran countrymen Pau Gasol, Juan Carlos Navarro or Serge Ibaka, Spain sits among the favorites to claim gold in Slovenia. The Spaniards would be the first squad since the Soviet Union teams of the 1950s to achieve a Eurobasket three-peat. "Last year, I followed the team from a distance with great envy," said Rubio, who also played on Spain's gold-medal 2009 team. "That experience gives me more strength to fight for a goal (I consider) achievable." Spain could see Montenegro in the tournament's final, "knockout" stage, but the latter will be without possibly its best current product in Nikola Pekovic. Lengthy contract negotiations with Saunders derailed the big man's plans to join in his homeland's quest to rectify an awful 2011 Eurobasket showing. Although he and Minnesota agreed to terms Wednesday, the 6-foot-11, 281-pound restricted free agent already has missed a good chunk of Montenegro's pre-tournament workouts and opted not to risk injury. "I believe that Pek looked at his people, and they thought it was maybe getting to the point of no return where they didn't feel he was gonna have the proper time to get ready and get into training camp, the proper training camp, that was he was gonna be there and he'd be ready to play without maybe having some type of chance at injury, whether he was signed or unsigned," Saunders said. "I anticipate he felt he was going to be signed by the time Euro would open." Montenegro had hoped to sport a frontcourt featuring Pekovic and Nikola Vucevic, the NBA's No. 3 rebounder last season, but it will be up to the Magic center to carry the country's post load mostly on his own. One other Timberwolves returner is set to represent his nation next month. Coming off his rookie NBA season, Russian guard Alexey Shved is slated to compete in his second Eurobasket tournament after teaming up with departed Minnesota free agent Andrei Kirilenko for bronze in 2011. A flex guard protg of Rubio's, Shved's listed as a center on Russia's roster. He stands 6-foot-6 and weighs 185 pounds. Shved will join Cavaliers' No. 19 overall draft pick Sergey Karasev for a Russian team that won't benefit from some of its most seasoned international veterans' services, including those of Kirilenko. That's par for the 2013 Eurobasket course, though big NBA names like Parker (France), Boris Diaw (France), Marcin Gortat (Poland), mer Asik (Turkey) and recent Timberwolves cut Mickael Gelabale (France) all plan to participate. The three-stage tournament begins Sept. 4. The teams are divided into four groups of six in the preliminary round, and the top three teams from each round-robin group advance to a qualifying group stage. Eight teams move on from there into a single-elimination bracket with a bronze-medal contest for the semifinal losers. The gold-medal game is slated for Sept. 22 in Ljubljana, Slovenia -- about a week before most NBA training camps commence. Saunders said coach Rick Adelman and his staff will tailor Rubio and Shved's preseason training and condition regimens based upon how many minutes they play at Eurobasket. Saunders himself wasn't sure if he'd make a trip to Slovenia to watch the pair and scout potential future prospects, but thanks to Internet streaming, he'll be tuned in either way. "We'll definitely keep an eye on it," Saunders said. Follow Phil Ervin on Twitter
Original Story:
http://www.foxsportsnorth.com/nba/min...
THE BACKYARD
BEST OF MAXIM
RELATED ARTICLES
MINNEAPOLIS -- Even though he grew up on the other side of the world, Nikola Pekovic was never a stranger to the freshwater fishing culture of Minnesota. The Timberwolves center learned how to handle a pole at a very young age, navigating the lakes, streams and rivers of what's now northeastern Montenegro. Carp and trout are among the region's native game, not unlike what...
Flip Saunders made clear the signing of Nikola Pekovic will not prevent the Minnesota Timberwolves from extending Kevin Love and Ricky Rubio. "This signing of Pek will in no way hinder anything having to do with Rick down the road or with Kevin," Saunders said. "We've got three cornerstones in the franchise that all complement each other, which is very important...
The not-so surprising news has come out that the Minnesota Timberwolves have re-signed restricted free agent Nikola Pekovic.  What is surprising to some is the amount of dough the rugged center got - a rumored $60 million over 5 years.   $12 million a year for Nikola Pekovic?!  Sure, he's a nice player who's shown constant improvement over his three seasons in the...
While much of the NBA has started to play small ball, the Minnesota Timberwolves are going big. In giving center Nikola Pekovic a five-year deal that could be worth more than $60 million with incentives, the Timberwolves are bucking a trend that has started to take over the league. With traditional centers harder to find, many teams are playing small with power forwards at center...
The Timberwolves finally re-signed forward Nikola Pekovic after prolonged negotiations this offseason and a general lack of interest in the restricted free agent market. The Wolves apparently scared everyone off from making an offer to Pekovic with their threat to match. What the Timberwolves did do is sign Pekovic to a five-year, $60 million. That is a hefty price and showed...
Former T'Wolves GM David Kahn may never work in basketball again because of the choices he made during the 2009 NBA Draft. Kahn and the T'Wolves had three of the first 18 picks of the draft, and wanted to put talent around Kevin Love. Minnesota selected Ricky Rubio at No. 5, Jonny Flynn at No. 6, and Ty Lawson at No. 18, but then eventually traded Lawson to Denver for a pick...
  Wolves center Nikola Pekovic received a big payday last week. His deal is worth $60 million over the next five years, which raised some eyebrows. Pekovic is a very good player, but Ricky Rubio and Kevin Love will become free-agents over the next two seasons respectively. The question Minnesota has to answer is will they be able to keep Rubio and Love both happy in Minnesota? Saunders...
There are just no words to explain David Kahn at this point. While it's a ton of fun to pile on to Alex Rodriguez, the NCAA and Jets quarterbacks, few figures in sports are as reliable whipping boys as Kahn, the former president of basketball operations for the Minnesota Timberwolves. From 2009 to 2013, Kahn navigated the T-Wolves straight into the ground. And every new story that...
NBA News

Delivered to your inbox

You'll also receive Yardbarker's daily Top 10, featuring the best sports stories from around the web. Customize your newsletter to get articles on your favorite sports and teams. And the best part? It's free!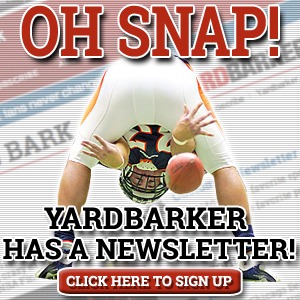 Latest Rumors
The Backyard

Today's Best Stuff

For Bloggers

Join the Yardbarker Network for more promotion, traffic, and money.

Company Info

Help

What is Yardbarker?

Yardbarker is the largest network of sports blogs and pro athlete blogs on the web. This site is the hub of the Yardbarker Network, where our editors and algorithms curate the best sports content from our network and beyond.