Found October 30, 2012 on Fox Sports North:
MINNEAPOLIS Luke Ridnour has been practicing with the Timberwolves this week after missing much of the preseason with a herniated disk in his back. Although a problem like that for a veteran like Ridnour at 31, this will be his 10th season in the league could be a nagging issue, the point guard has assured coach Rick Adelman that he feels great.And that's that.At this point, it'll likely take a hard spill to knock Ridnour back onto the bench, Adelman said, and it seems like things are progressing toward him being able to start at point guard on opening night. Ridnour isn't necessarily yet where he'd like to be, but he's practicing, doing extra work, and getting his conditioning and timing back to where they need to be. Adelman said that he's noticed more of Ridnour's shots falling lately as he gets back into the rhythm of the game, and having him healthy by Friday would be huge for the team. It seems like no matter what, the Timberwolves' roster is loaded with point guards, yet there's always a concern about who's going to go at that position. Last year, mass incredulity and Ridnour trade rumors followed the team's signing J.J. Barea, but by April, Barea was starting with Ricky Rubio and Ridnour injured. Malcolm Lee, who'd just had knee surgery in December and was hardly playing an NBA-caliber game, was backing him up. It was hardly ideal.Which brings us to the fall of 2012. Rubio is still out. Ridnour is easing his way back in. Lee missed much of the summer with re-aggravated knee issues and much of training camp with a groin problem, and the one training camp invitee who remains on the opening day roster is (You guessed it!) a point guard, Will Conroy.If Ridnour's back were to flare up again, there might actually be a very real need for Conroy, who's played the majority of his pro career in the D-League and overseas. But at this point, Adelman doesn't know enough about Lee to rely on him, except perhaps in specific scenarios."I think right now we would look for Will just because he's played more (than Malcolm)," Adelman said. "That would depend too on the situation, because Malcolm is really good defensively. If you're going up against guys that give us problems, he might be the guy you go with."With no chance of seeing Rubio in the next month, Adelman will have to work with what he has on hand, and while that might seem like a challenge, he's used to it. Yes, the Timberwolves' collapse last season was linked to Rubio's injury, but it wasn't due to poor point guard play. Barea and Ridnour aren't Rubio, but they held their own, and really, they were some of the team's best and most resilient players in the season's difficult final days."I think they're really important for us to get off to a good start," Adelman said. "They each give us something different. So I think you know, J.J.'s always been great with changing the tempo of the game. A lot of stuff we're going to do is going to be the same for both of them, but they each give us something different."Extension time: In what was already a foregone conclusion, the Timberwolves announced Tuesday that they'd picked up the third-year options on the contracts of Ricky Rubio and Derrick Williams. The deadline to do so is Wednesday, hence the timing, and the only surprise would have been if they hadn't done so.Williams will make 4.8 million this season and 5.0 million next year. Rubio is set to earn 3.7 million this year and 4.0 million next.Brandon Roy's minutes: After sitting out on Monday, Roy returned to the court on Tuesday for a scrimmage-heavy practice. Adelman admitted he was hesitant to let Roy play at first, but Roy insisted he was fine and performed as such. Adelman described Roy's knee issue as "a little bit of irritation," and though with the shooting guard's history it might seem like reason to pause (or panic), the coach remained optimistic.Adelman said that he hasn't yet reached a final target for Roy's minutes, but he's leaning toward a range from 30-32. The biggest trick, he said, will be to see how long Roy can rest without getting stiff and therefore unable to return to the game.Starting power forward: Adelman gave no outright indication of who might get the start at power forward on Friday. The leading contenders are Dante Cunningham and Derrick Williams, though there's an outside chance that Andrei Kirilenko might start there at some point. Any decision Adelman makes will be subject to change depending on matchups, obviously. He did offer one hint at his leanings, though: When asked what he's looking for most at the position, Adelman said that defense and energy will be most valuable. And then he added this:"D-Will gives us that option where he's more of a scorer, has more versatility. Dante is such an energy guy, a rebounder, defender."My money is on Cunningham.Baby boomer TV: When asked whether he'd be tuning in to any of tonight's NBA games, Adelman asked what day it is (Tuesday), and then explained that NCIS is on, so maybe not. Of course it was all in good fun, and you've got to know he'll be at least looking at the scores, but here's the bigger question: Why are 85 of baby boomers obsessed with NCIS? My parents DVR every single episode, despite its constant rerun loop. They watch them all, and they're emotionally invested like nothing I've ever seen before. There has to be a larger sociological study here.Follow Joan Niesen on Twitter.
Original Story:
http://www.foxsportsnorth.com/10/30/1...
THE BACKYARD
BEST OF MAXIM
RELATED ARTICLES
Last year the Timberwolves ended the season with a disappointing 26-40 record. Through the first half of last season the Wolves were led by their core of young players featuring Kevin Love, Ricky Rubio, and Derrick Williams who at a certain point led them to a record above .500. But then things started going downhill when rookie phenom and floor general Ricky Rubio went down with...
MINNEAPOLIS Kevin Love didn't want it to be like this.He wanted the cameras, but not like this. He wanted the questions, but not about this. He wanted the attention, but for something he'd done, not for everything he cannot.Nothing is more humanizing than an injury. It's amazing what that thin, removable cast can transform; an exemplar becomes just a bald guy in a folding...
MINNEAPOLIS -- The Minnesota Timberwolves have picked up the third-year options on the contracts of point guard Ricky Rubio and forward Derrick Williams, a day in advance of the Wednesday deadline to do so.Rubio finished last season as runner-up in the NBA's Rookie of the Year voting, even after tearing his ACL March 9. In 41 games, he averaged 10.6 points, 4.2 rebounds and 8...
At least Around the Horn didn't beat around the bush on this one. Look, the Minnesota Timberwolves have 10 guys on the roster that aren't black. Five of the 10 are foreign guys. The real question is: are the Timberwolves too white and too foreign? Yes. Yes. Yes. Yes. Bovada set the Timberwolves win total at 39.5. They finished 26-40 last year. As for the big news from the NBA's...
The Minnesota Timberwolves have exercised third-year options on guard Ricky Rubio and forward Derrick Williams for the 2013-14 season. Rubio averaged 10.6 points, 8.2 assists and 4.2 rebounds per game last season. He finished as runner-up in the NBA's Rookie of the Year voting and finished sixth in the league, and first among rookies, in assists last season. The second-year...
Kevin Love says he understands the skepticism about the source of his broken right hand. The Minnesota Timberwolves All-Star, however, insists the story about knuckle push-ups gone wrong is true. Love spoke publicly Wednesday for the first time since his injury, calling it ''pretty much a freak accident.'' He's heard all the conspiracy theories but said he really...
Greg Stiemsma never got tired of the grind last season. It took the Randolph, Wisc., native too long and too many miles to get to the NBA for him to start whining about the physical demands of the sport. Now the proud owner of a multiyear deal with the Minnesota Timberwolves, Stiemsma has not lost sight of where he came from. While he signed autographs as part of...
MINNEAPOLIS The countdown stands at four: four days until the Timberwolves open their season against the Kings on Friday. They're one of the last teams to debut this year, and Friday's matchup will in fact be the Kings' second game they open up in Chicago on Wednesday which will give the Timberwolves plenty of time to rest and plan.Whether that's too much time...
AGELESS WONDERS
I thought the Pepsi MAX commercials with Kyrie Irving posing as an ::ahem:: older former baller named Uncle Drew were genius! Now we're back with part two and it features more secret players in disguise as they take to the courts and hustle guys in pick up games. Check out the continuation as Uncle [...]
Of the 15 players on the Minnesota Timberwolves roster, 10 of those players are white. For Minnesota civil rights activists, that is a few too many. Black leaders in the state feel that the Timberwolves organization has made a conscious effort to build a roster full of white players. David Kahn, the team's president of basketball operations responded to those...
Repost from Yahoo: Minnesota Timberwolves fans may notice something different about their team this year. In a league in which American-born black players made up 75 percent of roster spots in 2011, the Timberwolves will have an opening-day roster comprising just 33 percent black players (five out of 15). According to the Minneapolis Star-Tribune, this year's squad will be...
Timberwolves News

Delivered to your inbox

You'll also receive Yardbarker's daily Top 10, featuring the best sports stories from around the web. Customize your newsletter to get articles on your favorite sports and teams. And the best part? It's free!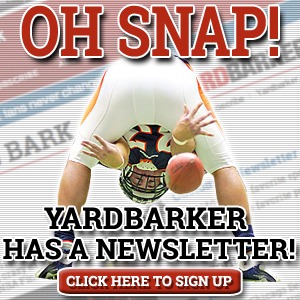 Latest Rumors
The Backyard

Today's Best Stuff

For Bloggers

Join the Yardbarker Network for more promotion, traffic, and money.

Company Info

Help

What is Yardbarker?

Yardbarker is the largest network of sports blogs and pro athlete blogs on the web. This site is the hub of the Yardbarker Network, where our editors and algorithms curate the best sports content from our network and beyond.