Found January 16, 2013 on Fox Sports North:
PLAYERS:
Rick Adelman
,
Alexey Shved
,
Andrei Kirilenko
,
Lazar Hayward
,
Ricky Rubio
,
Dante Cunningham
,
Kevin Love
,
Derrick Williams
,
Malcolm Lee
,
Bryan Kelly
,
Chase Budinger
,
Brandon Roy
TEAMS:
Minnesota Timberwolves
MINNEAPOLIS Rick Adelman visited with the Minnesota Timberwolves on Wednesday morning, offering his team something of a pep talk before returning to his wife, who is hospitalized.Adelman didn't lead practice he hasn't in more than a week and assistant coach Terry Porter will remain in charge at least through Thursday's game against the Clippers at the Target Center. Even so, players gave the sense that the visit from their coach had energized them, or at least offered them some encouragement for the effort they've put out despite being so shorthanded.There is still no timetable for Adelman's return, and Porter said the only directive the coach gave him for Thursday was to win. (Against a 30-9 Clippers team, that's easier said than done.) Adelman has been in contact with his coaching staff during his absence his son, player development coach David Adelman, has been with the team throughout and he's been watching all the games, offering his players advice about things he'd noticed during his Wednesday visit.Adelman has missed the team's past five games, beginning with its Jan. 8 win over Atlanta, and Porter has amassed a 1-4 record as the fill-in head coach this season.No new injuries, but now sickness: Alexey Shved, Andrei Kirilenko and Lazar Hayward all missed practice Wednesday due to illness. Hayward also missed Friday's game in New Orleans because he was sick. Porter said that all three are at the doctor today with what he said he believed were flu-like symptoms, but he expects them to play against Los Angeles on Thursday.Shved, in particular, has seemed exhausted after the team's recent shortage of guards, so the illness could not have come at a worse time. And for Hayward, whose 10-day contract will expire after Thursday, the timing is similarly inopportune. It's tough to show your worth if you aren't available to play.Ricky's minutes: Ricky Rubio logged 26 minutes Monday in Dallas, the most so far of his 10-game season. He finished the night with six points and six assists, and it was the first game in which the point guard seemed to have any semblance of a shot.While in New Orleans, Rubio mentioned for the first time the notion of increased minutes and perhaps even his minutes restriction lifting, and he reiterated that point on Wednesday. He said he's going to have a conversation with the doctors between now and Thursday's game and that he'd like his playing time to be increased by the time he faces the Clippers. He did admit, though, laughing, that he'd have liked that to have happened two months ago.Lineup tweaks? Porter was vague about whether he and his staff would be implementing any tweaks to the starting lineup for Thursday or any of the games in the near future. He didn't provide much of an update on Rubio's status, but he did waver for the first time about Dante Cunningham's place in the starting five. Cunningham has been a bench player for his entire career and was effective off the bench early this season for the Timberwolves. He's been starting since Kevin Love's most recent hand injury, and his shot hasn't been there despite his strong defense. Until now, Porter has been adamant about Cunningham's place as a starter, but on Wednesday, he was vague.There's been no concrete confirmation of any changes yet, and the coaches might not even know yet, but don't be surprised to see Derrick Williams and Rubio in the starting five at some point in the near future.Malcolm Lee update: Lee underwent two successful surgeries this week: cartilage repair on his right knee Monday and another procedure on his right hip Wednesday. Both were performed in New York City, the knee surgery by Dr. Jonathan Glashow at Midtown Surgical Center and the hip surgery by Dr. Bryan Kelly at Hospital for Special Surgery.Injury updates: Chase Budinger was taking shots while wearing a sleeve on his left knee at the end of the Timberwolves' Wednesday practice, but Porter said he didn't do anything more, categorizing him as being at step one, or even step 0.5," in his recovery. Brandon Roy, who has been practicing in recent days as he waits to see the results of his mysterious knee procedure (the team hasn't given any details as to what it entailed), did not participate on Wednesday.All in all, the team had eight healthy players for the practice, so player development coach and former NBA guard Shawn Respert saw plenty of time on the court with the team. Love, Budinger, Roy, Shved, Kirilenko, Hayward and Lee were all out with injuries and illness. Follow Joan Niesen on Twitter.
Original Story:
http://www.foxsportsnorth.com/01/16/1...
THE BACKYARD
BEST OF MAXIM
RELATED ARTICLES
MINNEAPOLIS They clustered around the tunnel, as they always do, above, around, leaning over. Thursday night was not a night for congratulations, not from those fans zealous enough for the leaning over the railing sendoff. A 90-77 loss shooting 35.7 percent as a team when the Clippers looked like they were giving the game away that's hardly the stuff of cheers and high-fives...
Minnesota Timberwolves' guard Ricky Rubio has been an extremely exciting player to watch when he has his free reign on the court. Unfortunately for NBA fans, he still has time before he gets back to 100%. Rubio expresses his frustration in an article reported by ESPN."It's hard because I still have a little pain and it's something you have to fight through and get through...
MINNEAPOLIS Ricky Rubio will make his first start of the 2012-13 season Thursday against the Clippers. Since returning on Dec. 15, the point guard has come off the bench for his first 10 games. He's been anxious for his minutes limit to be lifted, especially on the team's recent road trip, and after playing 26 minutes in Dallas Monday (two minutes more than his then-24 minute...
MINNEAPOLIS Maybe Ricky Rubio just really likes wearing white. At least, that was what Terry Porter would have liked you to believe this morning at the Timberwolves' shootaround, when the point guard was wearing a white starter's jersey for the first time all season. Porter was vague when discussing whether Rubio would start tonight against the Clippers "He's...
The Minnesota Timberwolves have been hit by the injury bug awfully hard this season. Ricky Rubio and Kevin Love, the team's two lead players, have both missed significant time, with Love currently sidelined and Rubio still trying to find his rhythm. It's clear the Rubio isn't at the top of his game right now, and understandably so, coming off of a major knee injury. And if...
Ricky Rubio is back where he belongs - in the starting lineup for the Minnesota Timberwolves. The Spanish point guard got the start on Thursday night against the Los Angeles Clippers, the first time he's been on the court for the opening tip since he tore two ligaments in his left knee last March. Rubio missed nine months with the injury and has been on restricted minutes since...
Minnesota Timberwolves forward Kevin Love underwent right hand surgery Tuesday, and he's expected to miss another eight to 10 weeks. According to the team, Love had his broken third and fourth metacarpal bones repaired by Dr. Michelle Carson at the Hospital for Special Surgery in New York. The operation came nearly two weeks after Love was hurt during a Jan. 3 loss to the...
The Timberwolves finally got some positive injury news on Tuesday. Minnesota's coveted power forward Kevin Love underwent successful surgery Tuesday morning to repair his broken right hand, according to CBSSports.com. He suffered the injury on Jan. 3 against the Denver Nuggets. Currently, Love is averaging a staggering 18.3 points, 14.0 rebounds, and 0.5 blocks per game. Minnesota...
There is no denying that injuries have played a large role in the Minnesota Timberwolves' fall-off in the Western Conference standings.  The Timberwolves were once primed to be able to make a run to the postseason.  Now, they will struggle to even get in.  But despite the injuries, it could be defense that is hurting them more than anything.According to John Schuhman of NBA...
Jan.16,2013 I was reading comments in a basketball forum about the lackluster player of Ricky Rubio since he's returned from a serious ACL injury suffered last year. Rubio has had a real tough time since he started playing again last month, and does not appear to be moving as well as he did before he  was injured last March. So there have been a number of posters on various...
Prior to San Antonio's 106-88 fourth quarter victory over the Minnesota Timberwolves on Sunday, I had a chance to speak with Wolves Russian rookie Alexey Shved. Though Shved is a rookie, he's had his run against NBA caliber players as he went head to head with Manu Ginobili (Argentina), Tiago Splitter (Brazil), and Patty Mills (Australia) when Russia played against each squad...
Timberwolves News

Delivered to your inbox

You'll also receive Yardbarker's daily Top 10, featuring the best sports stories from around the web. Customize your newsletter to get articles on your favorite sports and teams. And the best part? It's free!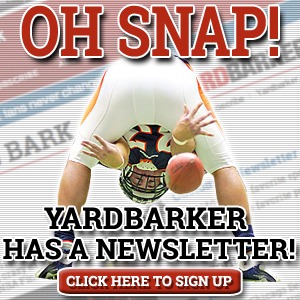 Latest Rumors
The Backyard

Today's Best Stuff

For Bloggers

Join the Yardbarker Network for more promotion, traffic, and money.

Company Info

Help

What is Yardbarker?

Yardbarker is the largest network of sports blogs and pro athlete blogs on the web. This site is the hub of the Yardbarker Network, where our editors and algorithms curate the best sports content from our network and beyond.