Found October 03, 2012 on Fox Sports North:
MANKATO, Minn. The NBA announced Wednesday its new guidelines on flopping, i.e. when a defensive player falls down intentionally in order to draw a charging foul when none is warranted. The new rules mandate that a player will receive a warning on his first flop, a 5,000 fine on his second, a 10,000 fine on his third, 15,000 on his fourth and 30,000 on his fifth each season. Six flopping violations could lead to a suspension as well as a fine, and the league said that it will address the penalty for flopping in the playoffs at a later date. The stance is noteworthy because flopping has been a part of the game for years, and instead of addressing it with in-game punishments like personal or technical fouls, the league is taking discipline off the court and into players' pockets. The official fines went public during the Timberwolves' three-hour practice in Mankato on Wednesday, so the media were the bearers of bad news in terms of the fines and the details. Opinions on the development ranged from thinking it's ridiculous (J.J. Barea) to mixed (Kevin Love, Rick Adelman) to supportive (Brandon Roy). Barea is the player whose name comes to mind most on the Timberwolves in terms of flopping. He's small, and he's patented a brand of theatrics after being hit. He knows it, as does Adelman, and to him, flopping is a part of the game. "They're going to put new rules every year, so that's their job," Barea said. "But I'm going to play the same way that I've played since I was a kid, so whatever happens happens." He added that he thinks referees are going to have to give preliminary warnings, but with the fines being determined after the fact on tape, that might be difficult. Love was more uncertain on the rule. He doesn't like when players flop, he said, and as a big man he's been the victim of flopping throughout his career. At the same time, he takes major issue with the money involved, and he stressed that he hopes that revenue from the fines goes to a good cause. "I don't think I'll be a subject or a person that it happens to, but I still think with different players, 30 grand is a little excessive," Love said. "I think the league's just wanting to take some money." Adelman, too, seemed undecided. He said he's not sure that it was a problem that needed to be addressed, but with the league now putting these rules in place, he can only hope it's handled the right way. The coach was also leery of the postgame review methods, saying he's skeptical not only of how the tape review will be handled but also with what could be varying criteria. Drawing the line between a player falling and flopping will be tough. "I think it's really hard on film to make an opinion about whether a guy goes down or not," Adelman said. "To me, it's what are they talking about? Like if it's an offensive foul, in our league, there's some big, strong, quick, powerful people. If someone's coming at my chest, I'm probably going to go down a little quicker." Roy was the most supportive of the rule. He's never flopped, he said, so he's looking at it from a different perspective than a smaller player or one who's made it a part of his game. Roy said he's pleased players won't be getting called for fouls they haven't committed, but in reality, the system the NBA announced won't change that. It'll just fine players later, regardless of whether the foul was called. In the end, though, Roy didn't seem to think the new rules will be a major problem. Yes, flopping has been a part of the game, but in his mind, it's because players got away with it. Now that they won't, that could change. "I just think players are smart," Roy said. "If there's a way they can take advantage and get an edge in the game, they're going to do it. If they take away that advantage, guys will try to figure out another way to get their game across." Adelman might have the best perspective of anyone. He's been around the league for decades, and there's no way this mandate from above is going to change his style of teaching or defensive instruction. Not yet. He's going to wait and see. The rule will probably change, he said. Brad is back: Recently retired center Brad Miller made an appearance at camp on Wednesday, working closely with Nikola Pekovic and the other big men. He'll be with the team through camp, Adelman said, though he couldn't resist getting in a joke about the player he coached for so many years. He's probably lost, the coach joked, or perhaps he's just looking for a place to hunt. Love said he thinks Miller would make a great coach and that he was helping him break some bad habits Wednesday. Love added that the funniest moment of camp thus far was when Pekovic pointed at Miller during one of Wednesday's scrimmages and said, "Welcome to the coaching staff." (Side note: Love does a pretty good Pekovic impression.) Adelman didn't say if Miller would have a longer-term place with the team, but he's a beneficial addition in Mankato. "He's such a smart player, and with the group we have, a lot of stuff that we're doing is what we did a lot in the past," Adelman said. "He's really smart about that. I just thought he could help some of the big guys and make them understand what they have to look for." Follow Joan Niesen on Twitter.
Original Story:
http://www.foxsportsnorth.com/10/03/1...
THE BACKYARD
BEST OF MAXIM
RELATED ARTICLES
Minneapolis News and Weather KMSP FOX 9 Kevin Love threw out the first pitch at a Twins game last week, and he later made plans to return to Target Field to hit some batting practice with the team. Love had made a bet with a friend that he could hit a ball out of the park, and he proved he could do much more. During his batting practice session before Friday's game against the...
The Timberwolves did not extend a qualifying offer to Michael Beasley this offseason, and it looks like we know why. According to a report, it's because Minnesota coach Rick Adelman feels Beasley doesn't play defense or move the ball on offense.Britt Robson wrote a piece on Timberwolves owner Glen Taylor for Twin Cities Business Magazine that was published mid-September. On Monday...
MANKATO, Minn. Andrei Kirilenko will be the first to tell you: Kevin Love is a superstar. Ask the veteran forward why he chose the Timberwolves, and he'll give a number of reasons. Every time, he lists Love among them. Why? Because, of course, he's a superstar. At the end of last season, president of basketball operations David Kahn and coach Rick Adelman began almost...
Rick Adelman asked for more veterans to coach in Minnesota, and Timberwolves president of basketball operations David Kahn delivered them. Adelman spoke to the media on Monday for the first time since the Wolves completed a significant overhaul this summer. Kahn added shooting guard Brandon Roy and forward Andrei Kirilenko as the main veteran pieces around a young core of Kevin...
MANKATO, Minn. Andrei Kirilenko does not want to talk about the process that brought him to Minnesota. He said that once, last Friday, and he reiterated it Tuesday to a new crop of reporters from Mankato. It's not fair to anyone, Kirilenko said, and he's not going to spill the beans. So that's that. However, the veteran forward did say Tuesday that the two-year, 20...
MINNEAPOLIS The Timberwolves begin training camp Tuesday in Mankato, where they'll stay for four days before returning to the Twin Cities after Friday's practice. They have eight days before their first preseason game against the Pacers in Fargo, N.D., and in that time, they'll need to solidify relationships and continue to implement coach Rick Adelman's system....
(Eds: Updates.) By JON KRAWCZYNSKI AP Basketball Writer When Minnesota Timberwolves President David Kahn made his pitch to Brandon Roy, he had a glaring need at shooting guard for him to fill, an accomplished coach who could put Roy in the right positions on the floor and a two-year contract all on his side to woo the former All-Star. He also had Will Conroy. Kahn and Conroy go...
MINNEAPOLIS Media day 2012 is in the books, and the Timberwolves will head to Mankato for training camp for the remainder of the week. I'll be there with updates on Tuesday and Wednesday, but to tide you over until then, here's some more from Monday's information overload session at the Target Center: No two-a-days for Rick Adelman: While in Mankato, the Timberwolves...
When it comes to building a playoff contender, the Minnesota Timberwolves have taken a somewhat unconventional approach. They signed Andrei Kirilenko, a former NBA standout who had been playing in Russia. They signed Brandon Roy, a former All-Star who had been playing nowhere. They signed Alexey Shved, a promising young combo guard, also from Russia. These are the type of moves...
Timberwolves News

Delivered to your inbox

You'll also receive Yardbarker's daily Top 10, featuring the best sports stories from around the web. Customize your newsletter to get articles on your favorite sports and teams. And the best part? It's free!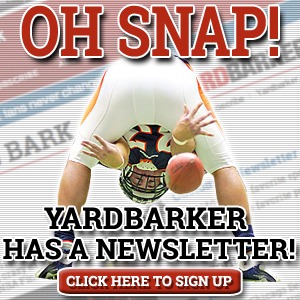 Latest Rumors
The Backyard

Today's Best Stuff

For Bloggers

Join the Yardbarker Network for more promotion, traffic, and money.

Company Info

Help

What is Yardbarker?

Yardbarker is the largest network of sports blogs and pro athlete blogs on the web. This site is the hub of the Yardbarker Network, where our editors and algorithms curate the best sports content from our network and beyond.