Found November 14, 2012 on Fox Sports North:
PLAYERS:
Kevin Love
,
Ricky Rubio
,
Chase Budinger
,
Brandon Roy
,
Nikola Pekovic
,
Rick Adelman
,
Andrew Bogut
,
Greg Stiemsma
,
Derrick Williams
,
Andrei Kirilenko
,
Malcolm Lee
,
Luke Ridnour
,
Udonis Haslem
,
Will Conroy
TEAMS:
Minnesota Timberwolves
,
Golden State Warriors
,
Miami Heat
MINNEAPOLIS And then there were nine. The Timberwolves announced at shootaround Wednesday that, in addition to Kevin Love, Ricky Rubio and Chase Budinger (all out with long-term injures), Brandon Roy, J.J. Barea and Nikola Pekovic will be unavailable for Wednesday's game against the Bobcats. Barea sprained his left foot last Wednesday night and has not played since. Coach Rick Adelman said he's getting better, and he did a few things on the floor at shootaround. Roy, too, is close, Adelman said, describing the shooting guard as "day-to-day" with his sore right knee. Same thing with Pekovic there's no timetable for his recovery from a sprained left ankle, he was present at shootaround, and he won't be on the court tonight. "It's a day-to-day situation with all these guys," Adelman said. "I have no idea until tomorrow, (when) we'll find out where they are, and Friday we'll find out where they are. But after Friday, we do have four days, so that's going to help us." The Timberwolves play Golden State (minus Andrew Bogut, who is not traveling) Friday and then Denver next Wednesday, and they couldn't ask for a break at a better time. And though it doesn't look like the injuries to Barea or Pekovic will be long-term, the Roy situation might cause a few raised eyebrows. There's been no official medical diagnosis of what's wrong with him released, other than saying he has a sore right knee, which with Roy's history is enough to suffice. But Wednesday night's game will be the third he's missed entirely after sitting out the second half of last Wednesday's win over the Magic, and this seems like more than just a little bump. If it isn't, then it's the first indication of how tenuous things might be with the shooting guard. Fortunately for the Timberwolves, Roy hasn't been a major contributor so far this season, averaging just 5.8 points, 4.6 assists and 2.8 rebounds. Still, though, it's becoming easier to imagine a situation in which these prolonged absences might occur every month or so, and that's hardly what the team would want out of the three-time All-Star shooting guard. The Charlotte team that the Timberwolves face Wednesday is much improved from the Bobcats of 2011-12. They've already won three games, nearly half their total from all of last season (a whopping seven), and two of those wins have come against quality opponents, Dallas and Indiana. This game isn't going to be a gimme, especially for such a shorthanded Timberwolves team. "Now, you just can't keep losing people," Adelman said. "Eventually, attrition is going to set in, and that's really true, probably We're going to have to have guys step up tonight offensively because, if Pek can't play, that's a big, big hole in our lineup." Check out this starting lineup: Greg Stiemsma at center. Derrick Williams at power forward. Andrei Kirilenko at small forward. Malcolm Lee at shooting guard. Luke Ridnour at point guard. Nope, not a joke. The injury exception: When asked about the possibility of being granted the NBA's injury exception, Adelman remained mum. He doesn't know the rules of the thing, he said, and he's never dealt with it before. Plus, despite his obvious involvement with personnel decisions, Adelman is the coach, and this kind of thing falls under the purview of general managers and owners. If you're in the same boat as Adelman and unfamiliar with the exception, here's the lowdown, which indicates that the chances of the Timberwolves being granted one are slim: At its core, the exception is meant to help teams with season-ending injuries, not teams with half their lineups decimated. It's based on quality, not quantity. The exception provides that a team that loses a player to what might feasibly be a season-ending injury before Nov. 30 can sign a player to replace the injured player at half his salary (up to the league's average salary). With Budinger given a three- to four-month recovery window, the exception doesn't seem to apply. Granted, there's some vagueness to the language in these cases, the NBA determines how significant a chance there is that the injury is season-ending and rules based on that but it really seems like a long shot for the Timberwolves. For instance, the Heat were granted and exception for Udonis Haslem in December 2010, and he returned in the Eastern Conference finals. But with Budinger looking at a February or March return, Love and Rubio at December returns and Pekovic, Barea and Roy at even nearer term returns, the situation seems pretty clear cut. The Timberwolves do have one other option, though. With Budinger out the longest of any player currently hurt, the team will be thin at the wing, which is where it would most likely look in terms of signing an extra player. Even if it's not granted an exception, the team could cut point guard Will Conroy and replace him with a wing player at a veteran's minimum salary. Sounds like a great plan, right? The only catch is that that kind of pay isn't going to attract the kind of player the Timberwolves want, and the market is already thin. Kevin Love's coat drive: Love and the Timberwolves announced Wednesday that the power forward's fifth annual coat drive has begun. Love partnered with Comcast and the Salvation Army for a promotion in which fans can donate new and gently used coats in exchange for a pair of tickets (one pair per coat) to one of two selected Timberwolves games: Dec. 26 vs. Houston or Dec. 29 vs. Phoenix. The drives goes from now until Dec. 12. Follow Joan Niesen onTwitter.
Original Story:
http://www.foxsportsnorth.com/11/14/1...
THE BACKYARD
BEST OF MAXIM
RELATED ARTICLES
MINNEAPOLIS Brandon Roy was staring at his feet.He was staring right past those knees, right past the problem. He doesn't like to think about the problem, really, but now, when it's being forced down his throat, he has to. It's a silent problem, an invisible one. Roy was dressed as if he were about to change out of his warm-ups and into his jersey for a game, but of...
How in the world are the Minnesota TImberwolves winning?  Last night marked the fourth-straight game in which the team saw a player go down to injury.  Yet, they don't stop winning.  Last night, Nikola Pekovic went down with what appears to be an ankle sprain, but the Wolves beat the Dallas Mavericks 90-82. According to Jerry Zgoda of the Minnesota Star-Tribune, Pekovic sprained...
The Minnesota Timberwolves are going to have trouble winning games if they don't have players on the court.  Of course, they'll have players on the court, but they have been missing starters.  Last night, the Wolves were without three players - Nikola Pekovic, Brandon Roy, and J.J. Barea. According to Jon Krawcynzki of ESPN.com, Brandon Roy hopes to play Friday, but...
MINNEAPOLIS You've really got to wonder if the words "pain" and "hurt" fail to translate well between English and Montenegrin.Take Nikola Pekovic's first statement after spraining his ankle Monday night in Dallas: "I'm just glad it's not bad. I didn't hurt nothing, just a lot of pain. I'll see how I feel tomorrow."He hurt nothing...
The banged-up Minnesota Timberwolves aren't getting any reinforcements for their game against the Charlotte Bobcats. Center Nikola Pekovic, shooting guard Brandon Roy and point guard J.J. Barea all were scratched for the game on Wednesday with injuries, leaving the Wolves with just nine healthy players. Pekovic sprained his left ankle against Dallas on Monday night. Roy is...
With 2:46 remaining in the third quarter of Monday's game in Dallas, Nikola Pekovic left the court with a sprained left ankle. He is out for the night. Pekovic sustained the injury while running down the court, and it appears as if he stepped on Vince Carter's foot to trigger the fall. Before leaving the game, he had 20 points and six rebounds. Greg Stiemsma entered the...
MINNEAPOLIS Pete Philo is 6-foot-4. To put it simply, Pete Philo is tall. When Pete Philo stands in a crowd, he sticks out. Even among the basketball players he scouts for a living, Pete Philo is hardly undersized. Except when he's in Montenegro. The Timberwolves' director of international scouting has traveled to tiny country wedged between Serbia and the Adriatic Sea...
Nikola Pekovic scored 20 points before leaving with an injury and the short-handed Minnesota Timberwolves beat the Dallas Mavericks 90-82 Monday night. Because of a rash of injuries, the Timberwolves dressed only 10 players. The 6-foot-11 Pekovic exited with 2:46 left in the third quarter with a sprained left ankle and didn't return. Pekovic went 8 of 13 from the floor. Andrei...
DALLAS (AP) -- Nikola Pekovic scored 20 points before leaving with an injury and the short-handed Minnesota Timberwolves beat the Dallas Mavericks 90-82 Monday night. Because of a rash of injuries, the Timberwolves dressed only 10 players. The 6-foot-11 Pekovic exited with 2:46 left in the third quarter with a sprained left ankle and didn't return. Pekovic went 8 of 13 from...
DALLAS -- The Minnesota Timberwolves began Monday's game without five injured players, and in third quarter, they lost center Nikola Pekovic to a sprained ankle. Shrugging off their latest injury, the Timberwolves rode a balanced effort to a 90-82 win over the sliding Dallas Mavericks at American Airlines Center. Five Minnesota players scored in double figures, led by Pekovic...
With four starters and six key players out with injuries, the Minnesota Timberwolves have been searching for help. They'd like to see Josh Howard provide some as soon as Friday night. A day after signing the former All-Star to a one-year deal, Howard is expected to be in uniform when short-handed Minnesota hosts Golden State on Friday night. Brandon Roy (sore knee), JJ Barea...
NBA News

Delivered to your inbox

You'll also receive Yardbarker's daily Top 10, featuring the best sports stories from around the web. Customize your newsletter to get articles on your favorite sports and teams. And the best part? It's free!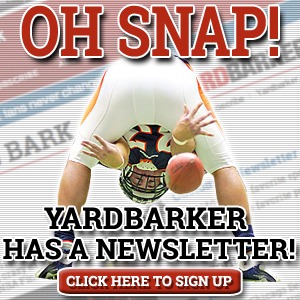 Latest Rumors
The Backyard

Today's Best Stuff

For Bloggers

Join the Yardbarker Network for more promotion, traffic, and money.

Company Info

Help

What is Yardbarker?

Yardbarker is the largest network of sports blogs and pro athlete blogs on the web. This site is the hub of the Yardbarker Network, where our editors and algorithms curate the best sports content from our network and beyond.