Found October 02, 2012 on Fox Sports North:
MINNEAPOLIS When it comes to Derrick Williams, hyperbole has not been a problem for the Timberwolves' coaching staff. In his rookie season, 2011's second overall pick was inconsistent and raw, so that even when he had a good night, it had to be qualified. It wasn't just "Derrick did well," but rather, "Derrick did well; maybe he can keep it up." He never did. That's why Tuesday is notable. Williams has never been the subject of more than cautious applause from coaches, and it takes more than just good effort to get Rick Adelman to say anything that even borders on outright praise. And yet just minutes after the Timberwolves' four-hour practice in Mankato ended, Adelman was speaking in absolutes. "Today, he was terrific," Adelman said of Williams. "Today was a totally different day for him." Considering the source, there's ample reason for optimism. Williams might be flirting with redemption on this, the eve of his second season, and he seems to be doing things the right way this time around. At the end of last season, any criticism of the rookie forward was couched within hopeful excuses. He's so young. The season was so tough. Give him the summer, everyone said, and then we'll reevaluate. So Williams took the summer, and these early signs indicate that he made the most of it. The 21-year-old returned to Minnesota with about 10 pounds shaved off his frame. His weight lingers in the high 230s, but more importantly, his body fat percentage has dropped from 12.5 percent to about 7.3 percent at last measure. That's a drastic drop and a sign that Williams is taking this seriously. He spent part of the summer working out in Los Angeles with assistant coach Bill Bayno, who ensured that each day's sessions were competitive. Bayno brought in smaller guards to go one-on-one against Williams in different scenarios, and the two did extensive cardiovascular work as well. They focused on driving and post moves, as well as getting to the free throw line, which Williams did well at summer league. On his own, Williams took up boxing and Crossfit, and he said that the boxing caused him to lose six or seven pounds in two weeks. "I don't get as winded as easily," Williams said. "I just feel a lot better . . . I really think (jumping) is big part of my game, being able to jump with some of the highest jumpers in the game. Being able to stay on my conditioning and I really think I did a good job of that this offseason." Williams got his weight down as far as 231 pounds this summer, but he said that he felt weak at such a low number, so he added a bit more to his frame after summer league. It's tough to notice any added weight, though, which likely came in the form of pure muscle. He's a long way from the 248 pounds he weighed in at last year, and his mental progress might even have outpaced the physical. Williams is far enough removed from his rookie season to see the lessons. He's not disappointed, he said, or maybe he's just past it. Now, he plans to improve upon the mistakes he saw, and he hopes to build on the good things, like being the only player who saw time in all 66 games last season. Whatever maturity he gained this offseason is showing, not only in his words, but on the court, where Bayno said he has a different look in his eye, a look of "I'm not just here to play basketball, but I'm here to compete and get stuff done." That's the kind of hard-nosed, show rather than tell attitude that will ingratiate a player to Adelman. The coach isn't one for laboring over problems and discussing them. He wants them fixed, and last season, there was too much discussion. Now, Williams is taking action. "You can talk all you want," Adelman said. "Until you see somebody go out on the floor and actually attempt to things, then you can talk to them more. You talk(ed) for four months last year, and it was always an inconsistent effort." Only now, a season later, is it possible to really comprehend how inconsistent that effort really was. The fact that one good day (which Bayno and Williams said was likely his best ever as a member of the Timberwolves) could cause such a stir is a big indicator of how tough this once was. Last year, Williams was a project in most practices. It wasn't that he never did things right, just that he had to be reminded too often. So yes, the fact that he made it through a four-hour session in top form is a big deal. "He just floated last year," Adelman said. "You'd see him once in a while . . . He just played with more authority today. He played harder. I think that's the difference. You've got to play harder. You can't cruise, or it's not going to work." With day one complete, Williams has built some goodwill, more than most players would earn with one stellar practice. But the work is far from over. His offseason weight loss was in part to help him transition into more of a small forward role, so he wouldn't be in a direct and utterly futile competition with Kevin Love for minutes. There's a catch, though: the team brought in several players who will compete for minutes at small forward, and the Timberwolves' approach to them around versatility. He, Chase Budinger and Dante Cunningham will need to be able to play multiple positions, and there will be a definite competition for minutes. That, too, is fueling Williams, and if he can master everything the team hopes, the Timberwolves could be even more dangerous next season. In the end, though, it all comes back to attitude. Mentality creates good work ethic, which in turn improves play. Williams is caught up in that process right now, and it appears to be coming to fruition. He needs to be more cutthroat, more aggressive, more tenacious and consistent, and he and Bayno talked at length this summer about the psychological side of the game. "We talked almost every day last year about the mental aspect, the focus, getting that killer attitude, how Kobe views you," Bayno said. "You guys share the same agent, and he's friendly to you before the game. But when the game starts, he literally wants to kill you. He wants to rip your face off to get the ball. He wants to tear the heart right out of your chest." It might sound like Bayno is training a mass murderer, but those are the instincts that Williams needs to hone. He needs to be hungry and aggressive. He needs to use the talent he has to take control, rather than a backseat. And most of all, he needs to be consistent. Tuesday can't be a fluke. It needs to become the norm. Follow Joan Niesen on Twitter.
Original Story:
http://www.foxsportsnorth.com/10/02/1...
THE BACKYARD
BEST OF MAXIM
RELATED ARTICLES
Minneapolis News and Weather KMSP FOX 9 Kevin Love threw out the first pitch at a Twins game last week, and he later made plans to return to Target Field to hit some batting practice with the team. Love had made a bet with a friend that he could hit a ball out of the park, and he proved he could do much more. During his batting practice session before Friday's game against the...
MANKATO, Minn. Andrei Kirilenko will be the first to tell you: Kevin Love is a superstar. Ask the veteran forward why he chose the Timberwolves, and he'll give a number of reasons. Every time, he lists Love among them. Why? Because, of course, he's a superstar. At the end of last season, president of basketball operations David Kahn and coach Rick Adelman began almost...
Minnesota Timberwolves bruiser Nikola Pekovic has shown up for training camp looking noticeably slimmer and more sculpted than he did last season. The Timberwolves reported for training camp in Mankato on Tuesday. They are counting on Pekovic to be a major part of the push for their first playoff appearance since 2004 and the big center from Montenegro looks like he's ready...
MANKATO, Minn. Andrei Kirilenko does not want to talk about the process that brought him to Minnesota. He said that once, last Friday, and he reiterated it Tuesday to a new crop of reporters from Mankato. It's not fair to anyone, Kirilenko said, and he's not going to spill the beans. So that's that. However, the veteran forward did say Tuesday that the two-year, 20...
MINNEAPOLIS If you ask David Kahn, this was all about on-court improvement. The rest was a happy accident. Kahn isn't lying. The increased skill level and deeper roster are there. But it doesn't take long to see that there's something else, too, that's vastly different. It's some kind of accident that the Timberwolves managed to bring in two highly regarded...
The Minnesota Timberwolves began training camp recently, so they are making the rounds with appearances to generate buzz for their upcoming season. All-star power forward stopped by Twins batting practice Friday, and delivered this mammoth upper deck shot to left field: Minneapolis News and Weather KMSP FOX 9 The struggling Twins could have used some [...]
Many of those who watched Wednesday's presidential debate between Barack Obama and Mitt Romney were enthralled by Romney's PBS comment. "I'm sorry Jim. I'm gonna stop the subsidy to PBS. I'm gonna stop other things," Romney said to moderator Jim Lehrer, who works for PBS. "I like PBS, I like Big Bird, I actually like you too." Wait, did Big...
MANKATO, Minn. The NBA announced Wednesday its new guidelines on flopping, i.e. when a defensive player falls down intentionally in order to draw a charging foul when none is warranted. The new rules mandate that a player will receive a warning on his first flop, a 5,000 fine on his second, a 10,000 fine on his third, 15,000 on his fourth and 30,000 on his fifth each season. Six...
MINNEAPOLIS Dave Benz has seen his fair share of sports. FOX Sports North's new Minnesota Timberwolves play-by-play announcer has already worked in eight different markets, covering sports at all levels and doing everything from in-studio shows to talk radio to reporting to, of course, play-by-play. Benz is wrapping up his job with Comcast Sportsnet Bay AreaCalifornia, where...
MINNEAPOLIS Media day 2012 is in the books, and the Timberwolves will head to Mankato for training camp for the remainder of the week. I'll be there with updates on Tuesday and Wednesday, but to tide you over until then, here's some more from Monday's information overload session at the Target Center: No two-a-days for Rick Adelman: While in Mankato, the Timberwolves...
Timberwolves News

Delivered to your inbox

You'll also receive Yardbarker's daily Top 10, featuring the best sports stories from around the web. Customize your newsletter to get articles on your favorite sports and teams. And the best part? It's free!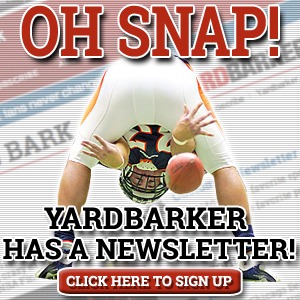 Latest Rumors
The Backyard

Today's Best Stuff

For Bloggers

Join the Yardbarker Network for more promotion, traffic, and money.

Company Info

Help

What is Yardbarker?

Yardbarker is the largest network of sports blogs and pro athlete blogs on the web. This site is the hub of the Yardbarker Network, where our editors and algorithms curate the best sports content from our network and beyond.