Found June 04, 2013 on Cuzoogle:
Honestly, I was pulling for the Indiana Pacers but I knew the Miami Heat would win. I did not expect it to be over so soon however. Once Ray Allen hit that first three ball, I knew it was done. That is all Miami needs when they have LeBron James. They just need one reserve to get it going. Last night it was Allen. The Pacers could not hold on to the ball and they forgot what got them there in the first place. Oh what could of been with Danny Granger playing. Anyways, the Pacers have a solid team and they will be back. I am pretty confident about that. The Heat? They were one loss away from maybe blowing the whole team up. Now as a Raptors fan, I am pretty sour on Chris Bosh. But the guy just makes it so easy to dislike him. He is clearly riding the LeBron train for all it's worth. He has a ****** series, gets owned by Roy Hibbert and then when he makes a shot, he acts like he just did the greatest thing ever. So embarrassing. Just play ball and quit the overacting. I don't like Miami. But they were the better team last night. Now they get a whole different beast in the San Antonio Spurs. Tony Parker is going to slice and dice the Heat at will. That will be the key to the whole series. Can the Heat stop Parker? Coach Pop knows how to slow down LeBron. Duncan will take care of business down low and I will be shocked if the series goes past five games. Spurs win.
Original Story:
http://feedproxy.google.com/~r/Cuzoog...
THE BACKYARD
BEST OF MAXIM
RELATED ARTICLES
Thanks to former Redskins QB Joe Theismann, the Internet just about blew up with the notion that reigning league MVP LeBron James could potentially play the same position one day. With as big of a freak athlete Bron Bron is, it got us thinking, "Could he actually be successful at it?" Though there's about a [...]
LeBron James busted out his go-go gadget legs in following up on a Dwayne Wade miss for a thunderous put-back dunk during the first quarter of Game 7 between his Heat and the Indiana Pacers.
There has been plenty of talk about the Miami Heat and the Big Three going into Game 7 tonight. LeBron James appeared bound and determined to have not just a good night, but a dominant one with this slam for his first basket of the night. Of course time will tell if his night will be a dominant one...
After butting heads throughout the Eastern Conference finals, LeBron James gave Lance Stephenson some words of encouragement following the Heat's Game 7 win over the Pacers Monday night. According to the Indy Star: "He said I played hard this season and he's happy with my progress," Stephenson said. "He said I helped changed the Pacers organization, made us stronger and...
MIAMI (AP) -- No more sitting out stars, and for the San Antonio Spurs, no more sitting around. Finally, the NBA Finals matchup is set, and the Miami Heat will either win a second straight championship or the Spurs will go a perfect 5 for 5 in the title round while denying LeBron James a ring for the second time. The Heat earned their third consecutive Eastern Conference title...
(David Richard-USA TODAY Sports) For the first time since LeBron James left, the Cavaliers won something. While it may have been a winning ticket to the worst lottery in years, it was enough for the Gilbert family to celebrate raucously (and somewhat embarrassingly). What should Cleveland do with the pick? I covered the Cavaliers for RotoWire this past season, so I have a pretty...
It was 2007. Tim Duncan's Spurs had just swept LeBron James' Cavs away to win his fourth title. In the hallway afterwards, the two shared a moment.
Ever since the Heat came together on a stage in July 2010 with the pyrotechnics and bravado of a team that was pre-ordained to do great things, intense scrutiny has focused upon them. Every mistake, hiccup, shoulder bump, missed shot, injury, misspoken word, tweet, gesture and breath has been dissected and examined to an unreal and unfathomable level. The Pacers seemed to expose...
Herald  With Wade and Bosh slumping, James must soothe egos while getting them on track Globe Celtics Green  A Few Draft Updates and Random Thoughts A Few More Names Surface from Celtics' WorkoutsRay Allen Not Happy in South Beach - Wants a Return to Boston?Lex Nihil Novi  Cowens Leads Way, as Celtics Move to 21-3 (72-73)Russell v. Chamberlain: Game 10Red's Army  Your...
Herald   Clippers' Grant Hill retiresHeat owner chides outside speculation about the team's 2014 plansPacers even up series with 91-77 win over Heat Ray Allen imprint felt in city of BostonCeltics Green   Healthy Interest in Pierce Around the League - Celtics Weighing Their OptionsComments from the Other Side - Miami Meltdown Game 6CelticsBlog   A quick case for keeping...
The San Antonio Spurs will face off against the Miami Heat tonight in Game 1 of the NBA Finals. This will be the first time the Spurs make the Finals without homecourt advantage against the best team in the East, the Miami Heat. The Spurs will have their work cut out for them in the final series to determine the NBA champion and there will be three factors that will determine...
MIAMI (AP) -- Their season, their legacy, their reign atop the NBA was all at stake, and the Miami Heat responded to all of that in a manner befitting champions. With a blowout. It's onto the NBA Finals for the Heat after they put away the Indiana Pacers, who saw their hopes of a storybook upset simply fall apart in a hurry. LeBron James scored 32 points and grabbed eight...
NBA News

Delivered to your inbox

You'll also receive Yardbarker's daily Top 10, featuring the best sports stories from around the web. Customize your newsletter to get articles on your favorite sports and teams. And the best part? It's free!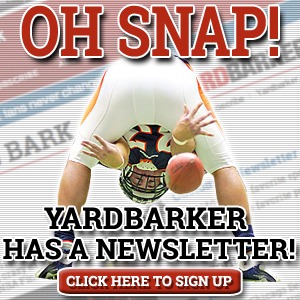 Latest Rumors
Best of Yardbarker

Today's Best Stuff

For Bloggers

Join the Yardbarker Network for more promotion, traffic, and money.

Company Info

Help

What is Yardbarker?

Yardbarker is the largest network of sports blogs and pro athlete blogs on the web. This site is the hub of the Yardbarker Network, where our editors and algorithms curate the best sports content from our network and beyond.