Found January 04, 2012 on Waiting For Next Year:
Soon after the media horde dispersed from the locker of Cleveland Cavaliers rookie power forward Tristan Thompson, I walk over to ask him how it feels to be called "unbelievable" by teammate and mentor Antawn Jamison. I had just spent the last several minutes attempting to avoid the mosh pit of microphones, speaking with the veteran who had one of his better games of the season1, but all of the focus was placed on Thompson who continues to show the world that he isn't just an athlete who happens to be able to dunk a basketball when given a clear path to the rim.
Not long after my initial question, a freshly showered Anderson Varejao walks over to Thompson and begins to playfully toy with the buttons on the rookie's cleanly pressed, white, slim fit v-neck henley; the "v" portion is scooped just low enough for the 20-year-old's sprawling shoulder-to-shoulder chest tattoo to peak out.
"What, what is this?" Varejao, clad with a smile that reached to both sides of his ever-curly hair, asked rhetorically. "You're ready for Toronto!"
Taking his teammates sartorial hazing in stride, Thompson – who had amassed career-highs in points (16) and rebounds (9) with two blocked shots off of the bench – looks like a kid who just hit the game-winning home run for his little league team. His comfort on an NBA floor continues to grow at rates beyond what many felt were even possible, but he says that he's mostly gracious because his efforts allow his veteran teammates (Jamison included) to get additional rest as the team prepares for a seven-game road trip that will grace all four time zones.
Just a few minutes earlier, Thompson's fellow rookie teammate Kyrie Irving enjoyed most of the fourth quarter of their 115-101 victory from the bench. In the midst of an 8-for-10 shooting night where the first-overall pick chipped in 20 points (1.82 per possession), six assists and two blocked shots of his own (without a single turnover), Irving seemed to most enjoy cheering his teammates on during the waning minutes of the game. First off of the bench in anticipation of a converted three-point shot, first off of the bench during a timeout to provide words of encouragement and a "good game" pat on the rear end of Varejao when he checked out for the evening.
It was Irving who also provided words of encouragement for a struggling teammate in Omri Casspi who had a very rough first half of basketball.  Following a missed free throw, Irving took time to walk over to him and talk to him for a brief moment. After halftime, Casspi provided five third-quarter points to help stall a would-be comeback attempt from the opposition.
While it isn't exactly a Jamario Moon goosey or an elaborate handshake routine by all 15 members of the roster, this Cavaliers teams is providing glimpses of what Cleveland saw from their basketball team roughly two seasons ago; picking each other up physically after hard fouls, picking each other up emotionally after tough games. Last year is proving more and more to be one to forget as this current crop of players is – given the complete lack of an offseason and fact that three new, key players are mixed in with a few veterans and some undrafted rookies – displaying an unforeseen level of chemistry.
You have a team that, for all intents and purposes, were expected to be among the worst in the league in many metrics, including but not limited to the most important in professional sport: wins. Conversely, you have a team that is one missed lay-up away from being a 4-1 basketball team comprised largely of players who were not on an NBA roster two seasons earlier. Sure, a seven-game road swing lurks in the compressed schedule's shadows, and could easily show us what this team truly is, but – aside from innate, regional skepticism – they've given us little reason to cast doubt.
"I've always said give me a team with good talent and great chemistry and camaraderie and we'll win," said head coach Byron Scott who, despite varying levels of frustration rooted in slow starts and occasional sloppy play, looks more and more proud of his kids with each additional press conference. Sure, there is bound to be one of those evenings where the team takes the proverbial step back, but these first few weeks of play are like night and day compared to what the head coach had to endure one year earlier.
It's a team where an extreme minute share is in place and everyone is contributing. They're running, with 20 percent of the team's plays on Tuesday night being in transition, and they're executing. But mostly, they're having fun.
As Thompson packs his Quicken Loans Arena locker up for the last time in the next two weeks, gearing up for his trip home to play in front of at least 22 friends and family members in Toronto's Air Canada Center, I tell him to not let Andy give him any stuff as they both know damn well that the one whom they call the Wild Thing rocks the same type of flamboyant outfit when he goes back home to Brazil and his teammates aren't around to judge.  Both men, despite being separated by nine years of age and many years of NBA experience, can't help but laugh. The ultimate of big-brother-little-brother moments, and these men are making it really tough to remember that several of these 15 brothers just met three weeks earlier.
–
1- Seriously. Jamison had 19 points, six boards, two threes, two steals and two blocked shots in 25 minutes, and is, what, the fourth or fifth storyline? A welcomed change to be sure.
(AP Photo/Tony Dejak)
Original Story:
http://www.waitingfornextyear.com/201...
THE BACKYARD
BEST OF MAXIM
RELATED ARTICLES
Tristan Thompson's line from the New Jersey game- 9 points on 4 of 5 shooting, 6 rebounds, 3 blocks and 2 fouls. In 17 minutes. I was out yesterday, and so I caught the Browns game on the radio. When the Cavs tipped off I was trying to keep tabs on that game through my phone while listening to the Browns and trying not to completely ignore my family. Right before the Cavaliers...
Kyrie Irving scored 20 points and fellow rookie Tristan Thompson added 16, leading the Cleveland Cavaliers to a 115-101 win over the Charlotte Bobcats on Tuesday night. Cleveland continued its strong 3-point shooting, making 10 of 21 from behind the arc. The Cavaliers made 16 of 26 attempts from 3-point range Sunday, falling one short of the team record in a 98-82 home win over...
Many years prior to coaching the Cavaliers in Cleveland, Paul Silas was an All Star post player who collected over 10,000 rebounds while scoring over 10,000 points during his sixteen year NBA career. In 1963, while still at Creighton University, Silas averaged - averaged - 20.6 rebounds per game, and completed a three year college run that set the NCAA record for most rebounds ever...
Charlottean Antawn Jamison's dream scenario for the end of his career — come home to play for the Bobcats. The 14-year NBA veteran becomes a free agent after this season. He plans to play two or three more seasons. In...
Charlottean Antawn Jamison's dream scenario for the end of his career — come home to play for the Bobcats.
 When Nate Robinson arrived to play with the New York Knicks in 2005, you couldn't wipe the childlike grin off his face all season long.  No one gave him a shot to make it to the NBA, yet here he was coming off the bench for Larry Brown (and later Isiah Thomas) and putting up some decent numbers. In four seasons with the Knicks, Robinson averaged double-digits off the bench...
Kyrie Irving led the Cavs with 20 points and Tristan Thompson finished with 16 points and nine boards as the Wine and Gold stayed perfect in 2012 -- burying the Bobcats, 115-101, on Tuesday night at The Q. Antawn Jamison added 19 points in the win.
The Wine and Gold's seven-game roadie got off to a rough start as the Raptors snapped Cleveland's two-game run -- handing the Cavaliers a 92-77 loss on Wednesday night in Toronto. Antawn Jamison led the squad with 19 points and 6 rebounds.
Former Cavaliers coach likes Kyrie Irving.
Rookie Kyrie Irving scored 20 points and veteran Antawn Jamison had 19, leading the Cleveland Cavaliers to a 115-101 win over the Charlotte Bobcats on Tuesday night.
Toronto Raptors James Johnson (R) goes to the basket against Cleveland Cavaliers Antawn Jamison (4) during the second half of their NBA basketball game in Toronto January 4, 2012. REUTERS/Mark Blinch (CANADA – Tags: SPORT BASKETBALL) If you haven't been watching the Cavs and you just started last night, give them another chance. This team has excellent young talent in Kyrie...
NBA News

Delivered to your inbox

You'll also receive Yardbarker's daily Top 10, featuring the best sports stories from around the web. Customize your newsletter to get articles on your favorite sports and teams. And the best part? It's free!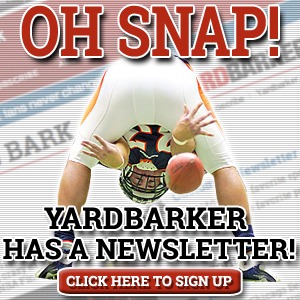 Latest Rumors
Best of Yardbarker

Today's Best Stuff

For Bloggers

Join the Yardbarker Network for more promotion, traffic, and money.

Company Info

Help

What is Yardbarker?

Yardbarker is the largest network of sports blogs and pro athlete blogs on the web. This site is the hub of the Yardbarker Network, where our editors and algorithms curate the best sports content from our network and beyond.