If there's one thing we learned from the inagural Billy Packer Chronicles, it's this... maybe we need to be doing this every week for the NBA.  That's because Turner's Charles Barkley opened up an enormous lead this week thanks to his all-around stellar performance in the studio.  His winning quote from the Sweet 16 may in fact be my favorite in the past year.  Reggie Miller is tied for second with Clark Kellogg, who is the only one with a realistic chance to catch Sir Charles.  We'll have one poll for Final Four weekend, so there's still a chance for Clark if he does his homework and takes notes while watching Food Network the rest of this week.  The envelope please... Sweet 16 Top 10 10) "Indiana leavin a little cheese at the free throw line." - Clark Kellogg (via AA) 9) "You just got Dieng'ad" - Reggie Miller (via Josh_Batelli) 8) "It shouldnt matter if the elbow was inadvertent or advertent" - Len Elmore (via xavmcd) 7) "The teacher vs. the mentor" - Len Elmore (via swampdavid1) 6) "Terrence Jones showing you his full package" - Clark Kellogg (via zacdefran) 5) "You're hot." - Lesley Visser (via AA) 4) "Big time Snatch!" - Bill Raftery (via JasonShubnell) 3) "Nail. In. The. Coffin." - Reggie Miller as Louisville goes up by FIFTEEN with 58 sec. left (via SeahawkSanders) 2) "if you look at the score you will know who is winning the game" - Charles Barkley (via tec6062) 1) "People say he can run and jump. So can a deer. And you wouldn't put a deer in the game." - Charles Barkley (via AA) Elite 8 Top 10 10) "Winner advances to the Elite 8 in New Orleans." - Marv Albert (via revafriedel). The Final Four is in New Orleans, but we kinda knew what Marv meant. 9) "If they would have thrown a funnel cake in there it would have been heavenly." - Clark Kellogg(via AA) 8) "Still got a little gitch in his hiddy-up" - Clark Kellogg (via ClintHedges) 7) "Get the towel out, cause that baby was wet when it came down" - Bill Raftery (via jtylercampbell) 6) "They let them bang, then on the third blow called a foul" - Dave Sims (via mmenniger) 5) "Every rule ain't a rule" - Charles Barkley (via Jthethird) 4) "Dribble trenepation" - Charles Barkley (via jtylercampbell) 3) "Florida is gonna focus on 2 big areas. Long rebounds, 50/50 balls, and no turnovers." - Reggie Miller (via socialmiscondct) 2) "You used to get it up prematurely" - Bill Raftery (via Anthony_Broome) 1) "Beal for the lead... Boynton for the lead..." - Kevin Harlan (via everyone) BPC Standings 1) Charles Barkley 52 pts T2) Clark Kellogg 33 pts T2) Reggie Miller 33 pts 4) Bill Raftery 30 pts 5) Kevin Harlan 10 Others receiving votes - Matt Winer 9 pts, Seth Davis 8 pts, Lesley Visser 6 pts, Bob Wenzel 6 pts, Len Elmore 13 pts, Dave Sims 5 pts, Ian Eagle 4 pts, Verne Lundquist 4 pts, Dan Bonner 2 pts, Ernie Johnson 2 pts, Tim Brando 1 pt, Kenny Smith 1 pt, Marv Albert 1 pt.
Original Story:
http://www.awfulannouncing.com/2012-a...
MORE FROM YARDBARKER
NBA News

Delivered to your inbox

You'll also receive Yardbarker's daily Top 10, featuring the best sports stories from around the web. Customize your newsletter to get articles on your favorite sports and teams. And the best part? It's free!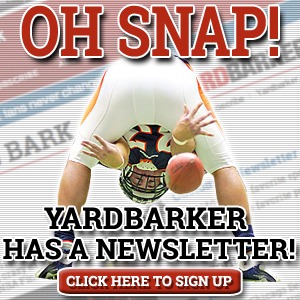 Latest Rumors
Best of Yardbarker

Today's Best Stuff

For Bloggers

Join the Yardbarker Network for more promotion, traffic, and money.

Company Info

Help

What is Yardbarker?

Yardbarker is the largest network of sports blogs and pro athlete blogs on the web. This site is the hub of the Yardbarker Network, where our editors and algorithms curate the best sports content from our network and beyond.