Found October 17, 2013 on Fox Sports Wisconsin:
ST. FRANCIS, Wis. -- The long list of injuries holding back the Milwaukee Bucks shrunk by one Thursday, as veteran center Zaza Pachulia went 5-on-5 and lasted a full practice for the first time this season. Pachulia, who had surgery on his right Achilles in April, is hoping to play in a preseason game sometime next week. The Bucks wrap up their exhibition schedule with a game in Chicago on Monday, a home game against the Knicks in Green Bay and the preseason finale Friday against Toronto in Milwaukee. "That's huge," Bucks coach Larry Drew said of Pachulia's return. " They are really just keeping an eye on how he is after these few days of practice to see if he checks out OK. If he's good, he'll probably be able to play some limited minutes." Pachulia's return is a welcome sight for a Bucks team who has been shorthanded at power forward and center. Injuries to starting power forward Ersan Ilyasova and reserve forwardcenter Ekpe Udoh left Drew to play camp invites Stephen Graham and Olek Czyz out of position. Even small forward Khris Middleton saw time at power forward after Larry Sanders fouled out against Memphis on Tuesday. "I felt great," Pachulia said after practice. "I've been really working hard with the coaches and training staff to get to this point. I'm a basketball player so it's always good to play some real basketball. "I'm glad it's still October and we're still in training camp mode. The goal is to keep getting better. I felt good enough today to play 5-on-5, but my goal every day is to get stronger, get my timing back and get my game back." While officially listed as probable for Monday's game against the Bulls, Pachulia is approaching his return on a daily basis. He views Friday's practice as the next step in the process and will only move forward if things go well. Drew doesn't plan to let up on Pachulia's time on the floor in practice, knowing they have to see if he can handle the workload. "The goal is to play some of the games (next week), if not all of them," Pachulia said. "The trainers are monitoring it. It's just about being smart to make sure we don't do anything wrong that's going to stop me again. We'll see how it feels tomorrow. "I don't want to force it. It's just not a smart way to approach this kind of process. It felt good and it didn't bother me at all. It's all about moving forward." Not only does Pachulia provide the Bucks with another experienced player inside, but he also brings a knowledge of Drew's system nobody else on the roster has. During Pachulia's eight seasons in Atlanta, Drew was either an assistant coach or the head coach. "He brings a physicality to the game," Drew said. "He knows my stuff and that itself can help the other guys. Zaza is a smart player. He does a lot of the little things, a lot of the intangibles that you need in a player. You might not see it in the stat sheet, but when we go back and look at it on the film, we see a guy got open because he set a good screen. He brings a lot to the table and hopefully we can get him into a rhythm of playing again." It didn't take Drew long to notice the impact Pachulia can have on the team. He admitted some of what the veteran brings to the Bucks has been missed. "I'm going to work hard on the court," Pachulia said. "I'm a role player, and I understand my role. The role was really useful for me and my team, and I'm not changing my game. I just love this game. Energy, effort and hard work, every team needs that." Addressing an issue: After watching some of his team's composure issues boil over into Thursday's practice, Drew had seen enough. He stopped practice to give a speech to the group after John Henson slammed the ball off the court so hard that it hit the Cousins Center ceiling. Earlier in the scrimmage portion of practice, Sanders committed a hard foul on Luke Ridnour, causing a couple of players to intervene. Sanders, who was tied for third in the NBA with 14 technical fouls last season, already has two during the preseason. He ran all the way to the other end of the floor to slap the backboard after being called for an offensive foul in Tuesday's game against Memphis and was hit with a technical for arguing with an official in the preseason opener in Cleveland. Drew's message was clear and simple: These kind of things have to stop. He'll keep preaching to the players for now, but he said he'll eventually have to take other measures if these actions continue. "They have to," Drew said. "Each individual has to understand who they are. One guy might be able to get away with something with an official, but if you are a guy that has a history of losing your temper or losing your cool, they are going to handle you just a little bit different. That just can't happen. "We're trying to build something. We have a lot of new faces, and that itself is a challenge. Now we have to be concerned about you being out on the floor and hold your composure? That won't be acceptable." Drew knew he was going to have to deal with some maturity issues with a young team, but admitted this was first time he's ever had to stop things to make a speech to the whole team. Players who have temper issues with officials have a target on their back, and the Bucks have enough to overcome without an added burden. "If you want respect in this league you have to earn it," Drew said. "It's always been like that. You have to earn the respect. The last thing you want to do is show you can't handle certain situations, you can't handle officiating, you can't handle being fouled, you can't handle just different things. You have to show that you are much, much stronger than that because the opposition are looking at your team and looking at what they feel are your weaknesses. One of your weaknesses could be to get under your skin. We can't lose that battle. If we are going to lose, let's lose between the lines after we've given it 110 percent." A veteran teammate pulled Drew aside when he first came into the league and told him the two groups of people players must learn to respect and work with to have longevity in the league the media and the officials. "I got that advice back in 1980 and it stands true in 2013 It's great advice," Drew said. "I'm just trying to pass it on to these guys so they understand that's a battle they aren't going to win so there's no reason to even go down that road. Maintain your composure, show poise, show that you can handle those types of situations." Follow Andrew Gruman on Twitter
Original Story:
http://www.foxsportswisconsin.com/nba...
THE BACKYARD
BEST OF MAXIM
RELATED ARTICLES
ST. FRANCIS, Wis. -- The Milwaukee Bucks welcomed Gary Neal back to practice Friday, but were without center Larry Sanders due to an illness. Neal had been out since aggravating the plantar fasciitis in his left foot in Milwaukee's exhibition game against Minnesota on Oct. 10. The injury popped up last season while he was playing for San Antonio, and Neal said it's been...
Most of the time, writing about the Milwaukee Bucks, or the Chicago White Sox or any MLS team for that matter elicits a certain type of reader reaction. Best encapsulated by the sign above. The Milwaukee Bucks are implementing a series of initiatives to drastically change that. These actions include holding auditions to have a rowdy 50 person section near the court. Sector 7 as it...
This is the 12th in a 15-part series running Wednesdays and Fridays profiling each Milwaukee Bucks player leading up to the start of the NBA season. The last time Luke Ridnour put on a Milwaukee Bucks uniform, he was tasked with mentoring a young point guard named Brandon. Three years later, Ridnour is back with the Bucks and expected to help lead yet another young guard named Brandon...
ST. FRANCIS, Wis. -- Basketball has taken Gary Neal many different places throughout the world, but his NBA career knew just one place as home. After finally getting his shot and proving himself as a valuable role player for three seasons in San Antonio, Neal ventured into free agency looking for something more. Neal eventually landed on Milwaukee as the place where he hopes to...
  Since the Starbucks hands video first aired on social media, there have been several copycats, but none have been quite as out of control as the latest from theMilwaukee Bucks. SBNation has the video footage and needless to say it's hilarious to watch. The best part I think is that they somehow convinced long time broadcaster Jim Paschke to be a part of the foolishness. The...
One of the Milwaukee Bucks' walking wounded was back on the practice court Thursday. Veteran center Zaza Pachulia returned for his first full practice with the Bucks since signing a three-year $15 million free-agent deal during the past summer. The big man's presence was a beautiful sight for Bucks coach Larry Drew who knows Pachulia well after serving as his head coach...
O.J. Mayo, Brandon Knight and more members of the Milwaukee Bucks put together a video montage impersonating the viral video selfie that has become known as "Starbucks Drake Hands." If you aren't caught up in the loop, a guy sent this video of himself to a girl he had met at a Starbucks. The post Milwaukee Bucks Make Their Own 'Starbucks Drake Hands' Video Impersonation...
Two primary components in the Milwaukee Bucks' youth movement arrived in the late July trade that sent point guard Brandon Jennings to the Detroit Pistons. The key figure in the deal from the Bucks perspective was 21-year-old point guard Brandon Knight a third-year pro who will not turn 22 until Dec. 2. But that is not to discount 22-year-old small forward Khris Middleton who...
Before go further, we must explain two things to any of our readers who have been living under a rock for the last month-to-five years. First off, the Milwaukee Bucks have one of the best marketing departments in the NBA, dating back to their "Fear The Deer" campaign, up until, most recently, hounding Bill Simmons over their placement in Grantland's NBA season preview series...
Bucks News

Delivered to your inbox

You'll also receive Yardbarker's daily Top 10, featuring the best sports stories from around the web. Customize your newsletter to get articles on your favorite sports and teams. And the best part? It's free!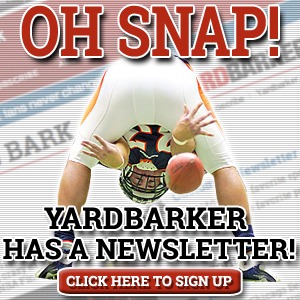 Latest Rumors
The Backyard

Today's Best Stuff

For Bloggers

Join the Yardbarker Network for more promotion, traffic, and money.

Company Info

Help

What is Yardbarker?

Yardbarker is the largest network of sports blogs and pro athlete blogs on the web. This site is the hub of the Yardbarker Network, where our editors and algorithms curate the best sports content from our network and beyond.