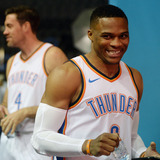 The Oklahoma City Thunder celebrated Halloween a few weeks early, and they did so with some awesome costumes.Russell Westbrook and his longtime teammate Nick Collison went as Billy and Sidney from "White Men Can't Jump," and they really nailed their costumes. They even got their wives involved. Those weren't the only awesome costumes.Markel Brown dressed up as Tyrone Biggums, a character...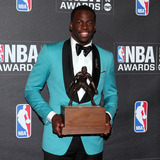 Now that our season previews have come and gone, what's next? Well, how about we predict some individual awards?Executive of the Year: Sam PrestiThis one is obvious. He might have won it on the basis of the Paul George trade alone. And then he got Carmelo Anthony for even less. Unless Pat Riley somehow manages to somehow sign the entire Warriors roster while they're under contract...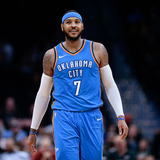 After a frenetic summer filled with stunning free agent defections, big trades and exciting rookies, our heads are still spinning as we enter the 2017-18 NBA campaign. With so many new faces in new places, it leaves fans to wonder how things will shake out this year. Over the next two weeks, RealGM will attempt to ask (and answer) 10 of the more pressing questions you may have about...
Carmelo Anthony on Tuesday night blew off a report that Jordan Brand is ending his signature shoe line by referring to it as "false news."ESPN's Nick DePaula reports, citing industry sources, the Jordan Brand is ending the new Oklahoma City Thunder player's signature sneaker line, meaning last season's Melo13 shoe will be the last one. The report goes on to state, however, that Anthony...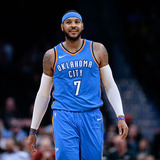 Carmelo Anthony says a report about his shoe line ending is not true.ESPN's Nick DePaula reported on Tuesday night that Jordan Brand is ending the Melo shoe series, making last year's Melo M13 the final one in the line.Anthony was presented with the news of the report just before speaking with the media after the Oklahoma City Thunder's preseason game on Tuesday. He called the report...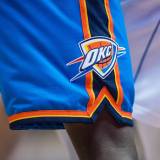 As another NBA chapter nears, it's time for our season previews. Will the Thunder's super-team be enough?Expected Conference Ranking: 3rdBest Move of the Offseason: Either getting Carmelo Anthony for free or getting Paul George for free. They're both great. These were the two best moves of the entire offseason and the same team got both of them. I don't care if he trades Russell...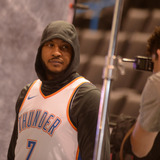 Carmelo Anthony, a three-time Olympic gold medalist, feels like he is playing for Team USA again now that he has joined a star-studded cast with the Oklahoma City Thunder. And make no mistake about it, the star forward never felt that way in his former home.On Monday, Anthony was asked to elaborate on why he feels like he is playing for the US Olympic squad. You don't need to be...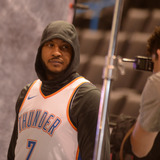 The Houston Rockets seemed like the most likely trade destination for Carmelo Anthony for a long time, but ultimately they were unable to agree on a compensation package for with the New York Knicks.Or were they?Anthony made an interesting revelation in an interview with SiriusXM NBA Radio this week when he claimed a deal to send him to Houston was "done" in July, but for some reason...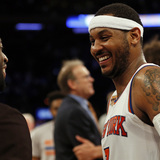 Carmelo Anthony has finally been traded by the New York Knicks, putting to an end a stalemate that saw Phil Jackson and Anthony wage a standoff that ultimately cost Jackson his job. But the damage was done and there was no fixing the relationship between Anthony and the Knicks.To make a trade when you have no leverage is almost always a losing proposition. Anthony possessed a no...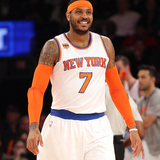 Carmelo Anthony was traded to the Oklahoma City Thunder — who are now in "win now" mode — on Saturday, and Paul George seemed to be pretty excited about it.Both George and Melo were previously stuck on lackluster Eastern Conference squads with no chance of making a legitimate title run, but they've now been freed, and being paired with Russell Westbrook makes the Thunder a legitimate...
MORE STORIES >>
Thunder News

Delivered to your inbox

You'll also receive Yardbarker's daily Top 10, featuring the best sports stories from around the web. Customize your newsletter to get articles on your favorite sports and teams. And the best part? It's free!