This offseason has been filled with astonishing moves everywhere you look. Many big name players like Jimmy Butler, Paul George, and Chris Paul will be wearing a different uniform on opening day. But like every offseason, the rumors and stories have followed the Cleveland Cavaliers very closely. The offseason took a sharp left turn for the Cavaliers when Kyrie Irving reportedly demanded...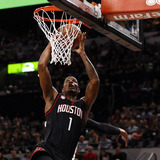 Music superstar Beyoncé has apparently decided to put her hat in the ring and make a pitch to buy the Houston Rockets. This isn't necessarily a huge bombshell, especially considering Beyoncé herself is a Houston native and a big-time Rockets fan.Unsurprisingly, at least one Rockets player would be all for Beyoncé buying the team."That would be lovely," forward Trevor Ariza told...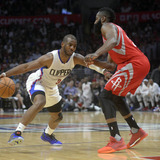 James Harden's intervention was vital in bringing Chris Paul to the Houston Rockets.Harden was more than happy to bring Paul in to join him in the Rockets backcourt — in fact, he reached out, sensing that the point guard was not entirely happy with his situation in Los Angeles."I just knew that in the summertime obviously (Paul) was a free agent, and I wanted to see where his...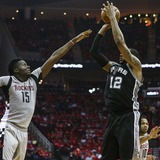 Though there was no single Kevin-Durant-to-Golden-State-sized splash in the NBA this offseason, teams made move after move to jockey with the Warriors in an attempt to interrupt their reign of terror.The Rockets took a leap of faith and traded the farm for an aging Chris Paul. The Celtics used their cap space to reunite Gordon Hayward with Brad Stevens, then got rid of an asset in...
The Houston Rockets are once again making a push to try and trade for Carmelo Anthony.ESPN's Adrian Wojnarowski reported on Thursday that Houston re-engaged the Knicks on trade talks for 'Melo, who has a full no-trade clause. The Rockets are looking for a third team that will help them facilitate a trade with New York.The two sides reportedly were closer to a deal when Phil Jackson...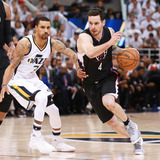 J.J. Redick was very, very close to turning the Philadelphia 76ers down in free agency to join the Houston Rockets.The sharpshooter told the HoopsHype podcast that he originally made contract length his number one priority, and planned to join the Rockets when they gave him a four-year offer — but a late change in the situation gave him pause."They offered four [years] and then...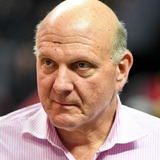 The Los Angeles Clippers currently find themselves stuck behind the proverbial eight-ball. Fresh off losing the likes of Chris Paul, J.J. Redick and Jamal Crawford this summer, Los Angeles has taken a major step back in the Western Conference. Sure the team re-signed Blake Griffin to a hefty contract, but they are in no way ready to compete with Golden State out west.It's in this...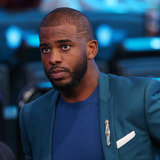 James Harden and Chris Paul practiced together in Las Vegas with their teammates last week. And despite plenty of naysayers who wonder how they'll coexist, the Houston Rockets guards are getting along famously already.Harden gushed with positivity about the experience, per ESPN's John Weinfuss, saying it went "really good.""Going into the workouts, Harden knew how smart...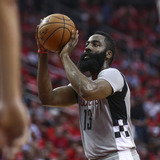 The NBA is a star-driven league, in which one A-list player can drastically alter a team's fortunes on the court and on the balance sheet. And finally, the league's best players are getting paid like it.One week after Steph Curry agreed to a 5-year, $201 million deal that was the biggest contract in NBA history, James Harden has reached a comparably huge deal with the Rockets...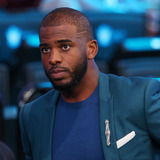 The trade between the Los Angeles Clippers and Houston Rockets involving Chris Paul has left some in the NBA scratching their heads.After all, free agency doesn't start until 12:01 a.m ET Saturday — yet Paul had already made it well-known he wanted to play with James Harden in Houston, hence the two sides agreeing to a sign and trade.Which, technically speaking, would cause some...
MORE STORIES >>
Rockets News

Delivered to your inbox

You'll also receive Yardbarker's daily Top 10, featuring the best sports stories from around the web. Customize your newsletter to get articles on your favorite sports and teams. And the best part? It's free!