After an unimpressive start, it's time to start considering whether the LA Clippers should move on from Head Coach Doc Rivers. I've been putting this one off for a while, since I still have faith in Doc Rivers. He's won more games than any other coach in Clippers history, has taken...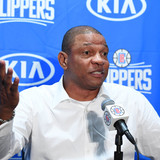 Tiger Woods was a treat to watch when he was in his prime, and sports fans would often do whatever they could to watch him tee off on the golf course — especially in major tournaments.That includes Clippers coach Doc Rivers, who once put forth his best effort to get thrown out of a game just so he could watch Woods.Rivers recently revealed it happened when he was the head coach of...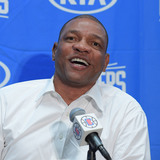 While not common, it's not unprecedented for coaches to try to get ejected as a way to fire their teams up. But Doc Rivers once tried to get ejected for a strange reason. He wanted to see Tiger Woods make a run at Augusta.The Los Angeles Clippers coach told the story of seeing Tiger making a run at the Masters. Upon seeing this at halftime, the then Boston Celtics coach unhatched...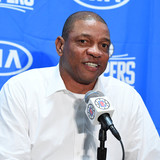 The Golden State Warriors are like a mythical team of sorts. They've been to three straight NBA Finals, won two of them, and they somehow seem to have gotten even better over the offseason. But despite how good they may be, they have some weaknesses, so says Doc Rivers.Speaking about his team in a lengthy feature by ESPN's Zach Lowe, Rivers talked about one of his team's weaknesses...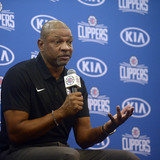 Chris Paul decided to leave the Los Angeles Clippers during the offseason, but former head coach Doc Rivers isn't happy the point guard hasn't stopped talking about it.In a clip ESPN released for a three-part documentary series about Paul's decision to join the Houston Rockets, the nine-time All-Star criticized the culture of the Clippers."A lot of people see the wins and losses...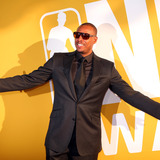 Celtics legend/current ESPN analyst Paul Pierce turned 40 years of age on Friday, and received a clever gift from his colleagues as a result.Pierce, who, earlier in the year, received a wheelchair from Doc Rivers and his former teammates as a retirement gift, probably knew he would be getting some sort of gag gift from the other ESPN'ers.And they delivered."The Truth" received a...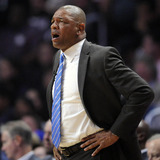 The Los Angeles Clippers are going through some dramatic changes from the past several seasons. The team traded All-Star guard Chris Paul earlier in the summer, only to re-sign Blake Griffin to the largest contract in franchise history a bit later.But one constant remains from the tremendous regular season teams we have seen over the past four seasons. Doc Rivers is still the team...
The Los Angeles Clippers are going to let Doc Rivers focus exclusively on coaching.Clippers owner Steve Ballmer told ESPN's Adrian Wojnarowski that the organization has returned Rivers to the singular role of head coach, removing his front office responsibilities so he can better focus on coaching the overhauled team."I've owned the team for three years now, and I really better understand...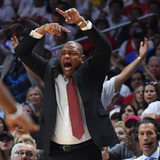 The Los Angeles Clippers hired Doc Rivers as their head coach and president of basketball operations four years ago, and they have not advanced past the Western Conference semifinals during his tenure with the team. That is obviously a major disappointment, but how much of it is Doc's fault?While winning and losing is never the responsibility of one person, some questions have popped...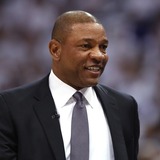 The Los Angeles Clippers have had a rough offseason so far, but head coach Doc Rivers doesn't think they took a step back. Added talent?Let's give that the old sniff test, shall we?After watching Chris Paul (one of the best point guards in the Association) leave via trade to the Houston Rockets, they spent top dollar to retain an aging, injury-prone Blake Griffin.Then, they acquired...
MORE STORIES >>
Clippers News

Delivered to your inbox

You'll also receive Yardbarker's daily Top 10, featuring the best sports stories from around the web. Customize your newsletter to get articles on your favorite sports and teams. And the best part? It's free!