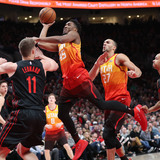 The abridged first week after the All-Star break always marks a transition, but it will be different this year with the trade deadline already complete. Some teams had more time to incorporate new additions as franchises push towards the playoffs or fire up the tank.ThursdayNets at Hornets, 7 p.m.: At nine games under .500, Charlotte needs a serious push if they want to make the...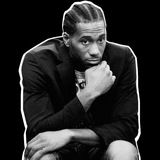 The San Antonio Spurs' record currently sits at 35-24, good for third best in the Western Conference and sixth best league-wide. That they've managed to pull this off despite getting just nine games from their star player, Kawhi Leonard, is an accomplishment unto itself, even by the Spurs' lofty standards. But it appears as if this may end up being a lost season for the two-time...
CHARLOTTE, N.C. (AP) — Dwight Howard grabbed a season-high 24 rebounds and added 15 points, Kemba Walker scored 31 and the Charlotte Hornets beat the Brooklyn Nets 111-96 on Thursday night. Dante Cunningham had 22 points and 12 rebounds for the Nets, who lost their eighth straight game and fell to 19-41. D'Angelo Russell, starting for the first time since November knee surgery, scored...
About this time last year, I found myself writing eerily similar articles to the ones I have been writing about the Charlotte Hornets in 2018. Those articles included subjects like tanking, draft predictions in March, and what free agents would suit the team best. Well, after a whole year, I am doomed to write about the exact same thing. The Charlotte Hornets are just about as God...
Hornets center Dwight Howard has long struggled with his free-throw shooting — as he's made only 56.4 percent of his attempts from the line during his career — which is why he's been ridiculed over it by opposing fans and players.Howard was able to essentially flip the script during Wednesday's game against the Wizards when he sank two free throws and let the Wizards bench know about...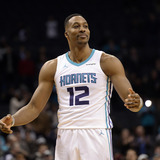 Scott Brooks' decision to have Dwight Howard shoot some free throws at the end of Wednesday's Charlotte Hornets-Washington Wizards game backfired, leading Howard to do some taunting.After Tim Frazier and Michael Carter-Williams were ejected with about four minutes left in the game, Brooks chose to have Howard shoot MCW's free throws.Howard entered the game and nailed both. He then...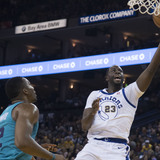 Well then, we didn't see this one coming.In short, the Charlotte Hornets are not very good. They are just 13-22 on the season and five games back of the eight-seed out east. But Friday night, Dwight Howard wouldn't be having any of that. In their 111-100 victory over the champions, the 14-year pro would go off—29 points, 13 rebounds and 7 assists. Additionally, the career 56.5 percent...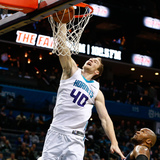 Hornets center Cody Zeller will undergo surgery to repair torn meniscus in his left knee on Tuesday, ESPN's Adrian Wojnarowski tweets, citing league sources. Zeller is expected to miss six weeks, Wojnarowski adds.Zeller injured the knee last week against the Warriors. Zeller was relegated a second-unit role this season with the addition of Dwight Howard but had been productive, averaging...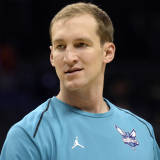 The Hornets will be without Cody Zeller indefinitely as the 25-year-old explores treatment options for a torn meniscus, the team announced in a press release. Zeller injured his left knee in Charlotte's Wednesday night loss to the Warriors.Zeller has seen his role reduced in 2017/18 thanks to the team's acquisition of Dwight Howard but he's been a pivotal part of the Hornets' second...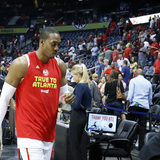 At least some members of the Atlanta Hawks were not unhappy that Dwight Howard was traded to the Charlotte Hornets. In fact, some were reportedly thrilled with the news.On his podcast, ESPN's Zach Lowe relayed stories that he had heard of  "Hawks players learning about the trade and screaming with jubilation into their phone" after the trade."You ask why, and one account was that...
MORE STORIES >>
Hornets News

Delivered to your inbox

You'll also receive Yardbarker's daily Top 10, featuring the best sports stories from around the web. Customize your newsletter to get articles on your favorite sports and teams. And the best part? It's free!