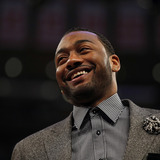 Injured Wizards point guard John Wall is off his crutches and walking without a noticeable limp. However, the All-Star point guard, who was pulled from the All-Star game due to knee surgery, is reluctant to put a timetable on his return, Candace Buckner of The Washington Post writes."I really don't know because I'm just doing everything the doctors are telling me," Wall said. "I...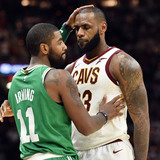 Today's All-Star Game will reunite LeBron James and Kyrie Irving as teammates for the first time since the trade that sent Irving to Boston for three players and two draft picks. They were on the court together at Saturday's practice and neither made a big deal out of the reunion, relays Joe Vardon of Cleveland.com.Irving told reporters it was "pretty awesome" to be back with James...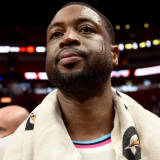 Dwyane Wade was one of many shipped out by the Cleveland Cavaliers at the trade deadline, and apparently his behind-the-scenes behavior wasn't quite as good as advertised.According to Joe Vardon of Cleveland.com, Wade was the first Cavaliers player to challenge coach Tyronn Lue about the whereabouts of Kevin Love after he left the team's loss to the Oklahoma City Thunder on Jan....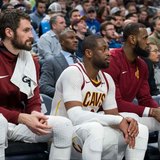 Dwyane Wade is no longer with the Cleveland Cavaliers. As we know, of course, he's back home. But today, reports indicate that he was the most upset over Kevin Love leaving a game with an illness."As things started heading south for the Cavs in January, Wade was an instigator in the infamous team meeting Jan. 22, hours before they flew to San Antonio."But that's not all."Yes, Thomas...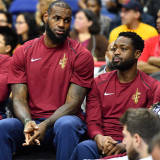 Dwyane Wade of course is among LeBron James' closest friends and confidantes, but the 36-year-old veteran insists he will play no role whatsoever in helping James when it comes to the latter making a decision this upcoming summer about his NBA future, nor is he inclined to engage in any recruiting, either.Wade, happy to return home to South Beach when the Cleveland Cavaliers shipped...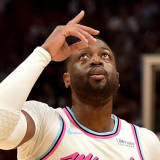 Dwyane Wade is often mentioned in the same breath as Kobe Bryant for his longevity and overall excellence at the 2-guard position. But Wade has no desire to imitate one notable aspect of Bryant's career.In an interview with ESPN's Jorge Sedano that aired this week, the Miami Heat guard said that he does not want a big farewell tour when he retires. "I don't want one of those," said...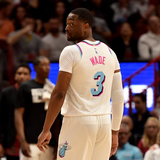 Dwyane Wade and Channing Frye were teammates on the Cavs just one week ago, but both players were moved just hours before the NBA's trade deadline expired.Wade was traded back to Miami, where he spent the first 13 seasons of his career, and also won three titles. As for Frye, he ended up with the Lakers, as part of the trade involving Isaiah Thomas, Jordan Clarkson and Larry Nance...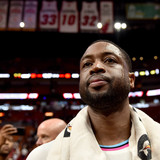 Reuniting Dwayne Wade with LeBron James in Cleveland initially looked good on paper, but ended up being a terrible fit, for a number of reasons. Wade was a major liability on defense, and he also appeared to slow the team down on offense.Not only that, it appeared that Wade's heart was still in Miami, and now we know that that was indeed the case.Wade was traded back to the Heat...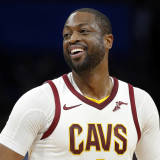 Dwyane Wade's homecoming to the Heat has the entire Miami area doing cartwheels, even the local police department.Shortly after news broke on Thursday that the three-time NBA champion was returning to the Heat via a trade with the Cleveland Cavaliers, the Miami PD posted this perfect missing person-themed tweet to welcome him back. Of course, they are far from the only ones happy...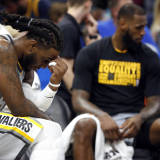 The Cleveland Cavaliers are a mess on the court, and now you can add some additional info that paints their situation as strained.Prior to the Cavaliers' game against the Timberwolves on ESPN Wednesday, ESPN's Cassidy Hubbarth delivered quite the report. She said Cavs players flat-out do not like each other."It's safe to say that Cleveland has reached a new low because they're saying...
MORE STORIES >>
Heat News

Delivered to your inbox

You'll also receive Yardbarker's daily Top 10, featuring the best sports stories from around the web. Customize your newsletter to get articles on your favorite sports and teams. And the best part? It's free!