In the latest episode of our Milwaukee Bucks podcast, we talk about Giannis Antetokounmpo's All-Star performance and all of the strangeness that came with the league's showcase weekend. The latest episode of our Win In 6 Podcast arrives straight off the back of the 2018 NBA All-Star...
The Milwaukee Bucks aren't title contenders just yet, but they're on the right path. And it's their superstar, Giannis Antetokounmpo, that has to be kept at all costs. Currently, the Greek Freak is under contract through the 2020-21 campaign. But there's one thing the Bucks can do to keep him."As long as Milwaukee does the right moves and we're a championship (contending) team, I...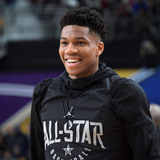 One thing many professional athletes have to deal with is the fact that many of the people asking them for autographs will turn around and sell what they get signed.This is a frustration for many stars, but Milwaukee Bucks forward Giannis Antetokounmpo is not one of them, saying he signs items because "that used to be me.""You can just never forget where you came from," Antetokounmpo...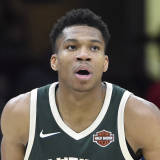 Milwaukee's Giannis Antetokounmpo is probably going to get hit with a tampering fine from the NBA.While discussing once more who he would pick in an All-Star draft, Giannis would double down. It's LeBron James, but that's not all."I would pick LeBron. … I want to have a good relationship with him before his free agency. You get it? I want him to come and play next year for the Bucks...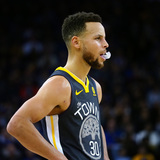 At least two NBA players want the league to televise the All-Star draft next year, and one says the league "definitely" will do so.Steph Curry and LeBron James got to serve as captains and pick their All-Star teams in a draft format. The Golden State Warriors star thinks the draft would be "amazing" to watch on TV and that the league will "definitely" televise it."I think the draft...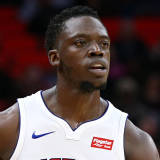 When Pistons guard Reggie Jackson sprained his ankle on Boxing Day, he was given a six-to-eight-week timeline. Seven weeks in, head coach Stan Van Gundy is non-committal about his return, Rod Beard of The Detroit News writes."I don't have any preconceived notion at all of when he'll be back," Van Gundy said. "When [Pistons doctors] tell me he's back, he's back."Though the Pistons...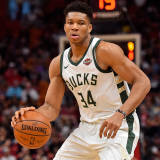 Bucks star Giannis Antetokounmpo has the physical attributes and skill set to potentially develop into one of the most dominant big men the game has ever seen. He just needs the proper coaching and training to take his game to the next level.It appears as if he's willing to put in work during the offseason to develop into a superstar and wants to do so with one particular Lakers...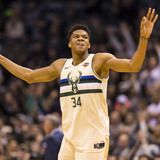 Milwaukee Bucks All-Star Giannis Antetokounmpo will be in Los Angeles with the rest of the NBA's best players this coming weekend.But that's probably not going to be the highlight of the Greek Freak's week. You've heard of the dinner bell, right? Ring it when food is ready. Well, Antetokounmpo received something similar for Valentine's Day.Let's just say. Giannis can now ring a bell...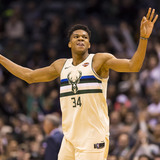 Giannis Antetokounmpo was quite pleased with the Valentine's Day gift he received from his significant other.The Greek Freak shared a video on Instagram that shows the gift he received. The gift was a bell that says "ring for blow job." "He can be a freak on the court and on the sheets, do you know what I'm saying?" Antetokounmpo said while giggling.Congrats, Giannis. And use it well.
Giannis Antetokounmpo pulled off a pretty funny stunt while meeting with some fans on Sunday.The Greek Freak met with some Greek fans prior to the Milwaukee Bucks' game against the Brooklyn Nets. While going over to greet the fans and give autographs, he encountered one wearing a Big Baller Brand hoodie.So what did Antetokounmpo do? He gave him the shirt off his back to cover it...
MORE STORIES >>
Bucks News

Delivered to your inbox

You'll also receive Yardbarker's daily Top 10, featuring the best sports stories from around the web. Customize your newsletter to get articles on your favorite sports and teams. And the best part? It's free!