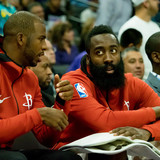 Chris Paul and James Harden have only played together in two regular season games, but it's obvious that the two have established great chemistry with one another off the court.The Houston Rockets scored a whopping 142 points in a win over the Phoenix Suns Thursday night. Harden was responsible for 48 of those, and he said after the game that he was "happy to have the little midget...
Chris Paul returned to action on Thursday night for the team's game against the Suns, and his teammates responded in a big way, as the Rockets emerged victorious from Talking Stick Resort Arena with a 142-116 win. CP3 was playing in his first game since Oct. 17, when he suffered a knee injury in the team's season opener, and his presence on the court seemed to fire up his teammates...
http://www.clutchfans.net James Harden finds Clint Capela with the between-the-legs pass on the pick and roll in the Houston Rockets game against the Indiana Pacers on 11/12/2017.
http://www.clutchfans.net James Harden talks to reporters after the Houston Rockets 111-96 home win over the Memphis Grizzlies on 11/11/2017.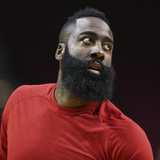 A youngster who appears to be dressed up as James Harden for Halloween has perfected how the Houston Rockets superstar once ended a post-game interview with a brilliant side-eye. And even better, Harden took to Twitter to express his approval.Harden originally inspired one of the NBA's greatest memes with his reaction during an interview following a game in November 2015. After beating...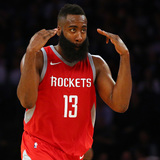 Rockets star James Harden is known for his signature beard, among other things.NBA fans also remember when Harden side-eyed a reporter roughly two years ago, as he went viral shortly afterward when plenty of memes popped up showing his classic reaction.A young fan who dressed as Harden for Halloween perfectly mimicked the side-eye, and you need to check out his funny impersonation...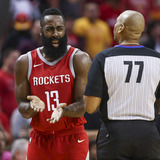 Monday's battle of the two unbeaten teams at Toyota Center got a bit chippy late in the game.The Rockets had a 88-78 lead in the fourth quarter against the Grizzlies, but Memphis closed the game on a 20-2 run to emerge victorious.A key play in the game happened with the score tied at 88-88, when Rockets star James Harden set a hard screen on Mario Chalmers, sending him to the floor...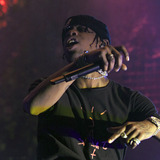 Rapper Travis Scott was invited to the Rockets' practice on Monday, which was a good thing, because he could certainly use some pointers.Scott was taking jumpers from the corner, and laying bricks left and right. James Harden was next to him watching, and he had this look on his face, as if to say "Should I help the guy or nah?"But shooters shoot, and Scott kept shooting. To his...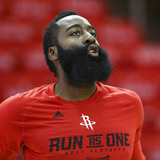 Throughout the offseason, we'll be counting down the Top 50 players in the NBA from 50 to 1. Who will just miss the cut? Which names do you expect to see? Regardless, you'll be able to find them all right here.Why He's Great: James Harden averaged 29.1 points, 11.2 assists and 8.1 rebounds per game last season. Obviously, those numbers put him in the MVP conversation. But let's take...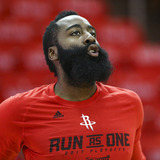 If James Harden continues to light it up for the Houston Rockets and can eventually lead the team on a deep playoff run or more, he just might get his jersey number retired one day. In the meantime, a strip club paying tribute to him will have to do.On rapper Joe Budden's podcast this week, Budden's friend Mal claimed "one of the more popular" gentlemen's clubs in Houston has Harden...
MORE STORIES >>
Rockets News

Delivered to your inbox

You'll also receive Yardbarker's daily Top 10, featuring the best sports stories from around the web. Customize your newsletter to get articles on your favorite sports and teams. And the best part? It's free!