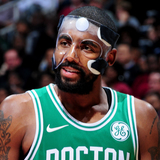 The NBA has a new hotline where players can vent about the officials, get calls clarified and plead for better treatment. Think of it as a way to reach out and touch a ref, without the mandatory suspension for actually touching a ref. We've obtained access to the hotline and responses, which are about as authentic as a Derrick Rose standardized test. We know when that hotline blings...
Jason Kidd is the latest NBA head coach to express concerns that the earlier start to the season may be contributing to the leaguewide injury epidemic.On Thursday, the Milwaukee Bucks coach discussed the league's decision to bump up the regular season by 10 days, leading to a shortened training camp."We went extremely hard because of the shortened training camp," said Kidd, per Chris...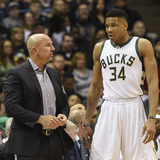 Milwaukee Bucks head coach Jason Kidd has the distinction of being one of the NBA's best all-time point guards. So anything he says about guard Giannis Antetokounmpo, a rising star, carries some weight.At 6-foot-11 with the wingspan of an albatross, he can do things Kidd never dreamed of, which is probably why his head coach said the following."I wish I was 7 feet tall," Kidd said...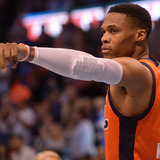 Jason Kidd knows who his NBA MVP vote would go to — and who should receive a vote from others, too.The Milwaukee Bucks head coach said ahead of his team's game in Oklahoma City on Tuesday that Russell Westbrook should at least have a share of the MVP award this season. He even went as far as to say Westbrook would be "cheated" if he didn't get a piece of the league's MVP honor. ...
Want more news first thing in the day? Sign up for the Yardbarker Morning Bark newsletter here.Good morning and welcome to the YB Box Score, what we're reading while we wait for our WBC championship hangover to wear off. Happy birthday to Jason Kidd, Mark Buehrle, Kyrie Irving and  Maurice Jones-Drew. On this date in 1994 Wayne Gretzky scored his 802th goal breaking Gordie Howe's...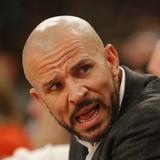 Jabari Parker is not starting against the Miami Heat on Saturday night.The Milwaukee Bucks forward was removed from the starting lineup for violating a team rule. Bucks coach Jason Kidd did not specify the violation, but it sounds like Parker wasn't well received during a players-only meeting following Friday's loss at Orlando. First-round pick Thon Maker started in Parker's place...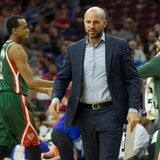 The Milwaukee Bucks have put together a top-10 defense to begin the 2016-17 season, and head coach Jason Kidd wants to make sure that it stays that way. Kidd said on Monday that John Henson, who entered Milwaukee's starting lineup in a win on Saturday over the Memphis Grizzlies, will continue to start at center for the team moving forward, per Charles F. Gardner of the Milwaukee...
Tim Duncan is the greatest Spur of all-time and arguably the greatest power forward of all-time. But what would have happened if Duncan had bolted San Antonio to form a big three in Orlando? Or if Jason Kidd had jumped off a sinking Nets ship to join the Spurs in 2003? Bonta Hill and Eddie Maisonet break down how the NBA landscape might have looked in these alternate timelines.
Jason Kidd in a San Antonio Spurs uniform? It almost happened, so says Kidd. The Milwaukee Bucks head coach told Ohm Youngmisuk of ESPN that he committed to joining the Spurs in 2003 when he was the top free agent available. Kidd changed his mind and signed a maximum contract with New Jersey instead, but the decision still haunts him to this day, calling it "the biggest disappointment...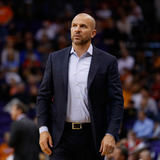 The Milwaukee Bucks have apparently liked what they've seen from coach Jason Kidd, as Adrian Wojnarowski is reporting that the two sides are close to a three-year contract extension. Milwaukee Bucks coach Jason Kidd is finalizing a three-year, $15M-plus extension with the franchise, league sources tell @TheVertical. — Adrian Wojnarowski (@WojVerticalNBA) June 13, 2016 Defending...
MORE STORIES >>
Bucks News

Delivered to your inbox

You'll also receive Yardbarker's daily Top 10, featuring the best sports stories from around the web. Customize your newsletter to get articles on your favorite sports and teams. And the best part? It's free!