Getting minutes is great, but it's not the only benefit Swanigan has seen with the Canton Charge. After playing in only 15 games before falling out of the Portland Trail Blazers' rotation, rookie big man Caleb Swanigan is dominating the NBA G-League. He was assigned to the Canton Charge in December, upon recognition that he would benefit more from direct competition as Portland practices...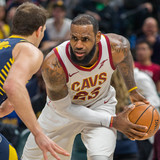 The Cleveland Cavaliers are kind of a mess right now. First off, they have lost three in a row. But more than that, they are 3-7 over their last 10. Cavs fans should probably worry. But it turns out that not everyone is worried about the Cavs' current form. Enter 15-year veteran Kendrick Perkins, who did spend one season (2014-15) with Cleveland."It's a long season. You have those...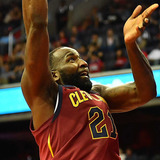 It's not often that you see an NBA veteran head to the developmental league, but that's what's happening in the case of Kendrick Perkins.Perkins was cut by the Cleveland Cavaliers at the end of training camp. However, he is sticking with the franchise and has agreed to a deal with the Canton Charge of the G-League, which is the Cavs' affiliate, according to ESPN's Adrian Wojnarowski...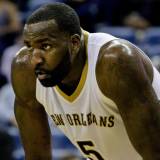 Kendrick Perkins will join the Cleveland Cavaliers for their training camp next week, according to a report.Perkins, who played with the Cavaliers three seasons ago, was at the team's minicamp in Santa Barbara this week. You can see him on the left in this photo standing between Richard Jefferson and Derrick Rose: Cleveland.com's Joe Vardon says the 32-year-old center will continue...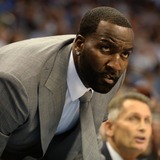 Kendrick Perkins is ready to return to the NBA.The veteran center told Gary Washburn of the Boston Globe that he wants to be a backup in the league again and thinks he can help a team."The body feels good, man, I'm just sitting here waiting on an opportunity," Perkins said. "Hopefully I can get a training camp invite soon. I want to earn my way. I don't want nobody to give me nothing...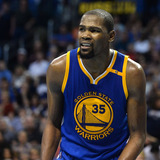 Count veteran big man Kendrick Perkins as one who thinks Kevin Durant could make a return to the Oklahoma City Thunder sooner or later.Durant fled Oklahoma City to join the Golden State Warriors and figures to stick around for quite a long time. But with LeBron James returning to the Cleveland Cavaliers and winning a title, some have started to wonder if Durant might follow a similar...
Kendrick Perkins sent a message to Blazers superstar Damian Lillard on Friday night. Known for being an enforcer, Perkins delivered a cheap shot in the fourth quarter of the game and clotheslined Lillard. It happened when the Blazers guard was driving the lane, and the vicious blow sent him sprawling to the floor. Pelicans' Kendrick Perkins ejected for clotheslining Blazers' Damian...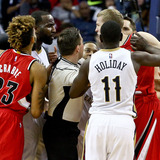 Kendrick Perkins has been known as something of a goon in NBA circles and he was at it again on Friday. During the fourth quarter, Perkins sent Damian Lillard to the floor with what resembled a clothesline while the Blazers guard was attempting to make his way to the basket. Pelicans' Kendrick Perkins ejected for clotheslining Blazers' Damian Lillard pic.twitter.com/jf7P6UrhpC...
The Cleveland Cavaliers are about to close out a four-game sweep against the Boston Celtics. One would assume that it's the Celtics who would show frustration in what will be the team's final game of the year. However, Cavaliers big man Kendrick Perkins was the individual responsible for a dirty play against Celtics forward Jae Crowder. Courtesy of Deadspin How Perkins avoided...
MORE STORIES >>
Cavaliers News

Delivered to your inbox

You'll also receive Yardbarker's daily Top 10, featuring the best sports stories from around the web. Customize your newsletter to get articles on your favorite sports and teams. And the best part? It's free!