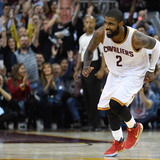 It's not news to point out that Kyrie Irving admires Kobe Bryant, but if we're trying to understand one of the league's most studiously self-constructed stars, it's about all we have to go on. Kyrie hasn't yet given a telling quote in his career. A portion of his thank you Instagram post to Cleveland on his way out the door reads: the Ups and downs, we stand and fight no...
No pressure, designers. Los Angeles Lakers president and controlling owner Jeanie Buss joined John Ireland on ESPN Los Angeles Radio and had a sweeping discuss about the state of the franchise. She also confirmed something we all knew was coming: Kobe Bryant's getting a statue in Los Angeles soon. Jeanie gave a nod to Bryant having a statue outside of the arena he helped build...
The Los Angeles Lakers recently announced that both of Kobe Bryant's jersey numbers will be retired on December 18th, when the Lakers host the Golden State Warriors. The ceremony will take place during halftime, during which Staples Center will surely be packed with thousands of faithful Lakers fans waiting to see the Black Mamba forever immortalized in its rafters. Tickets won't...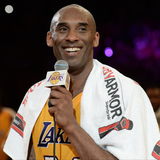 Kobe Bryant shared a truly adorable story about his daughter during a recent interview.Being called the "goat" in a sports context is one of the highest honors possible. G.O.A.T., of course, is an acronym for "Greatest of All Time." Kobe has achieved goat-status in the eyes of many, only that doesn't sound like an honor if you're unfamiliar with the term. Such was the...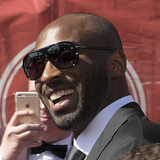 Is there a new king in the NBA shoe game? For ages, Michael Jordan has dominated the scene. NBA players have worn Jordan brand Nike shoes seemingly since forever and continue to do so, but Kobe Bryant is currently beating His Airness in terms of players wearing his sponsored shoes, according to a new study conducted by Versus Reviews.The Nike Kobe AD is currently being worn by more...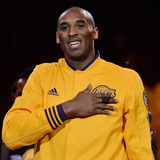 How good of a career did Kobe Bryant have with the Los Angeles Lakers? Let's just say the man wore two different jersey numbers, and both of them will be off-limits to future players who wear the purple and gold.The Lakers are planning to hold a ceremony for Bryant on Dec. 18 before they play the Golden State Warriors, and ESPN's Ramona Shelburne reports that both Bryant's...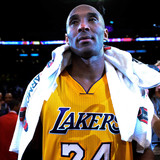 You knew it was only a matter of time before the Los Angeles Lakers held a ceremony honoring the Hall of Fame career of Kobe Bryant, and it would appear an official date has been set.The Lakers sent a letter to season ticket holders this summer encouraging them to "hold on to your tickets for the game on Dec. 18" because the team will be holding a "special event" that night...
Ahead of his NBA Naismith Hall of Fame induction, Tracy McGrady spoke about how difficult guarding Jamaal Mashburn was and how he compared to guarding Kobe Bryant. Follow @CLNSMedia on Twitter Subscribe to CLNS Media YouTube Channel Download the free CLNS Media Mobile APP for Android & iOS Support our sponsor: Hello Fresh! Go to www.HelloFresh.com and use promo code BEAT30...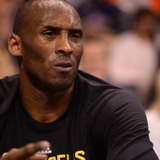 August 24 (8/24) is known locally in Los Angeles as "Kobe Bryant Day" after the two jersey numbers Bryant wore during his illustrious NBA career, and The Black Mamba himself is celebrating it in style this year.Bryant officially launched his latest shoe Thursday and tweeted challenges to a number of prominent athletes across several sports as part of the rollout. Most notably...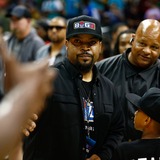 The new professional basketball league BIG3 has not necessarily been a smashing success in its inaugural season. This hasn't stopped co-founder Ice Cube from reaching for the stars.We mean this in almost the most literal of manners.According to Cube himself, he's been in talks with the great Kobe Bryant about joining the league. When asked if he has talked to Kobe and whether...
MORE STORIES >>
Lakers News

Delivered to your inbox

You'll also receive Yardbarker's daily Top 10, featuring the best sports stories from around the web. Customize your newsletter to get articles on your favorite sports and teams. And the best part? It's free!