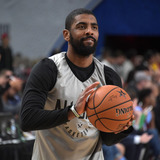 Celtics star Kyrie Irving may never be free from fans and analysts alike trolling him over his past comments about the Earth being flat.Even though he revealed that he wishes he could take that statement back during a recent appearance on "Jimmy Kimmel Live," former NBA player Stephen Jackson didn't seem to care at All-Star Media Day on Saturday.Jackson began spinning a globe that...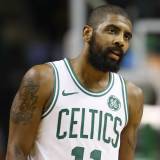 Despite all of the perceived bad blood between former teammates Kyrie Irving and LeBron James, their bridge apparently has not been burned just yet.In an appearance Thursday on ABC's "Jimmy Kimmel Live," Irving, who was picked by James for his All-Star team, was asked about the possibility of playing with the four-time MVP for real again some time in the future."In professional sports...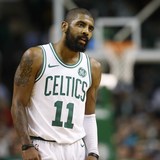 Celtics star Kyrie Irving has been blasted to no end regarding his previous comments about the earth being flat, and he really wishes he could take the comments back.Irving appeared on "Jimmy Kimmel Live" Thursday night, and he made sure to use the big stage to get the word out about him not really believing the earth is flat."You know I've always tried to take that statement back...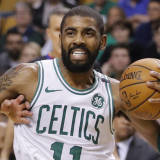 Kyrie Irving and LeBron James won a championship in Cleveland together, and that type of bond doesn't just break. Later, Kyrie would take his talents to Boston as part of a mega-trade. Now, several months later, the Celtics have a four-game advantage on LeBron's Cavaliers for second out east. But Kyrie doesn't want to dismiss a reunion with LeBron.He knows that in sports, anything...
--------------------------------------------------------------------------------- SUPPORT CLNS MEDIA: Powered by... DRAFT KINGS, go to http://draftkings.com and use PROMO CODE: CLNS for FREE match play TODAY! RXBar, go to http://RXBar.com/CLNS; enter the promo code CLNS for 25% off your first order. eHarmony, go to http://eHarmony.com and use the promo code: GARDENREPORT for...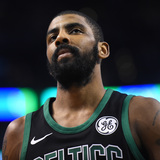 "Hold my nuts."That's just one of the one-liners sprinkled into Kyrie Irving's "Uncle Drew" movie, set to be released on June 29, 2018.The movie looks like it's going to be equal parts slapstick humor and amazing street ball scenes, which could add up to box office gold.Here's a look at the awesome two-minute-plus trailer for the movie. Featuring Kyrie Irving as Uncle Drew, the movie...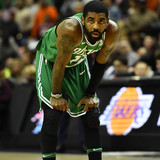 Kyrie Irving this week took to Twitter to officially announce the premiere date of his upcoming film centered around "Uncle Drew," an elderly basketball player he originally portrayed in a series of wildly popular Pepsi commercials. And the date? June 29, per the Boston Celtics superstar's tweet. Irving earlier this month posted footage to Instagram of himself in character as Uncle...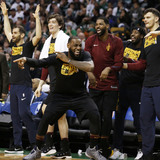 LeBron James and his new look Cleveland Cavaliers were in Boston to take on the Celtics Sunday afternoon. It's a game that included the home team retiring Paul Pierce's jersey in front of all-time franchise greats and one specific former head coach. It also pitted LeBron against his former teammate, Kyrie Irving.As much as it might have been a festive environment early for the home...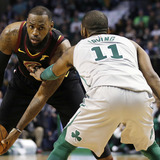 Perhaps the alleged hatred between Kyrie Irving and LeBron James was just a tad overblown. We say this because after James' Cleveland Cavaliers destroyed the Boston Celtics Sunday, 121-99, the two superstars hugged it out with smiles on their faces. As we all know, Irving was itching to get away from James and demanded a trade last summer. The Cavaliers obliged, sending him to Boston...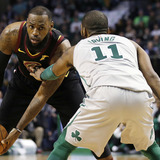 Sunday marked the big rivalry game between LeBron James and Kyrie Irving as the Boston Celtics host the Cleveland Cavaliers. At one point early, Irving pulled off a slick move, stepping back on James before draining a shot over him.The NBA posted a video of the sick play on Instagram. One person who "liked" this video was none other than James' short-term teammate, Isaiah Thomas...
MORE STORIES >>
Celtics News

Delivered to your inbox

You'll also receive Yardbarker's daily Top 10, featuring the best sports stories from around the web. Customize your newsletter to get articles on your favorite sports and teams. And the best part? It's free!