CLEVELAND – As Paul George walked from the Thunder loc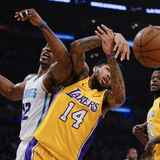 The Los Angeles Lakers are in trouble. Or they could be, if LaVar Ball is to be believed. Speaking from Lithuania, Ball believes that head coach Luke Walton has lost control of his team. Meanwhile, the Lakers are 11-27 and the worst team out west. In fact, only the Atlanta Hawks—tonight's opponent—are worse. But it's not the end of the world, right?Not necessarily. But it could put...
Paul George had something to apologize for after Oklahoma City's 127-117 win over the Clippers in Los Angeles on Thursday night, and it had nothing to do with his play.Oklahoma Sooners quarterback Baker Mayfield stuck around in LA after his team lost in the Rose Bowl on Monday. He attended the Clippers' game against Memphis on Tuesday night, and then he was there to watch them host...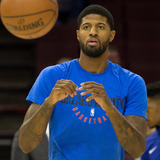 Oklahoma quarterback Baker Mayfield incorrectly assumed that Paul George would recognize him after Thursday night's Thunder-Clippers game was in the books, which led to an awkward exchange between the two athletes.Mayfield has remained in the Los Angeles area following the Sooners' loss to the Georgia Bulldogs in the Rose Bowl on Monday, as he was seen pounding beers courtside at...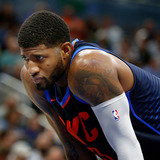 Paul George will have a big decision to make after the season regarding his future, and the Thunder star insists it will not take a championship ring to convince him to stay in Oklahoma City.Russell Westbrook said earlier in the week that winning a title this year is going to be all the sales pitch George needs. But prior to Wednesday's 133-96 win over the Los Angeles Lakers, George...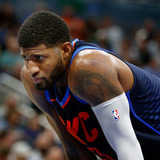 The NBA may have acknowledged that Lakers assistant coach Brian Shaw did not tamper with Paul George when he was a member of the Pacers, but that didn't stop PG13 from poking some fun at the situation.George, who was born and raised in the Los Angeles area, squared off against his hometown Lakers at Staples Center on Wednesday night. Lakers fans treated him as if he were one of their...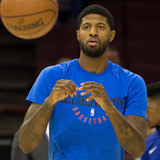 It's getting to the point that OKC fans are going to be crushed if Paul George leaves. Right now, the Thunder are 21-17. They probably aren't going to win a title this season, but they are starting to find their groove. Russell Westbrook, Carmelo Anthony and George are all starting to play well together. But now, the results are starting to follow.But rumors about George heading...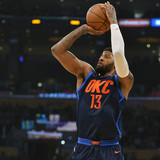 Paul George was born and raised in the Los Angeles area, so it was no surprise that his parents attended Wednesday's Thunder-Lakers game at Staples Center.George's mother and father sat courtside for the Western Conference showdown, and they had a front-row view of their son playing against the team he may end up on in the future.PG13 turned in a big performance against his hometown...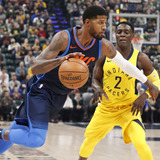 Los Angeles Lakers assistant coach Brian Shaw did not tamper with Paul George when he was still with the Indiana Pacers, according to a report.The Pacers complained to the NBA about possible tampering on the Lakers' part, but according to ESPN's Ramona Shelburne, a league investigation found no evidence of tampering on the part of Shaw. There was some evidence of tampering from the...
Russell Westbrook thinks he has the perfect sales pitch to keep Paul George in Oklahoma City long term.The Thunder guard was asked Wednesday what he'll do to convince George to remain with the Thunder when his contract expires at the end of the season, and Westbrook felt he would have the perfect thing. The Thunder are 20-17, so there's obviously some work to do on that front. Reports...
MORE STORIES >>
Thunder News

Delivered to your inbox

You'll also receive Yardbarker's daily Top 10, featuring the best sports stories from around the web. Customize your newsletter to get articles on your favorite sports and teams. And the best part? It's free!