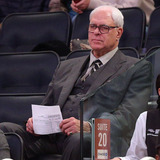 The tenure of Phil Jackson as president of the New York Knicks was marred by many things. One was the team's inability to attract big name free agents.Speaking on his Woj Pod podcast with ESPN's Ian Begley, ESPN's Adrian Wojnarowski offered some insight as to why New York couldn't bring in the big names."I heard some horror stories about Phil in presentation situations with players...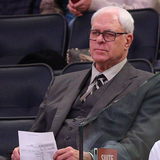 Former New York Knicks president Phil Jackson weighed in on the Carmelo Anthony trade — sort of.Jackson kicked off an appeal for money for hurricane relief in Puerto Rico with a quick aside on the deal that sends Anthony to the Oklahoma City Thunder, and it basically amounted to "best wishes" — while also seemingly missing the word "not."The tweet was deleted, but you can read the...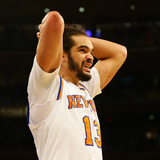 With injuries, a drug suspension, and ineffective play, it's safe to say that Joakim Noah's first season with the New York Knicks did not go according to plan. Noah is all too aware of that. Speaking on "The Truth Barrel" podcast, Noah also expressed regret that his poor play helped get Phil Jackson fired."It's tough, man, because I got a lot of love and respect for Phil,'' Noah...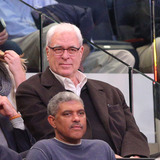 It may not come as much of a surprise that Phil Jackson's job interview questions are a bit unconventional.Former New York Knicks player development coach Chris Brickley shared as much in a profile by Scott Davis of Business Insider, relaying what happened when the newly-hired Jackson called him into his office to speak to him."I'm thinking I'm gonna go in there, I'm gonna meet with...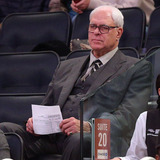 Now that the disaster that was the Phil Jackson era with the New York Knicks has come to a close, we are sure to hear many stories about all the things the 11-time NBA champion did wrong. Apparently one of them was showing off footage from his legendary Chicago Bulls teams.In his in-depth look at Jackson's disappointing three years with the Knicks, Frank Isola of the New York Daily...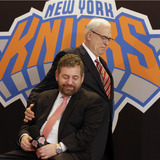 For the past decade and a half, pretty much the only time Knicks fan have cheered owner James Dolan is when he's fired someone in charge of the team. Phil Jackson's hiring as the president of basketball operations in 2014 was seen as a progressive move in some circles."I'm a chess player, so that was a power move right there," Carmelo Anthony said at the time of the hiring.There...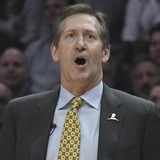 New York Knicks head coach Jeff Hornacek declined to answer questions amid the shocking — but arguably logical — departure of team president Phil Jackson. But he did read a prepared statement to the media from the team's first summer-league practice in Orlando, Fla."It's always an interesting time when stuff like that happens,'' Hornacek said, via the New York Post. "I just want...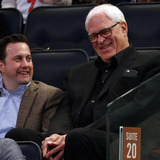 Phil Jackson got paid a lot of money as president of the New York Knicks, and apparently that was a source of amusement for the Zen Master. Not only that, but according to Stephen A. Smith of ESPN, Jackson shared his amusement with friends. So, just how much money did he earn? Dolan finally fired Jackson Wednesday morning, and for good reason. We've previously covered Jackson's many...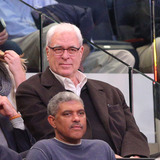 Phil Jackson's unsuccessful tenure as the man in charge of basketball operations for the New York Knicks has officially come to an end.The Knicks released a statement on Wednesday announcing that they have "mutually agreed to part company" with Jackson, effective immediately. The Knicks have not won more than 32 games in a season since Jackson took over more than three years ago...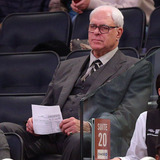 Former NBA player and coach-turned-ESPN NBA analyst Mark Jackson isn't a fan of what Phil Jackson has done as president of the New York Knicks.In a conference call with reporters ahead of the 2017 NBA Finals, Jackson made his thoughts on Jackson as an NBA executive crystal clear.Citing Jackson's handling of the Carmelo Anthony situation as a key reason for calling him "a failure...
MORE STORIES >>
Knicks News

Delivered to your inbox

You'll also receive Yardbarker's daily Top 10, featuring the best sports stories from around the web. Customize your newsletter to get articles on your favorite sports and teams. And the best part? It's free!