Throughout the preseason, new Jazzman Ricky Rubio's jumper has been … inconsistent. His coach, Quin Snyder, has not been so up and down when discussing it. In two games against the same team, the Phoenix Suns, Rubio had wildly different nights. At home, he was 2 for 9 with 11 points, hitting his first field goals of the preseason after two straight 0 for 4 performances against international...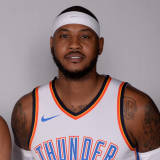 On September 25, the New York Knicks ended their relationship with Carmelo Anthony by trading him to the Oklahoma City Thunder for Enes Kanter, Doug McDermott and a 2018 second-round draft pick. The trade marked the end of a fantastic summer for Thunder GM Sam Presti, who just one year ago, saw Kevin Durant bolt in free agency for the Golden State Warriors. Earlier in the offseason...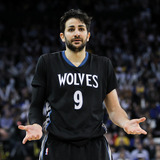 Now that Ricky Rubio is playing for a new team — the Utah Jazz — he's sporting a new look, apparently.Rubio, who spent the entirety of his career in Minnesota, usually tends to have a fairly clean look with not a lot of hair. That's not the case anymore. Check out the man bun and full beard from this Spanish national team game on Wednesday. Here's another recent photo — without the...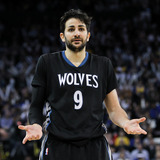 Ricky Rubio's tenure with the Minnesota Timberwolves was filled with trade rumors, and now that the point guard is out of there, he seems pretty relieved.Rubio, never a favorite of Minnesota coach Tom Thibodeau, is hoping for a new lease on life with the Utah Jazz, and he certainly sounds refreshed and relieved."To get traded, it's not fun, but I was really excited to go to an organization...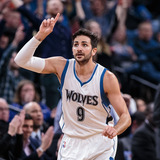 The Utah Jazz are planning on Ricky Rubio having quite the role for the team next season.Jazz GM Dennis Lindsey was on NBATV while the channel aired Summer League coverage, and he talked about the team's plans for Rubio, whom they recently acquired in a trade with Minnesota. Kidd never really shot the ball well — he was a 40 percent career shooter — but the guy was a great passer...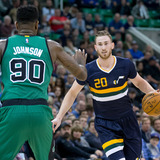 The Boston Celtics are in the midst of trade discussions to move at least one of their veterans as a way to afford All-Star Gordon Hayward. Boston and the former Utah Jazz forward have come to an agreement on a four-year max contract. But the Celtics need to move some cash in order to make the deal official.Earlier on Wednesday, it was reported that Boston had reached out to gauge...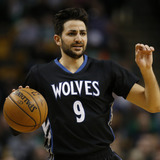 Ricky Rubio is drawing some interest from within the Northwest Division.According to a report by Marc Stein of ESPN on Tuesday, the Utah Jazz have expressed interest in trading for the Minnesota Timberwolves point guard. The 26-year-old Rubio had career-highs in points (11.1) and assists per game (9.1) last season. He has two years and about $29 million left on his contract.Rubio...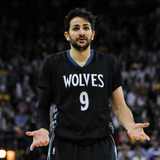 Could this be the summer that Ricky Rubio's Minnesota Timberwolves tenure finally ends?ESPN's Marc Stein reported Monday that, in the wake of their acquisition of Jimmy Butler, the Timberwolves are working hard to trade Rubio with a desire to add more shooting. Rubio, it seems, has been on the trade block for a year. The guard is a gifted creator and a solid defender, but he doesn...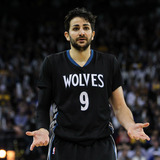 Minnesota Timberwolves guard Ricky Rubio has been on the trade block for some time now. Even after a career-best performance this past regular season, it doesn't look like that's changed.In discussing players that could be moved during the draft, Steve Kyler of Basketball Insiders indicates that both Rubio and the Wolves are expecting their relationship to end this summer."The worst...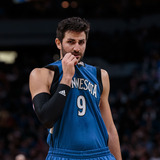 Ricky Rubio was at the center of rampant trade speculation in the days leading up to an NBA trade deadline for the second season in a row. This year, however, the sixth-year Minnesota Timberwolves point guard insists "felt a little different."The trade rumor that generated the most buzz involving Rubio was a straight-up exchange with the New York Knicks for fellow point guard (and...
MORE STORIES >>
Jazz News

Delivered to your inbox

You'll also receive Yardbarker's daily Top 10, featuring the best sports stories from around the web. Customize your newsletter to get articles on your favorite sports and teams. And the best part? It's free!