Found December 08, 2011 on Bleed Black & Gold:
The Steelers pushed their record to 10-3 with a 14-3 victory over the Browns.  Here are some observations from the game.
Observations:
Injuries-  The Steelers took some big hits today.  Ben Roethlisberger has a high ankle sprain.  Maurkice Pouncey has a high ankle sprain.  We also saw Troy Polamalu miss the last series with a shoulder injury.  These could hurt down the line.  We played the Browns today.  The 49ers could be a different story.
Officiating-  I have not picked on the officials all year but they were awful today.  Not just for us.  They sucked all around.  Ed Houchuli's crew has gone from one of the best in the league to one of the worst in the league.  They would rather explain what went wrong rather then correctly make the calls.  That overturn of the Antonio Brown catch was just pathetic.
Ben Roethlisberger-  One tough man.  I will write about that later though.
Antonio Brown-  The kid just makes plays.  He had one drop today but otherwise was electric.  He had 5 catches for 151 yards.  The game winning touchdown was fantastic.  This kid is going to be a playmaker for his whole career.  This is not just a flash in the pan.  We got the name of his dance tonight as well.  It is called the wiggle.
William Gay- Gay played great today.  He had what was pretty much the game winning interception.  He made some big tackles to keep some Cleveland receivers in bounds and keep that clock running.  His performance today was stellar and we may not have won without him.
Chris Kemoeatu-  I would rather have Heath Miller play guard.  He barely played a half and had 4 penalties.  He cost us some huge plays that stopped drives.  He also missed 2 key blocks that caused us to not score on the goal line.  If he does not understand why he does not play then he needs to have his head examined.
Jason Worilds is becoming a player-  Worilds was second on the team in tackles today with 9.  He was credited with 2 sacks and had a forced fumble.  He is getting better in pass coverage and has learned to not get to far up field against the run.  This kid has a big future in front of him.
Fumbles-  Hold on to the damn ball.  We almost fumbled on three consecutive series.  Hines Ward fumbled.  Heath Miller fumbled.  Then on the next drive Mendenhall had to keep himself from fumbling.  The ball was loose but he got it back.
Red Zone offense-  We had two fumbles in the Red Zone.  We also were stopped from inside the 2 on four straight plays.  The NFL counts us as 1 of 3 in the red zone but we were one of four.  The play where Ward fumbled did not start in the red zone but he fumbled in the red zone.
TEAM-  This team fought today.  When Roethlisberger went down the defense stiffened up.  They only gave up 3 points.  When Roethlisberger came back out we put it back to them again.  These guys had each others backs and got the job done.  Business as usual.
Bring on San Francisco.
Original Story:
http://feedproxy.google.com/~r/BleedB...
THE BACKYARD
BEST OF MAXIM
RELATED ARTICLES
Cleveland @ Pittsburgh The lucky Browns get to travel to Pittsburgh to take on the Steelers less than a week after getting throttled by the Ravens, which is bound to result in another not-so-pretty prime time matchup between one of the league's perennial have-nots and one of the AFC's elite teams.  The Browns are 4-8, and most of the time don't look like a team that has any...
For all intents and purposes, Cleveland's 14-3 loss to the Pittsburgh Steelers wasn't that big of a deal. It was a defensive struggle. The Browns went into the game 4-8 against the 9-3 Steelers, so dropping a game on the road by only 11 points is pretty good. That's sorta the running theme of being a Cleveland sports fan, you have to watch the Indians do well through...
Steelers' big-play receiver Antonio Brown had a career game and the game-clinching touchdown to beat the Browns.
Ben Roethlisberger fought off an ankle injury to pass for 280 yards and a pair of touchdowns as the Pittsburgh Steelers topped the visiting Cleveland Browns 14-3 on Thursday. Antonio Brown and Jerricho Cotchery each caught a touchdown pass and Rashard Mendenhall rushed for 76 yards for the Steelers (10-3), who moved ahead of the Baltimore Ravens (9-3) in the AFC North and the New...
CLEVELAND BROWNS (4-8) at PITTSBURGH STEELERS (9-3) Thursday, 8:20 P.M. ET, NFL-Network, Sirius (Cle 92, Pit 93), Westwood One Radio Why Watch Well, we could spend time bashing the BCS, but this is a pro game and the only one on tonight. The NFL playoff system is why the BCS is held in light regard by football fans. BCS computer-based rankings are as legit as financial derivatives...
This had all the makings of a trap game. Or it would have, if we all didn't remember a stunning loss to the Browns on Thursday Night Football in 2009. After both teams scored on their opening drives, you settled in for a back-and-forth struggle for a win in the standings. Little did you know it would be the last scoring you'd see until Antonio Brown changed the headlines...
There's so many different storylines to talk about after this game. It's funny, because everybody (myself included) expected this to be a stinker of a game. Ben Roethlisberger injured his ankle in the 2nd quarter and it looked like his season may be over. But in typical Roethlisberger fashion, he was somehow back on the field to start the 2nd half after x-rays were negative...
The Pittsburgh Steelers earned a closer than expected win Thursday night against the Cleveland Browns, 14-3, but the big thing to come out of tonight's game is the long-term status of Ben Roethlisberger's left ankle. Roethlisberger was sandwiched between two Browns players on a sack in the second quarter and had a nasty turn of his left ankle. After x-rays of Roethlisberger...
(By WILL GRAVES, AP Sports Writer) Ben Roethlisberger needed only one good leg for the Pittsburgh Steelers to continue their mastery of the Cleveland Browns.The Pittsburgh quarterback played through a painful high ankle sprain in the second half to pass for 280 yards and two touchdowns, the last a 79-yard scoring strike to Antonio Brown with 2:52 remaining to help the Steelers win...
The young group of very talented Pittsburgh Steeler's receivers has come of age and is proving to be a force to be reckoned with this year.  Coming into the season, the fans thought that Mike Wallace and Hines Ward would be getting a majority of the targets from Ben Roethlisberger this year.  However, it is Antonio Brown who is not only playing alongside Wallace, but also making...
Baltimore Ravens running back Ray Rice, Tennessee Titans linebacker Colin McCarthy and Pittsburgh Steelers punt returner Antonio Brown have been selected as the AFC's top players for Week 13 of the NFL season.
Ben Roethlisberger stood in the long shadow of the Steelers' goalposts and simply watched as Antonio Brown caught his pass.
Steelers News

Delivered to your inbox

You'll also receive Yardbarker's daily Top 10, featuring the best sports stories from around the web. Customize your newsletter to get articles on your favorite sports and teams. And the best part? It's free!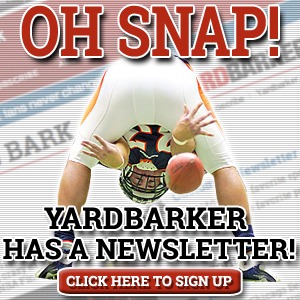 Latest Rumors
The Backyard

Today's Best Stuff

For Bloggers

Join the Yardbarker Network for more promotion, traffic, and money.

Company Info

Help

What is Yardbarker?

Yardbarker is the largest network of sports blogs and pro athlete blogs on the web. This site is the hub of the Yardbarker Network, where our editors and algorithms curate the best sports content from our network and beyond.