Found December 14, 2011 on The Victory Formation:
PLAYERS:
Tim Tebow
,
Eli Manning
,
Jason Pierre-Paul
,
Victor Cruz
,
Johnny Unitas
,
Willis McGahee
,
Matt Prater
,
Demaryius Thomas
,
Eric Decker
,
Mark Sanchez
,
Marion Barber
,
Christian Ponder
TEAMS:
Denver Broncos
,
New York Giants
,
New York Jets
,
Chicago Bears
,
Minnesota Vikings
,
Boston College Eagles
,
Michigan State Spartans
There have been two quarterbacks this season that have been able to help their teams claim victory late in games this season more than anyone else.
Tim Tebow has been behind center for 8 games this year for the Denver Broncos, only losing once. The one loss was pretty brutal, a 45-10 drubbing from the Lions. However, the second-year signal caller has managed to win the other 7 games, leading a fourth-quarter comeback in six of them, including three OT victories.
The New York Giants have been an incredibly perplexing team this year, and currently lead the NFC East with a 7-6 record. The Giants could easily be 2-11, but they could also be 11-2. That is how maddening their season has been for them and their fans. Eli Manning is the main reason they have won seven games (with a little help from Jason Pierre-Paul), and he is not the reason they have lost any of the six. Six of the Giants victories have been of the fourth-quarter comeback fashion. Five of those have been victories in the last three minutes.
Why have Tebow and Eli been in the position to win games in the fourth quarter? Their defenses, and for the complete opposite reason. Eli has had an outstanding year passing the ball. He does get better late in games, and he runs the two-minute drill probably as good as anyone else in the NFL. The problem with the Giants hasn't been scoring, it has been their defense being unable to shutdown opposing offenses. There are many times where it looks like the Giants might take control of games, only for them to have mental lapses on defense, especially in coverage. One might want to point to their linebackers playing at Boston College, University of South Florida and Michigan State just ten months ago, but it has been more of a lack of a consistent pass rush and a Swiss cheese secondary filled with veterans. This has forced Eli to lead the offense down the field late in games to either take the lead or tie it up. There have been games where Eli had the offense deep in position to take the lead or tie it up, but he wasn't able to get it done. He had an interception (that should have been caught by Victor Cruz) returned for a TD against Seattle in week five, while San Francisco managed to stop him on 4th and goal in the final minute of their game. Eli has managed to throw an NFL record 14 TDs in the 4th quarter this season (tied with his brother Peyton and Johnny Unitas). For what it's worth, this is the second time that Eli has had six fourth-quarter comebacks in his career, the other being 2007. But the difference between this year and 2007 is that Eli was the one that struggled for most of the game back then, while his defense kept him in it. This years Giants have allowed almost 27 ppg, good for 27th in the NFL.
Tebowmania has swept Denver as the Broncos continue to surprise the league with an 8-5 record. It has been very unconventional, as they have opted for an offense that is similar to that of the spread option that Tebow ran in college. Like Eli, Tebow's defense has put him in position to win games. However, it is Denver's outstanding play on defense that has put them in that position. Willis McGahee is the focal point of the offense for most of the game, helping to keep teams offenses off-the-field, while Tebow makes sure not to turn it over. While Denver's defense takes care of their business shutting opposing offenses down (unlike the Giants D), Tim turns it on in the fourth quarter. He doesn't put up eye-popping stats in the box score, as he relies mostly on his feet for hard earned yards, and a few plays here and there with his awkward throws. Matt Prater, Tebow's kicker, has played pretty significant role as well. Just look at this past weekend when he hit a game-tying 59-yard field goal to send it into OT against the Bears. He followed that up with a 51-yarder in OT to win the game. Tebow though is the field general; he is the one taking the snaps. He is putting them into position to score in the fourth quarter and OT. It was his 20 yard bootleg that beat the Jets. It was his 10 yard TD pass to Demaryius Thomas to get Denver on the board with 2 mins left that put the pressure on the Bears. It was Tebow's 39-yard pass on 3rd down to Eric Decker against the Chargers that kept the game alive for Prater to send it to OT. You can point to his 2-8 performance against the Chiefs, but one of those completions was a 59-yarder for a TD, and he did run another in. He's accounting for points in the Denver offense, especially late, like against Miami, his first start of the season and where the insanity all began. Remember, the Broncos trailed 15-0 in that game with less than 8 mins to go in the game. Tebow threw for 2 TD passes and ran for a 2pt conversion to send it to OT, where Prater finished the job after a Dolphins turnover.
People that want to hate on Tebow will point out that Denver has been the recipient of good luck in some of these games. Teams have turned it over late, like the Jets Mark Sanchez throwing a pick 6, or Marion Barber III putting it on the ground in OT after just having a brain fart a few minutes earlier in regulation and running the out-of-bounds which stopped the clock and gave Denver that last chance. The Vikings Christian Ponder also threw a late penalty which gave the Broncos another late FG to win the game. The common theme though between Eli and Tebow is this, they get their teams in position to make a play late in games in order to tie it up and/or win. A lot of QBs crack in those situations. They try to do too much and turn-it-over, or fail to make the play that is needed. That is what Tebow has done. He has taken advantage of the situation that other teams have failed to do.
Who would you rather have as your QB? I think the easy answer is Eli Manning. You get Eli doing more for more of the game than you do with Tebow. Eli has matured to near elite status this season, like he said he would. Tebow is still raw as ever, and questions remain if the offense he runs can continue week-in and week-out. But in the 4th quarter, who would you rather have? It is hard to argue against either. I tend to believe most would go along with the younger Manning, as he controls more of the offense, and is calling plays from the line and directing blocking schemes and traffic. But Tebow is finding a way to get it done his was this year as well. Both are attempting to lead their teams on late runs to win their divisions, just like they have been doing all year late in games to help their teams wins.
Original Story:
http://www.thevictoryformation.com/20...
THE BACKYARD
BEST OF MAXIM
RELATED ARTICLES
In case you haven't seen it every 10 minutes on ESPN's First Take, here's a relentlessly annoying video (unless you love to here Skip Bayless slurp on Tim Tebow) put together by DJ Steve Porter. You may remember Porter from the much better Decision remix. You won't be able to get Skip's whinny voice proclaiming, "Unleash!" out of your head for the rest of the day....
Ask and ye shall receive.  Responding to an outpouring of demand from fans looking for a Fathead of the Broncos quarterback in his now iconic pose, the Dan Gilbert owned company released the Tim Tebow "Tebowing" Fathead this past Tuesday, and I'll give you one guess as to which giant wall graphic is the top seller for the week. The 4-foot-5 by 4-foot-8 image of Tebow doing...
He's got folk hero status across the country. He's winning when everybody was betting against him. He's won over fans outside of football. Could Tim Tebow one day win elections like he's winning football games now? It's clearly way too soon to predict, before you scoff at the notion of an athlete leveraging success on the field or court to success in politics, remember...
Ladies and gentlemen, you may not have realized this, but until today, Tim Tebow's stranglehold on the media and pop culture wasn't quite complete. But now with the "Tim Tebow in 10 Hot Shots" "photo special" treatment from People, the Denver Broncos quarterback has finally arrived. The star treatment usually reserved for Hollywood hunks like [...]
In the updated fan vote totals for the Pro Bowl, the Broncos' Tim Tebow has the third-most tallies among AFC quarterbacks. This is significant because three quarterbacks are named to the Pro Bowl team. According to Mike Reiss of ESPNBoston.com, New England's Tom Brady has the most votes among AFC quarterbacks with 1.1 million. Pittsburgh's Ben Roethlisberger is second. Tebow...
Tim Tebow vs. Tom Brady:  Are they similar?  With the impending Sunday matchup of the New England Patriots and the Denver Broncos in Mile High Stadium, much has been made of the differences of the two quarterbacks Tom Brady and Tim Tebow.  Yes we know, Tom Brady is a pocket passer who meticulously reads defenses and uses his mind to overcome the opposition and Tebow uses his...
Chicago Bears linebacker Brian Urlacher called Tim Tebow a good "running back" after losing to the Denver Broncos on Sunday.
Tim Tebow did it again. With some help from two big Marion Barber gaffes, Tebow and the Broncos kept rolling. That was far from the only big talking point in Week 14, writes Peter King.
Power rankings. You hate them. They're so arbitrary and pointless, especially when they include all 32 NFL teams. All you want to know after a good week of NFL action is who the bestest team in the NFL right now, and which one is the absolute barrel-scraping worst. That's why we have TOP AND BOTTOM OF THE NFL, where we go to great lengths to tell you who's the top dog in...
NFL News

Delivered to your inbox

You'll also receive Yardbarker's daily Top 10, featuring the best sports stories from around the web. Customize your newsletter to get articles on your favorite sports and teams. And the best part? It's free!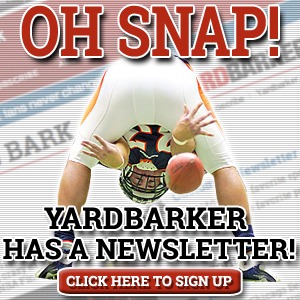 Latest Rumors
Best of Yardbarker

Today's Best Stuff

For Bloggers

Join the Yardbarker Network for more promotion, traffic, and money.

Company Info

Help

What is Yardbarker?

Yardbarker is the largest network of sports blogs and pro athlete blogs on the web. This site is the hub of the Yardbarker Network, where our editors and algorithms curate the best sports content from our network and beyond.