Found November 29, 2011 on Eagles Addict:
PLAYERS:
Andy Reid
,
Asante Samuel
,
Nnamdi Asomugha
,
Donovan McNabb
,
DeSean Jackson
,
Vince Young
,
Ronnie Brown
,
Steve Smith
,
Michael Vick
,
Kevin Kolb
,
Dominique Rodgers-Cromartie
,
LeSean McCoy
TEAMS:
Philadelphia Eagles
,
Minnesota Vikings
,
Arizona Cardinals
  The 2011 Philadelphia Eagles can't even put the "fun" in "dysfunctional."  That's because this team is just plain bad and there is no fun in that. Actually, referring to the 2011 Eagles as a "team" is something of a misnomer.  If you were to look up the word "team" in the dictionary, you'd see "2011 Philadelphia Eagles" listed under "antonyms." Before this season began, I wrote an article about how important it is, and how hard it would be, for this group of players and coaches to become a team.  At the time, I recognized that it could be a hard obstacle to overcome but took the optimistic viewpoint in that this group would, in fact, come together eventually. However, that has not happened and it is one of the biggest reasons why the Eagles are sitting at 4-7 with no shot at the playoffs. The Eagles are a collection of individual players and coaches who are not operating as one cohesive unit.  They are devoid of leadership and accountability on all levels and in al
Original Story:
http://eaglesaddict.com/http:/www.eag...
THE BACKYARD
BEST OF MAXIM
RELATED ARTICLES
By Mike McDermottPhiladelphia Eagles head coach Andy Reid said after today's game that he didn't hear the occasional, thunderous chants of "Fire Andy" that rained from the stands in the second half of today's game at Lincoln Financial Field. "You don't hear a lot down there on the sideline," Reid said. "I didn't hear it. The way we played...
I don't know if the Eagles are going to fire Andy Reid. They've suffered through 5-11 and 6-10 seasons with him before, and he survived those. Someone upstairs really believes in the guy. But if, at the end of the season, they do choose to let him go, they should hire this young fellow as a consultant (like The Bobs in Office Space) to come in and clean house. Even if he...
At a time when the folks in Philly have once again broken out the pitchforks and torches, their efforts to clamor for change in the coaching ranks of the local NFL team ultimately could fall on deaf ears. Though more people than ever can now envision the end of the Andy Reid era after 13…
After the NFL lockout ended, the Philadelphia Eagles went to town and signed several free agents, which made them the talk of the NFL. Among the signings was coveted cornerback, Nnamdi Asomugha. You see, Eagles owner Jeff Lurie made available some cash for the free agents. But after it was over (or before), the Eagles ran out of money and gave Head coach Andy Reid a sure...
Norv or Andy or Tom or Mark or Jim or Jack 0r Tony? Andy Reid: Has arguably the best running back in the game. Never uses him. His defensive playcalling (even if he's not directly involved) in terrible, often leaving the secondary scrambling to try and mark receivers for extraordinary amounts of time. He's taken a team that has spent the GDP of a small nation on their roster...
Each week, I interview a blogger that covers the the team that the Seahawks are covering. This week, I was lucky enough to get Mark from Birdsfan.com.1) It appears Reid picked the right QB out of the McNabb, Kolb, Vick trio, but with Vick comes injuries because of his style of play. How are the Eagles fans handling the situation at QB?Eagles fans know that Vick is a high risk, high...
Taking It To The House Lead Writer Matt Lombardo joins Mike Krenek and Joe Giglio on 97.3 ESPN FM in South Jersey to weigh in on DeSean Jackson's performance against the Patriots and Andy Reid's future following Philadelphia's 38-20 loss on Sunday at Lincoln Financial Field.  Filed under: NFL Tagged: Andy Reid, DeSean Jackson, Matt [...]
FOREVER YOUNG
Eagles head coach Andy Reid said that the injured QB will not practice Tuesday, making it highly unlikely he will play Thursday night against the Seahawks.
As the New England Patriots built up a three-touchdown lead in the third quarter of Sunday's 38-20 loss, Eagles fans on hand at Lincoln Financial Field let their displeasure with the team known. Chants of "Fire Andy" rained down on the team for the first time in the last decade of head coach Andy Reid's tenure in Philadelphia. The fans were loud and persistent...
NFL Network analyst Steve Mariucci discusses the Eagles' "dream team" fallout and the future of nine-time playoff coach Andy Reid. He also gives his insight on the quarterback situation of the Houston Texans as well as the latest Tim Tebow gossip and what the Broncos should consider offensively in upcoming weeks.
I happened to be on air with former NFL players Jonathan Ogden and Stan White a few days ago on WBAL-AM, and they both told me it takes at least four days after a game for most players just to get their bodies back to equilibrium in time to prepare for the next game... And yet, the NFL continues to put teams through the Thursday-after-a-Sunday game gauntlet... What makes it even...
NFL News

Delivered to your inbox

You'll also receive Yardbarker's daily Top 10, featuring the best sports stories from around the web. Customize your newsletter to get articles on your favorite sports and teams. And the best part? It's free!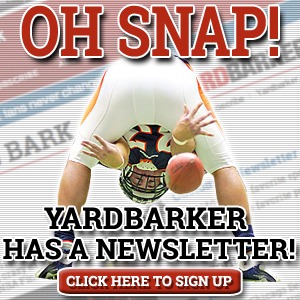 Latest Rumors
The Backyard

Today's Best Stuff

For Bloggers

Join the Yardbarker Network for more promotion, traffic, and money.

Company Info

Help

What is Yardbarker?

Yardbarker is the largest network of sports blogs and pro athlete blogs on the web. This site is the hub of the Yardbarker Network, where our editors and algorithms curate the best sports content from our network and beyond.