It seems like just yesterday we were debating on the merits of taking an offensive guard over a wide receiver or pass rusher in the NFL Draft, and now well here we are. The NFL season is upon us, and the team that started training camp first, the Arizona Cardinals kick off my season previews, James has started his with a fantastic look at the 2012 Baltimore Ravens. Today however is about one team, this is the TSHQ 2012 Arizona Cardinals Season Preview What to watch going forward: OB and Acho development- The Cardinals were actually good at getting to the QB last season finishing tied for 7th in sacks, but they didn't involve a lot of straight beating their man sacks. In fact the Cardinals got little pressure, hits and knockdowns on the QB from either player last year, to go along w/ a solid, yet unspectacular 11.5 sacks combined from the two. If the Cardinals want to continue to rise up the defensive rankings they will need something more in the range of 16-20 combined sacks from the young OLB's, but also they will need both to create constant pressure on the QB. Hello Mr. Williams': It was disappointing to watch Ryan Williams be carted off the field during the pre season last year and the Cardinals and their fans are expecting huge things from the second year man… even if Evan Silva is not. Though Williams health and productivity is important to the Cardinals, it is the other Williams, Dan, that is entering a crossroads of his career in the desert. Much has been expected out of the first round pick, and he has not lived up to the hype, or draft selection at all, and he faces stiff competition, and a quick exit, from the lineup with his scheduled salary in 2013 he may not have much more time in the Cardinals rotation. How does the offensive line hold up: The Cardinals offensive line seems to be constantly in flux, and this season is no different. With the re-signing of Levi Brown, the left side of the line should look the same with Brown, Daryn Colledge and Lyle Sendlein taking the LT, LG and C positions, but the Cardinals could have two new starters on the right side this year. Adam Snyder, the worst starting guard in the NFL as rated by Pro Football Focus, will take over the right guard spot, and Jeremy Bridges will be embroiled in a battle to keep his spot from rookie fan favorite Bobbie Massie. While the Snyder ranks terribly, I am not in anyway saying I agree with this by the way, and Bridges will have a hell of a time trying to hold off Massie, I do expect an improved offensive line to start the season, especially in the running game, where Snyder and Bridges/Massie all are above average. It will be interesting to see if Coach Whisenhunt goes against the grain and uses his two injured work horses at running back more than he let's one of the erratic and inconsistent quarterbacks throw the ball all over the field, and we are getting to that, but no matter what way the Cardinals go, run heavy, pass heavy or a close to 50/50 split, the offensive line has a backfield held together by duct tape they have to protect. Who does less awful? Honestly that really is the question that is plaguing Cardinals fans right now. We are in awe of John Skelton's end of the season record, and seem to ignore every tangible statistic that says this guy really wasn't even an average quarterback last season. As fans we seem to be clinging to this hope that Skelton, the man with an uncanny ability to stare in the face of relentless pressure, will somehow turn those fourth quarter performances into complete game performances and blossom into a lesser version of Ben Roethlisberger. Meanwhile there seems to be some ignoring of the season Kevin Kolb was having and the numbers he was on pace to put up: 3900 yards, 18 TDs, 16 INTs aren't world class numbers by any stretch, but they are better than what Skelton would have averaged over a whole season: 3800 yards 22 TDs, 28 INTs. While both lines are, well not impressive, even less impressive is their completion percentage, Kolb at a paltry 57.5% and Skelton at an anemic 55%. The problem is Kolb can't stay on the field and Skelton doesn't appear to be on the field until midway through the third quarter if not later. We as fans can pontificate on the progression of the rookies, breakdown the battle to be the second cornerback in the defense, and talk about the shift in play calling from QB to QB, but none of that will matter if those four questions can't be answered… Plus we will talk about those as we get closer to the start of the season. It's hard to believe that it has been three years since I started writing about the NFL Draft, but man does time fly when you are having fun. The truth is I wasn't really as prepared in my first year, outside of the NFC West, that I am now, but that's ok, because as any of my readers know I don't really grade a draft until the players have three years of work in the league under their belt. With that in mind we have to now roll out what we have been working on all summer, our draft grader. First thing we need to understand is the rubric, we are using a 0-5 scale to grade, Eric Judd our other draft writer has come up w/ the grader and I have slightly modified it in order to make it more manageable to use. This was also with the help of two great individuals from twitter @froginthewindow and @ryanriddle two of the better free lance scouts and writers you will find on the internet. With that in mind here is how we will grade the draft picks: The Grades: 5- All Pro top 5 at their position
4- Fringe Pro Bowl talent
3- Solid Starter
2- Solid Contributor
1- Late Rounder who never made it (Has to be a day 3 selection) or early rounder who is a depth guy only.
0- Bust A couple of caveats to the grading: 1. Only a first or second round pick can qualify as a bust, unless they are a third round pick who doesn't even make the squad out of camp. 2. All day three picks will move up one grade because of draft position, as spelled out above. 3. Special teamers who also contribute in part time or sub packages move up one grade. (Call this the Darren Sproles rule). 4. If a player is on the roster but not playing, call it the developmental rule (and this only is for players having been drafted within the last 2 years, by year 3 we can grade them) they are given an incompete and the pick is not weighed into the final grade (see Cardinals 2011 grade for details). Then the problem became how does this associate into the grades, so I worked with Eric using the Arizona Cardinals 2009 NFL Draft as the basis to set our scores. Round 1- Beanie Wells: 3
Beanie has had the chance to be more, but between injuries and, well injuries he has never been able to turn the corner and get to that 4 on the grading scale. He showed flashes in 2011 and that lead to him being a 3 instead of the original 2 I had planned. Round 2- Cody Brown: 0
Brown was taken to be a rush outside linebacker in the ever changing and expanding Cardinals 3-4 defensive alignment. Instead, he never played a game for them. Round 3- Rashad Johnson: 2
Johnson is very average back up safety but contributes on special teams and is an able body if an injury occurs, as did last year, to one of the starters at safety. Round 4- Greg Toler: 2
Toler looked to be on the route to a 3, and fairly easily, but an injury lost him a chance to start in season 3, and now he is fighting to be more than a solid back up.  There is still talent there, but for now, and to be fair you would have to give him a 2. Round 5- Herman Johnson: 1
Round 6- Will Davis: 1 Round 7- LaRod Stephens-Howling: 2 + 1 (Darren Sproles rule)
He isn't more than a solid contributor, but based on where he was drafted, and his incredible work on special teams in the return game and as a coverage man that moves him up to the 3. Round 7- Trevor Canfield: 1 Here is where it is going to get a little tricky, and where I am sure people will have questions about the grader, so here it goes: We are only grading on a scale to 4, with a 5 grade being almost like extra credit because finding 5 players is, well not easy and should be given extra incentive. What does that mean? Well the Cardinals draft grades equal up to a 12 out of a possible out of a possible 8 picks. If you go back to the idea of grading we would then use that 13/8= 1.63 or a C-. Not a good draft when you think about it in the terms of a grade and it was really weighed down by the pick of Cody Brown. In fact some of the players drafted after Cody Brown that would be starters on the Cardinals right now inlcude: Mike Wallace- 4
Lardarius Webb- 4 That's right add in one of those gentlemen to the Cardinals, and of course this is a giant assumption that their careers would have turned out the same playing with the Cardinals, and the Cardinals move from a 1.5 to a 2.0 and Wallace and Webb are easily the best player drafted by the Cardinals in this draft. Final Verdict: C- What this will also do is allow us to continually grade the drafts throughout the year, a sort of running draft grader. With that in mind here is just my quick numbers from the Cardinals 2010 and 2011 draft to give you an idea of their three year drafting prowess: 2010 Dan Williams- 2
Daryl Washington- 3
Andre Roberts- 2
O'Brien Schofield- 2
John Skelton- 2
Jorrick Colvin- 1
Jim Dray- 1.5 (played sparingly but did contribute before an injury cost him) 13.5/7 = 1.9 or C 2011 Patrick Peterson- 3.5 (not a 4 b/c his coverage isn't there yet)
Ryan Williams- INC (injured all of 2011)
Rob Housler- 1
Sam Acho- 3
Anthony Sherman- 2
Quan Sturdivant- INC (practice squad all of 2011)
David Carter- 3
DeMarco Sampson- 1 13.5/6= 2.25 or C+ When we take the averages of the three years of drafting a 1.92 we can see a couple of things, the average GPA of a C, makes sense. Not getting a lot thus far out of first round picks: Beanie Wells, Dan Williams or day 2 picks, Cody Brown, Andre Roberts, Rob Housler and Rashad Johnson, has caused this team to be what they are, average to slightly below. You can laud the Cardinals management for excellent work in the later rounds: Toler, Stephens-Howling, Schofield, Acho, Carter, but those guys should accent the top end talent you are drafting, and when you are getting more from your 6th round selection in 2011 than you are the 26th overall selection in 2010, that leads to the C grade.    
Original Story:
http://feedproxy.google.com/~r/TheSpo...
PLAYERS:
Ryan Williams
,
Levi Brown
,
Daryn Colledge
,
Lyle Sendlein
,
Adam Snyder
,
Jeremy Bridges
,
John Skelton
,
Ben Roethlisberger
,
Kevin Kolb
,
Darren Sproles
,
Beanie Wells
,
Rashad Johnson
,
Greg Toler
,
Will Davis
,
LaRod Stephens-Howling
,
Lardarius Webb
,
Dan Williams
,
Daryl Washington
,
Andre Roberts
,
Jim Dray
,
Patrick Peterson
,
Rob Housler
,
Sam Acho
,
Anthony Sherman
,
Quan Sturdivant
,
David Carter
,
DeMarco Sampson
TEAMS:
Arizona Cardinals
,
Baltimore Ravens
,
Pittsburgh Steelers
,
New Orleans Saints
MORE FROM YARDBARKER
NFL News

Delivered to your inbox

You'll also receive Yardbarker's daily Top 10, featuring the best sports stories from around the web. Customize your newsletter to get articles on your favorite sports and teams. And the best part? It's free!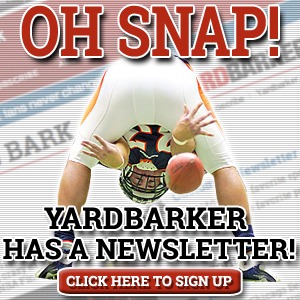 Latest Rumors
Best of Yardbarker

Today's Best Stuff

For Bloggers

Join the Yardbarker Network for more promotion, traffic, and money.

Company Info

Help

What is Yardbarker?

Yardbarker is the largest network of sports blogs and pro athlete blogs on the web. This site is the hub of the Yardbarker Network, where our editors and algorithms curate the best sports content from our network and beyond.